Acclaimed composer strikes a note with Coomera Anglican College music students for special workshop
Coomera Anglican College welcomed world-renowned composer and violinist Soon Hee Newbold, who led a strings workshop, recently for the College's music students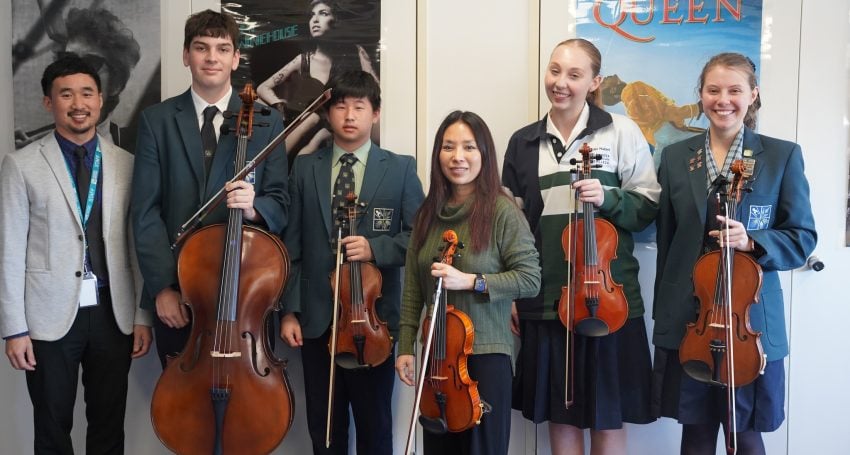 The highly esteemed US composer and violinist Soon Hee Newbold recently led an inspiring strings workshop for Coomera Anglican College students while in Australia to conduct at the Maryborough Music Conference.
It was an engaging experience as students discovered the power of collective musical expression and the joy of making music together.
Soon Hee Newbold is widely recognised for her exceptional musical talent and renowned compositions.
Her works, performed by orchestras and ensembles internationally, have captivated audiences and earned critical acclaim.
With a deep understanding of string instruments and a passion for nurturing young musicians, she was the perfect choice to lead this transformative workshop.
Throughout the workshop, Newbold shared her vast knowledge and experience, offering invaluable insights into technique, interpretation and the art of composing for strings.
Under her guidance, students delved into the intricacies of playing string instruments, exploring various bowing techniques, intonation exercises and musical expression.
From beginner to advanced players, everyone was challenged and inspired to reach new musical heights.
For Ms Newbold, one of the key highlights of the workshop was seeing how transformative the experience was for music students.
"The highlight of days like this are interacting with the students and seeing their faces when they've connected with something you say or do," Ms Newbold said.
"Watching the two quartets I worked with be spontaneous and stop focusing so much on the technical part of playing was a real joy and seeing the students in the orchestra remembering to have fun to create great music makes what I do well worth it."
The workshop also emphasised the importance of collaboration and ensemble playing.
Newbold led the students in ensemble rehearsals, teaching them the art of listening, blending their sounds harmoniously and communicating through music.
Year 12 Music student Jasmine gained valuable insights from Newbold, who provided important lessons about collaborative approaches to music.
"By having Soon Hee Newbold attend the College, we were able to understand that when playing together in an ensemble, it is important for all of us to not only think about our individual sound when playing, but to also listen to each other," Jasmine said.
"She also taught us that instead of focusing on technique, we need to think about the emotions and the meanings behind our pieces before we perform them.
"Overall, this was an incredibly rewarding experience, and I would love the opportunity to take part in this workshop again."
The impact of Soon Hee Newbold's visit extended beyond the workshop itself.
Students left the session with newfound inspiration and motivation to pursue their musical aspirations, with the workshop nurturing their artistic growth and instilling a deeper appreciation for music.
Coomera Anglican College is immensely grateful to Soon Hee Newbold for sharing her expertise and passion with the College's music students.
Her visit has left a lasting impression on the young musicians, empowering them to pursue their musical dreams and strive for excellence in their craft.
When asked what advice she would give to students who are studying music, Newbold encouraged students to "stay curious and keep growing".
"My one piece of advice to students is to enjoy the journey and get as much out of this as you can," she said.
"Whether you want a career in music or not, these experiences are invaluable and will have a positive impact on whatever you do in life.
"Keep in mind that life can be more about the journey instead of the finished product — stay curious and keep growing."
Jump to next article