Ichthus, youth ministry and the path ahead
"Priest's kid, former sacristan at St Margaret's Anglican Girls School and now a verger at St John's Cathedral, the Anglican Church has significantly shaped my identity," says Sophia Colledge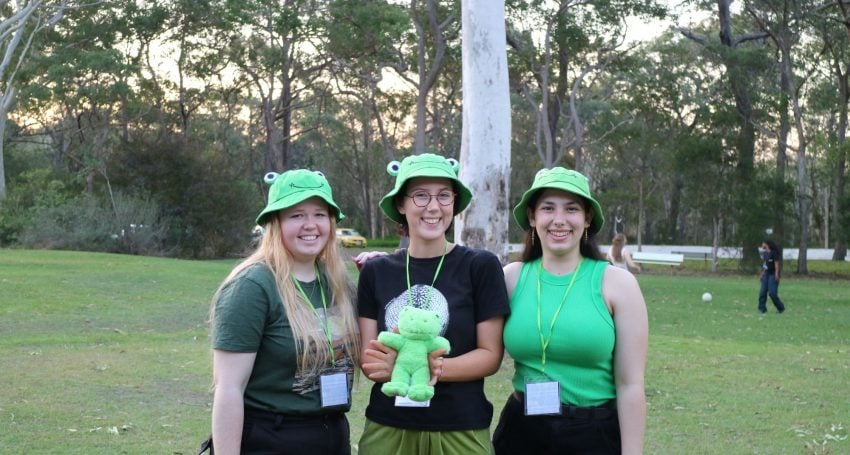 Priest's kid, former sacristan at St Margaret's Anglican Girls School and now a verger at St John's Cathedral, the Anglican Church has significantly shaped my identity. Whilst these titles have defined my role within the Church, I owe much of my spiritual development to years of meaningful youth ministry across our Diocese.
Specifically, 2023 marks a decade of involvement with the Ichthus camping program, which is run by Anglican Youth Children and Families (AYCF). Spending time as both camper and leader, I have watched the youth community flourish, providing students in Years 4-12 with unique opportunities to develop their faith, character and self-identity.
Ichthus is a key pillar of youth ministry in the Church — a vehicle for cultivating and growing passionate expressions of faith. Thus, as I turn to anglican focus to share the power of Ichthus today, I also wish to explore the broad potential for expanded youth ministry tomorrow. How may parishes support existing Ichthus initiatives? And what might an interconnected youth ministry sphere look like?
Now under the leadership of AYCF Director Elissa Cotroneo Primary (Years 4-7), Junior (Years 7-9) and Senior (Years 10-12) Ichthus camps bring together young Anglicans from across our Diocese. Connected by a love of God and a desire to explore faith, leaders and campers facilitate a unique environment — one of acceptance, authenticity and empowerment.
No Biblical question is too big. No doubts are too high to overcome. Guided by spiritual directors, campers navigate the modern challenges of living faith, finding comfort in shared experiences and faith-affirming friendships. Indeed, as fun-filled activities —from messy games to theme nights, toilet paper dress competitions to "warm fuzzies" — knit the campers together, so too do they weave the future of the Anglican Church.
Attending camp just once a year, many students crave their "Ichthus fix" — an annual, albeit brief, revitalisation of their faith alongside fellow Christians. Equipped with the Ichthus ethos, campers depart with memories, melodies and a strong sense of community. Yet, not everyone re-enters the wider world so smoothly…for some, returning home means returning to a parish as one of many youth, whilst for others, it means being the one young person in sight. Inevitably, however, all campers must readjust to a predominantly secular world and rise to the social challenges of remaining steadfast in faith and in themselves.
As a leader on Senior Ichthus only a few months ago, I was challenged by the Year 12 students' trepidation about maintaining their faith beyond the Ichthus community and structures. What's in store for them next? What can we as a Church offer as they venture beyond school and into the next phase of life?
The role of young people in the Church has long been a topic of both contention and consideration. Sometimes feeling "locked out" and/or "sought out", the experiences of youth in our Diocese are mixed. Certain faith communities are thriving in the youth space — well resourced and financed, with youth groups, retreats and bible studies. Whereas others are struggling — in resources, initiatives or demand.
Bringing together people from different cultural, geographic and financial backgrounds, I hope to see a more interconnected project of youth ministry, collaborative and adaptive, travelling across a network of parishes. Characterised by momentum and a shared commitment to youth and young adult ministry, this web of worship might supplement Ichthus camps and invest parishes with a renewed sense of involvement in securing the future of the Anglican Church. Surely, buttressed by a strong foundation of Ichthus ministry and the enthusiasm of existing youth hubs, our Diocese may better situate itself towards the work of an emerging Anglican youth with a thriving interconnected youth ministry.
Every young person deserves opportunities to continue growing in their faith journey. And whilst this comprehensive vision is far from complete, I have every faith that Ichthus ministry will be a bedrock of this faith-based project.
If you know any young people in Years 7-9 in your parish, please invite them to consider camping on Junior Ichthus this September! As a parish, you might also consider sponsoring your campers and leaders to attend Ichthus camps to make it financially possible for those unable to afford it.
Editor's note: If you would like to find out more about Ichthus camps or register for Junior Ichthus in September, please visit the AYCF website.
Jump to next article