Limbo
"It's impossible to watch a film like Limbo and not consider the socio-political dimensions of its story and how racial injustice leads to inter-generational trauma and ongoing disadvantage," says Ben Rogers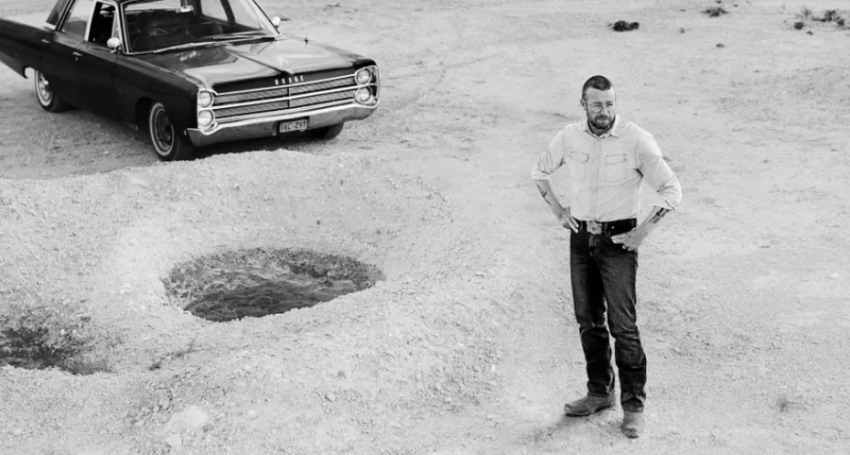 Probably best known in Australia as the celebrated writer/director of Mystery Road and Goldstone, Ivan Sen turned his attention to dystopian science-fiction last year with  
Loveland (known in some countries as Expired). Shot mainly in Hong Kong, Loveland is a stylish, if ultimately uneven cyberpunk noir romance, set in an unnamed futuristic Asian city. 
The film stalked the cramped and bustling world of Hong Kong's alleyways, apartments and teahouses, as a world-weary hitman found himself drawn into a sinister world of bio-engineering, android assassins and a migrant nightclub singer with a potentially fatal allure. While it was a fairly dazzling showcase for Sen's technical abilities behind the camera (as writer, director, editor, music composer and cinematographer), Loveland found itself bogged down with clunky voice-overs and a patchy script with too many longueurs to ignore.  
This year's release of Limbo is a superb return to form for Sen who has traded in the hustle of Loveland's Hong Kong metropolis for the sparse, punishing desert of Coober Pedy, representing the fictional small town of Limbo.  
Like Loveland, there's a similarly world-weary male protagonist at the heart of Limbo, but it's obvious Sen is far more at home in not only capturing the Australian terrain, but also in cleverly engaging different genre frameworks in an Australian context to deliver meaningful social commentary. Once again Sen takes on editing, music composition and cinematography duties, as well as writing and directing, and Limbo's cinematic craft is impeccable across the board.  
At once a neo-western, mystery noir and searing portrait of racial injustice, the film follows a drug-using, sweary Caucasian detective sent to a small opal mining town to review a case involving the disappearance and presumed murder of an Indigenous girl 20 years ago.  
As he interviews the girl's relatives and past suspects in search of a breakthrough in the cold case, he soon discovers a town seething with racial tensions and numerous locals harbouring dark secrets related to the case.  
Sporting a buzzcut and lathered in tattoos, Simon Baker (The Mentalist fans will barely recognise him!) plays the lead detective with the kind of lassitude you'd expect from a career detective who has seen one too many horrors on the job, his face etched with deep lines of age, as he drives around Limbo's dusty streets in search of answers.  
As the film unfolds and more revelations surface surrounding the case, it's clear historical police brutality and prejudice not only hampered the investigation, but left many of the Indigenous townsfolk traumatised and deeply apathetic towards authorities. We witness the startling difference between how Indigenous and non-Indigenous suspects were interrogated by police at the time of the disappearance, and how Indigenous suspects were pressured, threatened and assaulted into admitting to the crime.  
Starkly captured in black and white, the South Australian desert landscapes are their own mesmerising character. It's a film overflowing with memorable imagery; the menacing subterranean locales cloaked in shadows, a buzzing neon motel sign standing against the desert, a lonely tin can atop a hill waiting to be shot down… 
It's impossible to watch a film like Limbo and not consider the socio-political dimensions of its story and how racial injustice leads to inter-generational trauma and ongoing disadvantage. While there are no tidy resolutions to the story, what lingers past the end credits is the haunting sense that while the film may be fiction, its depiction of institutionalised racism is a reality for Indigenous adults and children who are grossly overrepresented in the criminal justice system.  
Religious audiences might also find the depictions of Christianity worthy of further analysis given its prominently featuring —  the film even opens with a radio sermon about a Biblical character.  
It takes an extraordinarily gifted filmmaker like Ivan Sen to create a film so exacting in its formal qualities, narrative control and socio-political implications and yet still allow the material to breathe enough for audiences to ponder the many details and intimate moments that will probably spark further discussion on repeat viewings.  
Limbo is not always an easy watch, and readers need to be warned that there is coarse language peppered throughout the dialogue. However, it's important viewing because it effectively demonstrates prejudiced aspects of Australia's "justice" system that still leave too many in a perpetual state of limbo.  
Limbo, rated MA and directed by Ivan Sen, is currently streaming on ABC iview.  
Jump to next article