Q&A with Indigenous theologian, ecumenical leader and Bidjara elder, Prof Dr Anne Pattel-Gray
Meet Prof Dr Anne Pattel-Gray, a descendant of the Bidjara Nation and Head of Indigenous Studies at the University of Divinity, and find out about her current projects, faith journey, what people of faith inspire her the most and why, and the kindest gesture she has ever received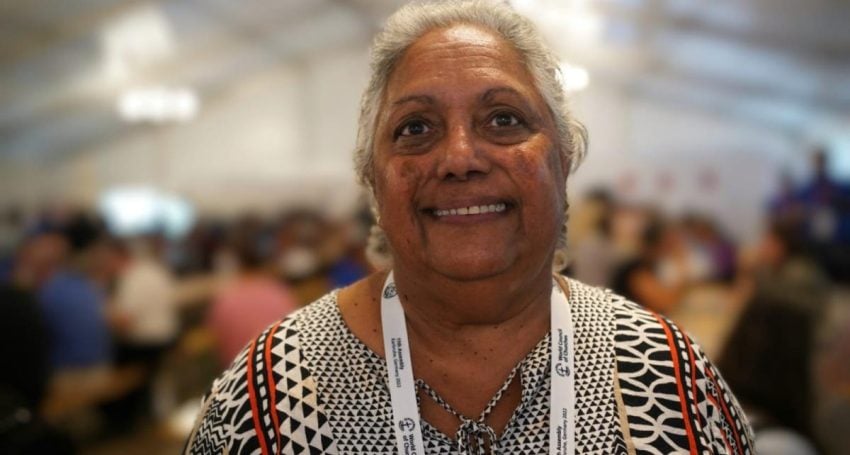 Where do you currently live?
I live in Brisbane, and I am a member of the Uniting Church in Australia. I often preach at different churches around the country and so I rarely worship with my own congregation.
How are you connected to the Anglican Church and in what roles?
I have always worked ecumenically, starting with for the National Council of Churches in Australia, and now as Head of Indigenous Studies at the University of Divinity. I have had the privilege of working with different denominations for decades. My office is based at St Francis College in Brisbane.
How does your faith inspire you and shape your outlook, life choices and character?
My faith is everything to me. It defines who I am. It defines my character, including my integrity. It defines my relationship with God and is the essence of who I am at the end of the day. It's the basis of all that I hold sacred. For Aboriginal people, we often express it in these terms.
What are your plans and goals for the next 12 months?
I have a number of things on my agenda over the next 12 months. One is the promotion of a series that Norm Habel, as an Old Testament scholar, and I, as the Indigenous theologian, bring an Indigenous interpretation of Biblical texts, which is new. We have launched the first two volumes in the series and will be launching the third at St Francis College on Thursday 7 September.
I am also campaigning for the yes vote this year by encouraging Christians to mandate 2 Corinthians 5.20 by being Christ's ambassadors for Reconciliation:
"So we are ambassadors for Christ, since God is making his appeal through us; we implore you on behalf of Christ, be reconciled to God. For our sake he made him to be sin who knew no sin, so that in him we might become the righteousness of God."
I am also building the school of Indigenous Studies at the University of Divinity by securing more funding; building an Indigenous faculty; and, developing an Indigenous curriculum for national and international offerings.
Can you tell us a little about your personal faith journey?
My faith journey has been a difficult one. I have developed a close relationship with God — with the Trinity — over many years. How does my culture reinforce my Christian ideals and theology? My culture enriches my theology, and this gives me my identity. I embrace my ceremonies, my songs, my rituals, which are all God-given.
What is your favourite Bible scripture and why?
I don't have one in particular, but I do go to Luke 4.18 quite often:
" 'The Spirit of the Lord is upon me, because he has anointed me to bring good news to the poor. He has sent me to proclaim release to the captives and recovery of sight to the blind, to let the oppressed go free.' "
I return to this scripture because it lays out the Gospel in its fullness in what we are called to do as Christians, as disciples of Jesus Christ.
What person of faith inspires you the most and why?
The Law that is given to us by the Creator defines how we are to live as Christians, defines our relationship with each other and defines our relationship with the Creator. It also defines our relationship with our Ancestors and how we deal justly within the wholeness of creation — how we live within that network and how we understand that our theology is rooted in this land.
What person of faith inspires you the most and why?
Two people of faith have significantly shaped me. My mother was a staunch Christian woman who was very justice oriented. She served the Church faithfully all her life. The Church treated her appallingly. I watched that growing up and asked her, "Why do you stay?" She said, "I go to worship the Creator and be in God's presence. I don't go to worship white people." Nothing stopped her from being with God.
The other person who inspired me was The Rev'd Charles Harris. He was the founder and leader of the Uniting Aboriginal and Islander Christian Congress. He was a visionary and wanted to raise up a church that was led by Aboriginal people – one that had its own clergy and ministered to its own people and helped drive justice in communities. In 1988 he had the vision for the 'March for Freedom, Justice and Hope' in Sydney — I helped bring this vision to reality. For everyone who was there, it will stay in our hearts forever. We felt God's presence — black and white Australians walking together with respect, and we realised that together we could shape a new future and a new narrative.
Why is the Uluru Statement From the Heart, including the Voice to Parliament, so important?
The Uluru Statement is so heartfelt. It touches the soul of any human being. It touches the nation's soul. It is a heartfelt invitation from Australia's First Peoples to "walk with us in a movement of the Australian people for a better future." It's about recognising us as the First Peoples in the Constitution through a Voice so we can finally close the health and life expectancy gap after decades of government failure. We need to be able to influence our children's futures so they can thrive and not just struggle to survive.
What are the primary strengths of the Church and what is the best way to make the most of these for the benefit of our communities?
The Church has an incredible opportunity to influence Australians about justice and our history and provide the leadership this country needs to see. It's been a long time since we've seen a prophetic leader in this country — one that leads us in the creation of a transformative future and a new narrative. This is the power that our churches have and I don't know that our churches have this influence at their fingertips. Maybe they don't feel confident to extend that influence, but at this point Australia need courageous, prophetic leaders. I pray that somewhere in our midst that leader will rise up.
What is the kindest gesture you have ever received or witnessed?
The Rev'd Jack Thomas was a Methodist minister who baptised and married many in my family and even buried some family members. He was such a fixture in our lives. And yet he was the only non-Indigenous ordained minister I grew up with who treated us as his equal. I never once saw him or his wife, Ivy, be racist. He and I would sit and discuss the Bible and have theological conversations as equals. When I went on to study ministry, he was so proud because I was the only one in my family who took that path. I popped in for a cuppa one day and saw that he had cut out a photo of me from a church magazine and framed it and put it on the wall. I was so touched. He said that he put the photo of me on his wall so he could show visitors and say how proud he was of me. That moved me — that I didn't know how proud he was of me until that day.
What is the best piece of advice you have ever received?
The best piece of advice ever given to me was, "Never forget where you came from — always remember where your roots are and where your heart lies because at the end of the day that's who you come home to." I always feel blessed by the opportunities that come my way because they are God-given.
Where do you do your best thinking?
I live on a property in God's creation, so in the bush.
What is your karaoke go-to song?
I often sing "Amazing Grace" to myself, although not as a karaoke song.
What is your earliest memory?
My first day of school at the age of five. I was the only Aboriginal person in the class. The teacher had the class mock me, call me names, and laugh at me. I was a shy and timid child. I remember being thrown out of the class sobbing even though I had done nothing wrong. My brothers and sisters found me crying and took me home to Mum. It was the first time I was away from my family. That was my first experience of white society. In the end the teacher was sacked. My mum advocated for me.
If you are having a bad day, what do you do to cheer yourself up?
I go and sit with the Creator and listen to praise and worship songs. I sit in God's presence.
What makes you nostalgic and why?
When I can see the genuineness of white people's respect. This reminds me of The Rev'd Jack Thomas.
Editor's note: Professor Anne Pattel-Gray will launch the third book in the De-colonising the Biblical Narrative series at St Francis College on Thursday 7 September at 3pm. This is a free event. Please register online.
Jump to next article