Bishop Jeremy Greaves elected tenth Archbishop of Brisbane
Bishop Administrator Cameron Venables has today announced the election of Bishop Jeremy Greaves as the tenth Archbishop of Brisbane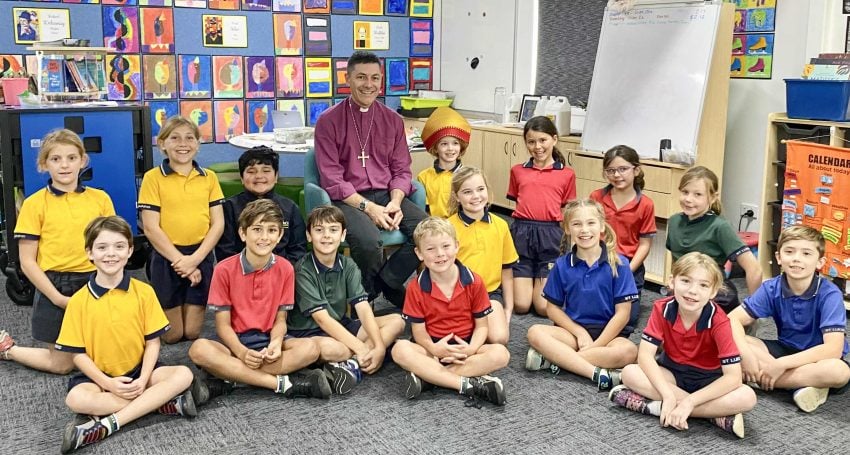 Bishop Administrator Cameron Venables has today announced the election of Bishop Jeremy Greaves as the tenth Archbishop of Brisbane.
In an Ad Clerum to clergy, Bishop Cameron said that he is delighted to communicate this exciting news, and called our Diocesan community to pray for Bishop Jeremy and his family.
"It is with great joy that I share with you the news that the Archbishop Election Committee, at its final meeting last Saturday, elected the Right Reverend Jeremy Greaves to be the next Archbishop of Brisbane," Bishop Cameron said.
"Archbishop-elect Jeremy Greaves will be installed as Archbishop of Brisbane, and Metropolitan of the Province of Queensland, at St John's Cathedral on Saturday 16th December 2023 at 10.30am.
"Bishop Jeremy (currently Bishop for the Northern Region) will be well known to many and brings a great deal of experience in ministry.
"He is blessed with many gifts that will benefit the Diocese, the national Church, and the worldwide Anglican Communion.
"Please join me in praying for Bishop Jeremy, his wife Josie, and children (Kate, Hannah and Thomas), as they prepare for this new season of life and ministry."
Bishop Jeremy commenced in the role of Bishop for the Northern Region in 2017 after serving for 20 years in ordained ministry in Queensland, the Northern Territory and South Australia.
Archbishop-elect Jeremy Greaves acknowledged Bishop Cameron's leadership over the past year, initially as Archbishop's Commissary while Archbishop Phillip Aspinall was on leave and then as Bishop Administrator after the Archbishop formally resigned.
"Bishop Cameron, who has led our Diocese over the past year while juggling the responsibilities of the Western Region, has worked incredibly hard to ensure good governance, care of clergy and Diocesan staff, and stability during this time of transition," Bishop Jeremy said.
Bishop Jeremy also acknowledged the commitment of staff members and the Archbishop Election Committee's prayerful approach.
"I express my deepest gratitude to Diocesan staff members who have sometimes taken on extra duties or filled gaps during this period of transition," he said.
"I am also thankful for the prayerful discernment undertaken by the Archbishop Election Committee and for the care they showed to everyone who has been part of the process."
Key functions of the Archbishop's role include pastoral responsibilities, heading the Diocese's leadership structure, ordaining clergy and granting clergy licenses, chairing Diocesan Council, presiding over Diocesan Synod, appointing principals and other senior leaders of schools owned and operated by the Diocese, serving as a Metropolitan within the Anglican Church of Australia and as an ex officio member of General Synod's standing committee, advocating in ecumenical and justice spaces and participating in legislative processes and parliamentary inquiries, as well as undertaking ceremonial duties within the Church and wider community.
Bishop Jeremy said that he hopes to continue the long and fruitful legacy of his predecessors.
"I feel the responsibility of the office to which I have been called and hope that I can build on the work undertaken by nine prior Archbishops of Brisbane and four Bishops of Brisbane over the past 164 years," he said.
"I am looking forward to worshipping with and getting to know people in Southern and Western Region parishes and continuing the work of reimagining the shape of mission and ministry for this new time.
"I am also looking forward to serving with our whole Diocesan community, as we discern where the Spirit is leading us in this next season of our life together, and to advocating alongside community leaders from other faith groups and sectors in important justice spaces."
Chair of the Archbishop Election Committee, The Rev'd Canon Dr Marian Free, said that Bishop Jeremy's background, outlook and skills will stand him in good stead as Archbishop.
"Congratulations to Bishop Jeremy on his election — I am certain that he will make a faithful Archbishop because of his experience here and elsewhere, his commitment to comprehensive Anglicanism, and in particular his pastoral approach to those holding different views," Canon Free said.
"Bishop Jeremy has served in such diverse places as Adelaide, Ceduna, Katherine, Darwin and Buderim.
"He currently serves as Bishop for the Northern Region and has been Chair of the Anglican Schools Commission for six years.
"He has worked closely with refugees and with members of the Indigenous community for many years."
A briefing and invitation paper was circulated in March by the Archbishop Election Committee, explaining the role of the Archbishop and articulating the qualities, skills and experience sought in a candidate.
Canon Marian said that electing an Archbishop is a process of discernment rather than one of a more conventional appointment to a position.
"The process began in February after the former Archbishop formally resigned and concluded with today's announcement," she said.
"We invited Diocesan Bishops of the Province to submit names that could be considered for nomination and also to invite members of the Diocese and the wider Anglican Church to submit names.
"We then invited those shortlisted into a process of discernment with the Archbishop Election Committee, which is a committee elected by the Synod of our Diocese consisting of 11 lay members and 11 clergy members.
"Following meetings with nominees, the committee met to prayerfully consider each candidate, genuinely believing that the Spirit was leading us.
"According to the Canon a person must be nominated for election by one or more members of the committee and must receive the majority of votes in both the House of Clergy and the House of Laity."
Bishop Jeremy, who was ordained to the priesthood in Adelaide after graduating from Flinders University, celebrated 25 years of ministry as a priest in February.
In an anglican focus feature, written by clergy and lay people for Bishop Jeremy's silver jubilee, Wakka Wakka elder The Rev'd Canon Bruce Boase honoured Bishop Jeremy for his thoughtfulness and generosity.
"Every Christmas Bishop Jeremy mails a beautiful large card," Uncle Canon Bruce said.
"Bishop Jeremy obviously takes great care in writing these cards…the message is uniquely personal, thoughtful and sincere.
"His cards help connect the receiver's Christmas experience with that of the First Peoples of these lands, which shows that he has sensitivity for our stories.
"It's because of gestures like this that so many people sense the Gospel in the man."
Until Bishop Jeremy's installation, Bishop Cameron will continue to serve in the role of Bishop Administrator, undertaking all of the duties and responsibilities of the Archbishop.
The Diocese of Brisbane is a member of the Anglican Province of Queensland, along with the Dioceses of North Queensland, Rockhampton and the Northern Territory.
The Diocese of Brisbane is the Metropolitan See, with the Archbishop of Brisbane being the Metropolitan.
Buderim locals Bishop Jeremy and his wife, Josie, and two of their adult children will be moving to Brisbane, along with border collie Paddy, by the end of the year.
Jump to next article