Election of a new Archbishop
"It is with great joy that I share with you the news that the Archbishop's Election Committee, at its final meeting last Saturday, elected the Right Reverend Jeremy Greaves to be the next Archbishop of Brisbane," says Bishop Cam Venables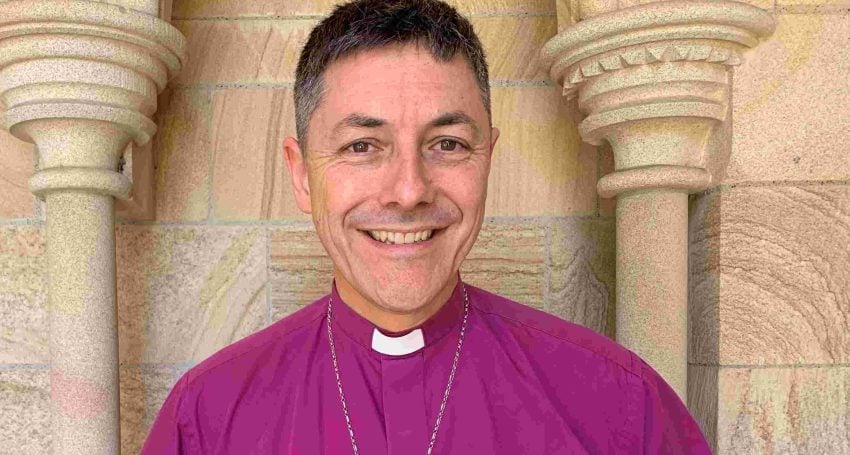 Dear sisters and brothers,
It is with great joy that I share with you the news that the Archbishop's Election Committee, at its final meeting last Saturday, elected the Right Reverend Jeremy Greaves to be the next Archbishop of Brisbane.
Archbishop-elect Jeremy Greaves will be installed as Archbishop of Brisbane, and Metropolitan of the Province of Queensland, at St John's Cathedral on Saturday 16th December 2023 at 10.30am. More details about this significant occasion will be made available closer to the date.
Bishop Jeremy (currently Bishop for the Northern Region) will be well known to many and brings a great deal of experience in ministry. He is blessed with many gifts which will benefit the Diocese, the national Church, and the worldwide Anglican Communion.
Bishop Jeremy was born in 1969. He obtained his Bachelor of Theology from Flinders University in 1997, was ordained deacon in 1997 in the Diocese of Adelaide, and priest in 1998.
Since ordination Bishop Jeremy has held a range of appointments including:
Assistant Curate St John's, Salisbury (1997- 98);
Awarded the Vincent Fairfax Fellowship (1999-00);
Assistant Curate Christ Church North Adelaide (1999-00);
Rector St Michael & All Angels, Ceduna (2000-04);
Chair Anglicare Willochra (2003-04);
Future Summit Leadership Award (2005-07);
Rector St Paul's, Katherine (2004-07);
Chaplain Police, Fire & Emergency Services (2006-07 Diocese NT):
Dean Christ Church Cathedral, Darwin (2007-13);
Police Chaplain Darwin (2009-13);
Administrator Diocese of Northern Territory (2010-13);
Priest-in-Charge St Marks, Buderim (2013-14) and Rector, St Marks, Buderim (2014-17);
Archdeacon Sunshine Coast Archdeaconry (2015-17);
Consecrated Bishop on The Feast of St Matthias, Apostle and Martyr, 24th February 2017 in St John's Cathedral by the Archbishop of Brisbane (Aspinall) assisted by Bishops of North Queensland (Ray); Rockhampton (Robinson), Northern Territory (Anderson), Grafton (Macneil), Melbourne (Billings), Sydney (Forsyth), Ballarat (Weatherill), Adelaide (McLeod), the Assistant Bishops of Brisbane (Taylor and Venables) and Bishops Fryar, Smith, Holland, Wood, Williams, Eacott, Clark & Nolan.
Assistant Bishop for the Northern Region (from 2017); and
Chair Anglican Schools Commission (from 2018).
The ministry of a diocesan bishop, including that of Archbishop of Brisbane, brings many responsibilities. In the words of our prayer book:
A bishop is called to maintain the Church's witness
to the resurrection of Christ from the dead,
to protect the purity of the gospel,
and to proclaim Jesus Christ as Lord.
As a chief minister and pastor in Christ's Church,
you are to guard its faith, unity and discipline,
and promote its mission in the world.
You are to ensure that God's word is faithfully proclaimed,
Christ's sacraments duly administered,
and Christ's discipline applied justly, with mercy.
You are to lead and guide the priests and deacons
under your care,
and be faithful in the choosing and ordaining of ministers.
You are to watch over, protect and serve the people of God,
to teach and govern them, and to be hospitable.
You must, therefore, know and be known by them,
and be a good example to all.
These are the duties of a bishop, and they are weighty.
Please join me in praying for Bishop Jeremy, his wife Josie, and children (Kate, Hannah and Thomas), as they prepare for this new season of life and ministry.
Loving God,
bless Jeremy, now called to be Archbishop of Brisbane;
fill him with your truth, and clothe him with holiness,
that he may preach your word, and care for your people;
Give him compassion and wisdom,
Sustain him with your Spirit and inspire him with vision.
Yours in Christ,
The Right Reverend Cam Venables
Bishop Administrator &
Bishop for the Western Region
Jump to next article