Research enquiry sets off voyage into Diocese's early history
For Diocesan Archivist Michael Rogers, a recent enquiry sent to the Records and Archives Centre has highlighted a forgotten part of early Diocesan history and spotlighted the links between a current parishioner's family and the group that accompanied Bishop Edward Wyndham Tufnell to Brisbane in 1860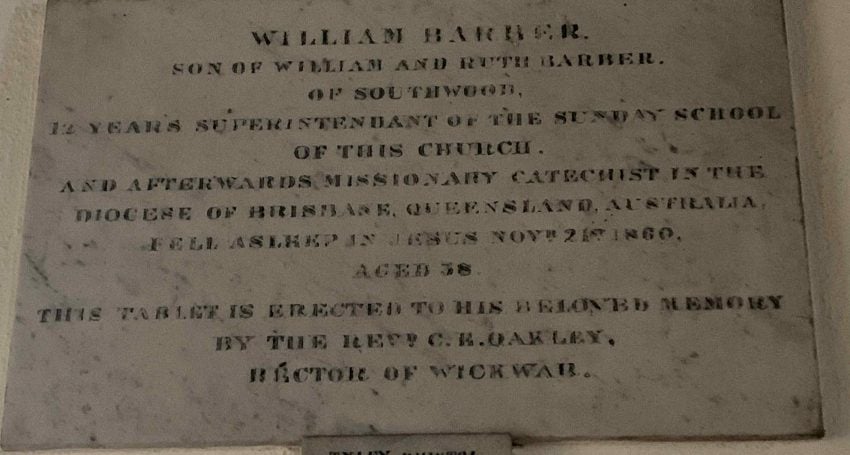 One of the best parts of my job as Diocesan Archivist is rediscovering the history of our Diocese. This often comes about from enquiries sent to the Archives – which can come from local parishioners to researchers on the other side of the world.
A recent enquirer, Cindy Southwell, comes from The Parish of Beenleigh. Cindy had been conducting some research into her family tree and was looking for a family member (William Barber) who travelled from England as a "Missionary Catechist". The only information she had on his passing was recorded on a plaque in Holy Trinity Church, Wickwar, Gloucestershire. William is noted to have died on 21 November 1860, aged 38 years.
William was born 28 February 1823 in Wickwar, Gloucestershire. He was one of seven children born to William Barber and Ruth Pullin. William Snr was a farmer and is described in the 1841 England Census as a Yeoman, with seven children and three servants. The farm is known as Southwood Farm. In the 1851 Census, William Snr is 66 years old and described as a "Farmer of 250 acres employing four Labourers. The seven children are still living at Southwood Farm."
Cindy has traced the Barber family back to Richard Barber, who was born about 1635 and died in 1686 in Wickwar.
The Holy Trinity Church, with its prominent tower, dates from around 1300 with additions and alterations in the 14th and 15th centuries.
According to the Wickwar Parish Website, the name "Wickwar" derives from the Saxon terms Wichen or Wyken — simply meaning "a settlement". The original village, noted in the Domesday Book of 1086 (the original summary of William I's survey of England and thus one of Britain's earliest public records), would have been located near the current church. A new settlement further south of the church was established in the late 13th century — this became known as Wickwar. Houses and buildings in the earlier village, apart from the church, were eventually abandoned and disappeared.
I was able to locate the entry for William Barber's funeral in the Burial Register for St John's in Brisbane.
It does not note the cemetery; however, when the funeral was held, burials were usually conducted at the old cemetery at North Quay or (later) Paddington Cemetery (which is now Lang Park / Suncorp Stadium).
When it closed, some of the graves at the North Quay cemetery were relocated to Paddington — and when Paddington Cemetery was closed, most but not all were relocated to Toowong Cemetery. There is no entry for a William Barber in the online register for Toowong, so it is assumed that his final resting place is lost.
There my research might have ended had I not reviewed the newspapers held by the National Library of Australia's Trove online database. There, I found that William had a greater link to our Diocese than simply our earliest burial register — in fact, he had been part of the group that sailed with Bishop Edward Wyndham Tufnell to Brisbane in 1860.
Most Diocesan histories note that Tufnell arrived in Brisbane with a number of clergy (including the redoubtable Thomas Jones). However, it is missed by many (including myself) that there were four others who accompanied Tufnell. These were noted in the newspapers of the time as Lay Readers and School Masters — William Barber being one of the latter. As his plaque in Wickwar notes, William had been the School Superintendent for Holy Trinity Church, so he would have been eminently suitable for establishing and running church schools in the new Colony of Queensland.
Bishop Tufnell and his merry band sailed on the Vimiera on 5 May 1860. Arriving first in Sydney, Tufnell preached at St James' Church on 17 August 1860. One of their party, The Rev'd Frederick Gee (sometime spelt McGhee), had died during the voyage to Australia.
Not long after arriving in Sydney, William received word of his mother's death, which possibly occurred just after he left England. As Cindy notes in her research, William's realisation that his mother had likely died within two weeks of his departure must have been a huge blow to him. The ships at that time, so Cindy understands, took about three months to reach Australia, so a letter probably would have been sent just after he left.
The party left Sydney on the ship Yarra Yarra, arriving in Brisbane on 2 September. William's overall health, not helped by the news regarding his mother, deteriorated. The Moreton Bay Courier of 22 November 1860 notes that he had been a scripture reader and that he spent his last days in Tufnell's parsonage, passing away in the early morning of 21 November 1860 at the age of 37. His burial, later that day, was attended "by a considerable number of [Brisbane's] respectable fellow-citizens". His name, recorded as "Barker" in The Moreton Bay Courier, was corrected and noted as "Barber" the following day.
Tufnell's band of clergy had a lasting and significant impact on our Diocese, which is still felt to this day. It is right that the names of these clergy, Mackenzie, Sutton, Gee, Ransome, Jones, Moberly and Tomlinson be remembered. It is also right that their colleagues Fewings, Ransom, Kerby and Barber are also celebrated and remembered for their place in the history of our Diocese.
Jump to next article