999 years of priestly ministry in one place
Bishop for the Southern Region, The Right Rev'd John Roundhill, reflects upon the contributions of 25 retired priests, and their spouses, who recently gathered and whose priestly service totals exactly 999 years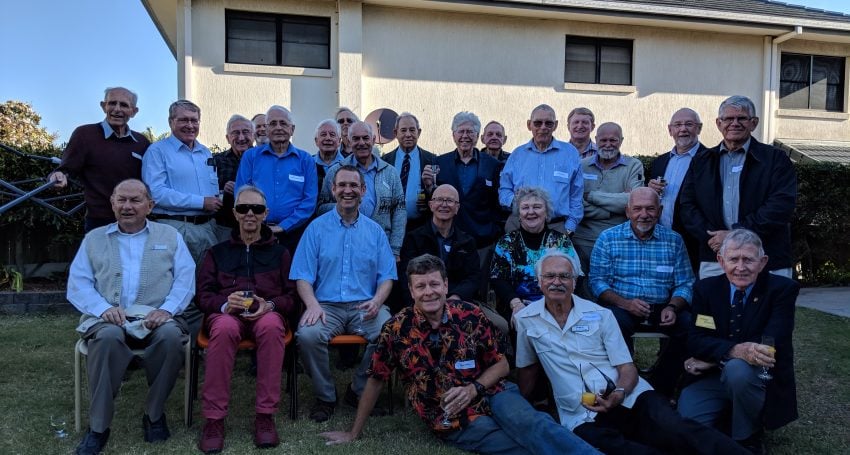 In late August, my wife Frances and I hosted a Garden Party at our Carindale home for 25 retired priests, and their partners, who live on Brisbane's south side.
Some of the priests and spouses had moved from one state or territory to another or served internationally, whereas others have remained in Queensland for their whole ministry, working in churches, schools and prisons.
Knowing that the combined number of years that the priestly ministry of our ordained guests would add up to a significant figure, my wife Frances went around and asked the priests when they had been ordained. A number of the priests had to check with their partners in order to give an accurate date. A couple of people added up the total number of years served and, after doing their sums, it was discovered that the clergy present had been ordained for a total of 999 years.
Some of the longest serving clergy and spouses include The Rev'd Dr Graeme and Miriam Goldsworthy, with Dr Graeme ordained 60 years ago at the age of 24.  Not many people give this many years of service to the Anglian Church, and nor do many begin at such a youthful age. Dr Graeme is currently PTO at St John's Anglican Church, Wishart.
A close second are The Rev'd John and Diana Arnold, with John serving for 56 years in priestly ministry. John and Diana have served in different parts of Australia and internationally, with a significant number of years in the local Diocese, as well as in Pakistan in the 70s, 80s and 90s. The Rev'd John is currently PTO at the Anglican Parish of Kenmore-Brookfield.
Another similarly long-serving priest and spouse are The Rev'd Jim and Diana Stonier, as it has been 55 years since Jim was priested. Jim spent 44 years serving on the Gold Coast in a number of roles, and is especially recognised for his contribution to the education sector, having being a Chaplain and teacher for over 38 years at The Southport School and Somerset College, where Diana also taught. The Rev'd Jim was also a founder of All Saints' Anglican School and is currently PTO at St Stephen's Anglican Church, Coorparoo. The Rev'd Jim says that for him:
There is no time for retirement – cannot find that word in the Scriptures. God's calling is for life! Opportunities and challenges exist for us all in whatever our situation, young or old, priest or laity, parish or school, if only, we are prepared to take up the Cross and spread the Gospel.
The Rev'd Canon Keith Colbert was deaconed alongside The Rev'd Jim, with the former becoming a priest a year after the latter, having served in ordained ministry for 54 years. Canon Keith and his wife, Carmel, have served in a number of regional and city parishes, including in Childers, Mundubbera, Mitchelton and Manly parishes, with Canon Keith currently serving as a PTO at the Anglican Parish of Manly. Keith said that he made a vocational commitment at the age of 19 after feeling 'called' and is particularly honouring of Carmel, who he says experienced a call to ministry before they met:
I made a vocational commitment around my 19th birthday. I have never regretted it. Seventy years later I have even more sense of 'call' than I had then. Carmel has a similar sense of call. She arrived at that point before she ever knew me. It is very much of the providence of God that we have been blessed to spend so long in God's service.
Carmel, like many priest spouses, shares in a range of tasks with her ordained partner. She has supported Canon Keith by making connections with and giving individual attention to people when Canon Keith was unexpectedly unavailable and helped provide a stable base by building community through her outstanding organising skills.
While a group photo was taken of the priests and myself, we realised in hindsight that we should have taken an image of the spouses also. While priests have officially served in this Diocese, their spouses have also given huge support, including with worship, baking, music ministry, fundraising events, hospitality, youth work and being a sounding board for their spouses, among many other tasks.
At the Garden Party, there was sharing of memories from priests who were ordained in the same cohort; recollections about who were ordained by which Archbishop; and, reminiscing about the hot summer temperatures in the Cathedral during ordination services.
I am aware that not all of the retired priests and their spouse living in the Southern Region were able to attend the Garden Party event, and that the 24 male and one female priests, and their partners, who attended represented only a snapshot of those who have retired from ministry. Many of our Diocese's retired priests are still active, holding permission to officiate (PTO) or serving as a locum. Currently, our Diocese cannot function without the essential roles these people still contribute, due to the lengthy interregnums at some parishes. And, this holds true not only for the priests, but their spouses too, many of who are still fully involved in their home parish.
It is a privilege to work with people who have been a part of the Church for so long, and yet still have more to contribute. What the Garden Party made clear is that there have been many gifted and good priests who have cumulatively given many years of service to Anglican ministry in our Diocese, achieving countless things.
Jump to next article