Against Our Oath
"Focusing on health care professionals is a smart angle to take; it appropriately and effectively removes the situation of people seeking asylum from the tangled and sticky web of politics," says FormedFaith's Jonathan Sargeant on award-winning director Heather Kirkpatrick's latest documentary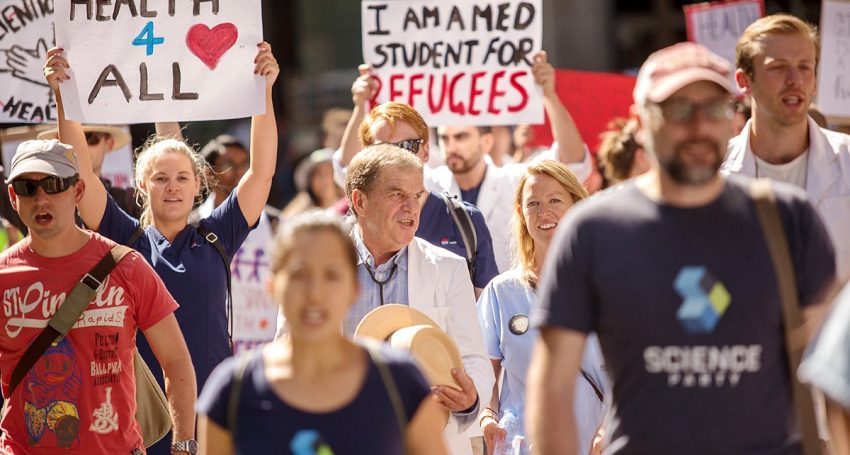 If doctors cannot follow the ethics their medical profession is bound to, what happens to their patients?
There are various ways to measure the health of a country. Most press seems to be given to economic indicators. But, it was Pearl Buck, author and daughter of a missionary who wrote, "… the test of a civilization is the way that it cares for its helpless members." Heather Kirkpatrick's latest film suggests Australia has been clearly wanting over the last few decades in this regard.
Kirkpatrick examines our country's systemic treatment of people seeking asylum by boat. However, Kirkpatrick looks at the situation of these people from a new angle: the point of view of doctors, nurses and other health care professionals whose job it is to care for these forcibly displaced people, thus exposing the inside story of the Medevac Bill. This care takes place on Manus and Nauru, and occasionally on Australian soil when critically ill people from Nauru and Manus have been evacuated to Australian hospitals. The documentary features the memorable 'Baby Asha' story when SEQ community members kept vigil for 10 days in 2016 outside Brisbane's Lady Cilento Children's Hospital to support hospital staff who refused to discharge one-year-old Baby Asha unless the government agreed to release her and her parents into the local community, instead of sending the family back to Nauru as the government intended. Fortunately, hospital staff were successful in their efforts to keep Baby Asha and her parents in Brisbane, with the government ultimately forced to release the family into our community.
Focusing on health care professionals is a smart angle to take; it appropriately and effectively removes the situation of people seeking asylum from the tangled and sticky web of politics. Our political system has been unwilling to devise a humane, institutional response to the plight of people seeking asylum that does not involve an extreme punitive deterrent. Politicians have self-servingly managed to reframe the situation of refugees ('people need to be helped') into a people-smuggling problem ('people are doing something criminal'). Both sides of politics are indicted.
When policies of successive governments undermine the oaths taken by doctors, and the care they are subsequently bound to give, a new dynamic is uncovered. This is not about the ideologies of the Left or Right. If the oath that guides your every professional action calls for you, amongst other things, to "do no harm", then releasing patients to clearly life-threatening environments like Manus or Nauru is plainly impossible. So, what do you do?
Kirkpatrick has interviewed many of these doctors and nurses, as well as refugees and workers in detention centre. She talks to former detention centre guards who break down as they recount the inhumane treatment inflicted on these vulnerable people in our name. Footage of the detention centres and the substandard medical facilities tells the story. It is impossible to watch this smuggled footage without having your heart break. We hear about the pivotal incident that led to the riot on Manus a few years ago: a video of former Immigration Minister Scott Morrison, now Prime Minister, telling people being detained that they would never be allowed to come to Australia, refugee or not, and that they should return to their war-torn or otherwise unsafe countries of origin. What emerges is a picture we rarely see: real human beings, families, children in appalling conditions where hope is extinguished. We rarely see the true human face of what our country is doing because those in charge would rather we didn't. Hence, journalists have been charged $8000 non-refundable application fees to visit offshore detention centres, with their applications almost always rejected.
As an award-winning documentary director and journalist, Heather Kirkpatrick knows how to tell an effective story. She traces the origins of the modern doctor's oath, based originally on Hippocrates' words, and subsequently updated in the light of the Nazi Holocaust. Then, German doctors were often complicit in eugenics and extermination programs. This helps the viewer to understand the weight of the oaths modern Australian doctors take. There are parallels too obvious to avoid…
Fortunately, the film also includes examples of countries who compassionately uphold the rights of refugees to live in safety and freedom. Seeing the welcome given to these brave people in countries like Canada and cities like Munich is wonderful, highlighting that our own current and horrendous status quo is entirely resolvable if only for the will of our leaders.
Against Our Oath is a difficult watch, but there are moments of true joy. Kirkpatrick succeeds in leaving us with a clear message: with human lives at stake, something better is not just possible, it is essential.
Against Out Oath is directed by Heather Kirkpatrick.
Against our Oath is in very limited release currently. You can view the film online on the documentary's website, where you can also find out more information about hosting your own screening.
Next screening
Toowoomba. Entry by donation. Thursday 14 November 7 pm to 9.30bpm, St James Anglican Church Hall, Cnr Mort and Russell Streets, Toowoomba. Hosted by Amnesty Toowoomba and St James Anglican Church. Film followed by discussion and light supper. Enquiries: Bryce Alcock 0408 060 474 or via aitoowoomba@gmail.com. See Facebook for more information.
Jump to next article