Remembrance Day
This year on Remembrance Day and Defence Sunday, we remember our Defence Force Chaplains and the important pastoral care work they do with our military personnel and veterans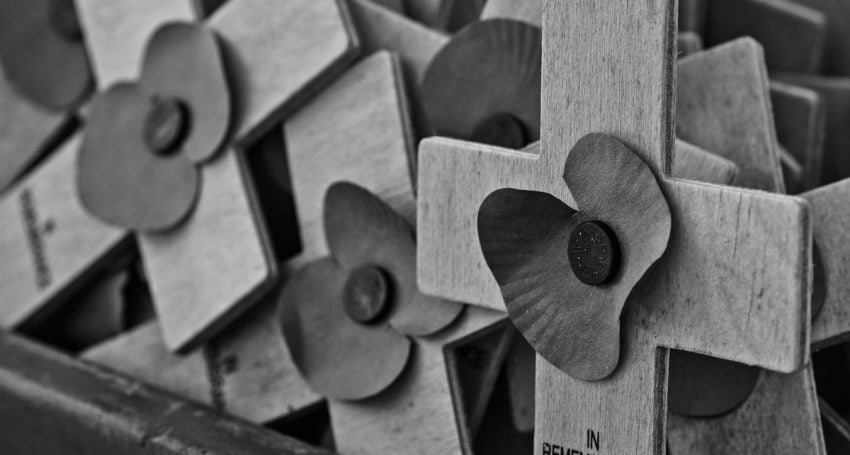 Army Chaplain ­­– The Rev'd Michael Quested
I have been working as an Army chaplain for ten years now; it is where I feel God is calling me to be for this time. I still occasionally find people who wonder why there are Defence Force chaplains. A curious question given that we have hospital chaplains, school chaplains, industrial chaplains, and prison chaplains. I think the question could be reframed as, 'What does a Defence chaplain do?'
Over the last ten years, among other things, I have conducted weddings, baptisms and funerals, as well as services for Anzac Day and Remembrance Day; addressed specialised questions about engaging with other nations and people of diverse religions; driven Defence families to safe locations at 3.00 in the morning when they have been threatened by neighbours; untangled administration issues for young Diggers when they need help; visited people in prison; comforted struggling families while their loved-one was overseas in harm's way; and, supported victims in the Supreme Court.
I have rejoiced with parents over footage of their toddlers taking their first steps and rejoiced when young people have become engaged. I have been with personnel on exercise in the bush and been overseas when every road trip was a choreographed manoeuvre in body armour and armoured vehicles. In every place the role of chaplain was basically to offer Christ-like love and to, "Rejoice with those who rejoice, weep with those who weep." (Romans 12.15)
That Australia takes time to remember those who have served in our Defence Force, those who continue to serve, and especially those who never came home to enjoy life, love, and peace, speaks volumes of the substance of our nation's character. Lest we forget.
Former Airforce Chaplain ­­– The Rev'd Robert Paget
It is hard to imagine a pacifist like myself putting on a military uniform. As a teenager in the early 1970s during the Vietnam War, conscription loomed as a very real possibility and going to war seemed contrary to everything I understood about being a Christian. Relief came with the end of conscription before I turned 18. "God first, others second, self last" was a mantra that was well and truly embedded into my psyche.
It was some 20 years later that I read M. Scott Peck's People of the Lie: The Hope for Healing Human Evil. Peck investigated the horrific Mai Lai massacre of 1968, when unarmed South Vietnamese civilians were slaughtered by a company of American soldiers, who also raped and mutilated young girls and women. The massacre was covered up for a year before the press found out, who then published the story which led to further anti-war sentiment.
Peck's book also brought home to me the burden placed on military personnel, with the prevalence of people living with PTSD and veteran suicides. It occurred to me that those who were willing to put their lives on the line for the rest of us could do with some spiritual care. So, when Bishop Adrian Charles, then Anglican Bishop to the Defence Force, informed me that there was a vacancy in Air Force Chaplaincy, I did not hesitate to sign up.
There were relatively few occasions when RAAF personnel sought specific spiritual guidance, but knowing that a Chaplain was there provided opportunities at significant times. While at RAAF Base Pearce in WA, one trainee pilot sought an opportunity to reconnect with her faith while enjoying the culmination of all her ambitions. She felt a need to give thanks to God for the good things that had come her way. It was only a couple of weeks later that a missed opportunity had her back with a sense of isolation and defeat. It was then some years later in the Middle East I came across her flying operational missions and finding her faith challenged time and time again. The continued relationship opened doors for heartfelt and deep conversations that might not have otherwise taken place.
Remembrance Day draws me back to the fact that our military personnel are just ordinary folk thrust into a world gone mad, a world were diplomacy has failed to resolve differences and governments have resorted to 'sending in the troops'. It is these troops, often young people not long out of school, that carry a huge burden. Too often when the burden becomes too great, all they find around them is a vacuum. The role of Chaplain helps to fill this void.
Former Grafton RSL sub-Branch Chaplain – The Very Rev'd Dr Peter Catt
A few months after I became Dean of Grafton, I had the honour of giving the address at the main Anzac Day service in Grafton. In keeping with addresses that had been given in my previous parish by myself and the local Catholic priest, the address focussed on how the way we live together now is the most powerful thing we can do to honour those who died. My address encouraged people to resist the politics of division.
While the school children present at the service applauded, a number of people wrote to the local paper suggesting that any 'political' comment on Anzac Day dishonoured the memory of those who died. Some in the local RSL sub-branch also expressed concern. In response, I asked for a meeting with sub-branch representatives to explain the reasons for my approach.
I met with the President and a few other members. I explained that my mother had an uncle who had been killed in World War II. Her father and mother died in the early 1950s. Had he not been killed, her uncle might have been in a position to look after her and her sister. Because he was dead, she spent her formative years in a hard, brutal Protestant Boarding School. The school experience left her with scars she carried for the rest of her life. I explained that to me some vague, spiritualised notion of peace that did not include the transformation of society into something that was characterised by peace-building and justice-seeking was not worth the suffering my mum endured, the death of her uncle, the mates they had lost and the scars they carried.
Over the next 10 years, I was invited to attend every event hosted by the ex-service organisation. I more often than not led the prayers and was often invited to speak. At the end of my time in Grafton, my hat was auctioned for charity and The RSL bought it to keep in their display case.
The following poem by the World War I Chaplain, Geoffrey Studdert Kennedy, expresses the importance I attached to being their de facto Chaplain for 10 years.
Solomon In All His Glory
Still I see them coming, coming,
In their ragged broken line,
Walking wounded in the sunlight,
Clothed in majesty divine.
For the fairest of the lilies,
That God's summer ever see
Ne'er was clothed in royal beauty
Such as decks the least of these.
Tattered, torn, and bloody khaki,
Gleams of white flesh in the sun,
Raiment worthy of their beauty,
And the great things they have done.
Purple robes and snowy linen
Have for earthly kings sufficed,
But these bloody sweaty tatters
Were the robes of Jesus Christ.
'Defence Sunday' is observed annually on the Sunday prior to Remembrance Day (11 November), and is an opportunity for the whole church to pray for the ministry that occurs within and to the Australian Defence Force. Liturgical resources and prayer points can be downloaded from the Defence Sunday website.
Jump to next article