Going where God calls
"When I arrived at the evacuation point, I found Fr Dan Talbot talking to a Police Inspector – the police had decided to form a convoy of police and public vehicles to bring everyone down the mountain safely, and we were just waiting for the Queensland Fire and Emergency Services to give them the okay," says police chaplain Jane Vines, who served in the recent bushfire crisis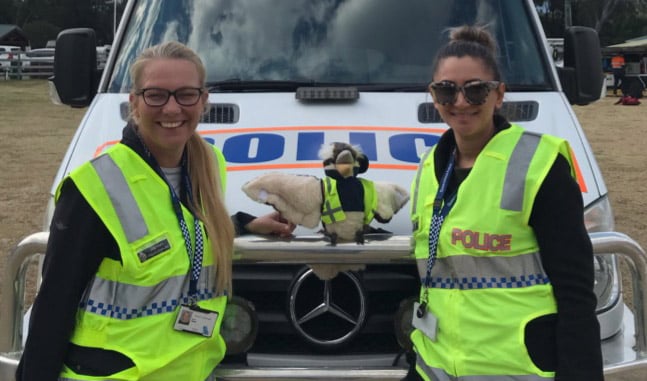 "A time to weep, and a time to laugh; a time to mourn and a time to dance." (Ecclesiastes 3.4)
It was 6.00 pm on the evening of Monday 9 September last year. I had just finished a long day shift at the Sarabah bushfires, just over an hour's drive south of Brisbane. The staging area was at Canungra, about 25 minutes south of where I live (a 'staging area' is where there the emergency services go for a free meal on their break and where they start and end every shift and receive activity briefings).
It had been a hot, dusty and smoky day. I was tired and hungry when I arrived home. I had spent my day supporting police, fire fighters and SES workers, all of them exhausted from fighting bushfires and evacuating residents. I cooked my young son and I a well-earned steak, chips and salad meal. I took one bite of my steak, and the phone rang. It was police chaplain Fr Dan Talbot. He had just taken over from me at Canungra for the evening shift and there was a serious situation unfolding. There were about 20 Police and 100 members of the public sheltering at the O'Reilly Guest House, as the fire had crossed the only road out and it was now impassable. They were all safe for now but had no way out.
So, I kissed my son on the cheek, picked up my steak in one hand and my car keys in the other and drove back to Canungra. When I arrived at the evacuation point, I found Fr Dan Talbot talking to a Police Inspector – the police had decided to form a convoy of police and public vehicles to bring everyone down the mountain safely, and we were just waiting for the Queensland Fire and Emergency Services to give them the okay. It felt like an age before we saw that convoy, the red and blue lights flashing in the dark, moving slowly down the road to safety. Nine houses and the heritage-listed Binna Burra lodge were destroyed in the Sarabah fires. There would be a time to mourn, but not on that night. This was a good night, a time to celebrate getting everyone in the convoy to safety.
Police chaplaincy is a challenging area due to the late-night call outs, the variety of cultural backgrounds you can find yourself immersed in and the long hours in often difficult locations. Over the last 18 months I have met amazing police officers who face dangerous situations and tragedy head on with no fear. I am in awe of their courage. Yet, as heroic as they are, they are also human and at times very fragile. In their line of work, they face the extreme sides of human misfortune daily, the type of horrors many of us will never know. Policing can be soul destroying at times. Police officers are good at supporting each other through the tough times, but once you face those tough times you have a greater appreciation for the times of celebration.
I did not so much seek out police chaplaincy, as police chaplaincy found me! I knew I had a calling some time ago and so I commenced my Bachelor of Theology part-time. After participating in the Diocese's discernment process, I still wasn't sure what my calling was. My parish priest Fr Dan Talbot is a part-time police chaplain and he had been asked by the Queensland Police Service (QPS) if he knew of anyone suitable to fill a chaplaincy vacancy. I am confident to say that, for the first time in a long time, I know I am in the place where God wants me to be.
The mission of a police chaplain is to provide spiritual and emotional support for police officers on the front lines who face life's tragedies every day at work. QPS chaplains are available 24/7 for an informal chat or for onsite support at traumatic critical incidents. Every year police chaplains across Queensland officiate at the National Police Remembrance Day services.
There are many benefits for police and their families who have access to a chaplain, as they may seek us out for psychological trauma related to their work duties, family and relationship difficulties or just for a friendly cuppa and a chat. The emotional stress that comes with the job of being a cop and the potential for self-isolation after traumatic incidents they encounter on duty creates a group of people highly susceptible to alcohol abuse, marriage breakdown, and post-traumatic stress disorder – police need chaplains.
Police can be extremely guarded and many of them find it difficult to relax and open up completely in a formal setting with a mental health professional or a psychologist. As chaplains work in an informal setting and are completely confidential, we can be more effective in some situations.
Police chaplains are not there to proselytise to police; however, we do our work faithfully through our calling from God and we are more than happy to talk about Jesus to anyone who asks about Him. More often than not those who are seeking God do not realise it until a major life crisis is overwhelming them, and they are left with unanswered questions. This is typically the time that they come looking for a chaplain, but in doing so they often find God.
I commenced my chaplaincy vocation in the Gold Coast Policing District and eight months later moved to the Logan Policing District to meet the increasing needs of the police in that area. Logan District stretches from Springwood in the north to Rathdowney in the south and takes in Beenleigh Police Station and the watch house to the east. I encounter officers of all ranks and specialties, as well as administration support officers and even volunteers. They all appreciate the support of a chaplain.
Some of the highlights of the last 18 months for me have been my induction as a QPS Chaplain by former Police Commissioner Ian Stewart and officiating at the National Police Remembrance Day services for the Logan and Gold Coast Policing Districts. 'Schoolies Week' is a both a highlight and a long exhausting week of night shifts, starting around 6.00 pm and finishing around 2.00 am. I get to know the crews I am assigned to and what their duties entail extremely well while walking with them on their nightly shifts. A reasonable level of physical fitness is required so that you can join the police in their duties, such as during Schoolies. My pedometer has measured distances of more than 15km in one night!
Police chaplaincy is not for everyone. If you are easily offended or cannot appreciate a little dark humour, then it is not the right call for you. My experience working in the construction industry makes this type environment easy for me to navigate and I have thoroughly enjoyed getting to know the police of the Gold Coast and Logan Districts.
2019 was both a challenging and exciting year for police chaplaincy in the Logan District. The relationship with the local police has been strengthened with a total of 20 hours of pastoral care available to them each week. The ministry of police chaplaincy continues to broaden and develop the parish's presence in the local community and beyond. I would like to express my heartfelt thanks to my parish family at Jimboomba for your prayers and encouragement – it is with your ongoing support that I am able to continue in my calling. It is a great honour and privilege to serve those who protect and serve our communities.
Jump to next article