COVID-19 Resource Collaboration Group: contributions, insights and learnings
Seven diverse ACSQ staff and clergy from the cross-commission COVID-19 Resource Collaboration Group share about their joint contributions, insights and learnings in this special feature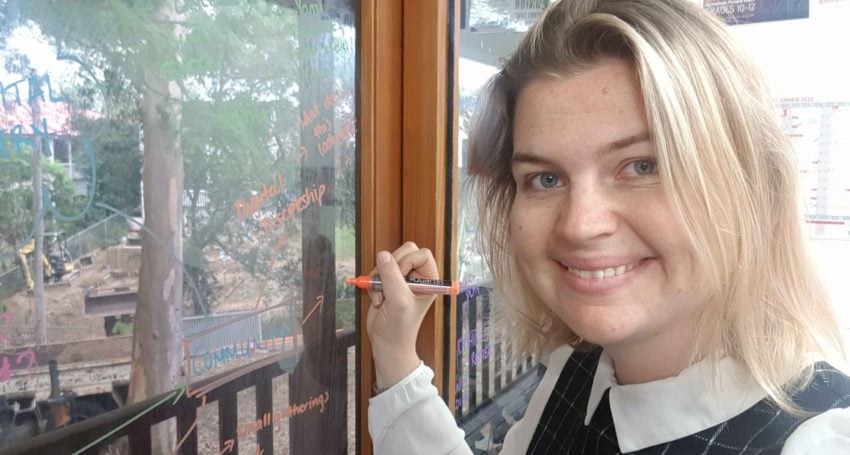 A cross-commission Resource Collaboration Group was formed in late March to assist parishes and ministries with resourcing and to provide COVID-19 related guidance and information. Seven group members share about their unique contributions, insights and learnings in this special joint feature. For a full list of group members, their contact details and how they can help, visit the ACSQ website.
Engaging with youth and young adults online – Erica Skerman, Camp and Young Adults Coordinator, AYCF
Being part of the cross-commission resource group has been a real joy during a time of challenge in my work as the Camp and Young Adults Coordinator. Much of what was planned, including camps and other events, has now had to undergo changes and postponements. So, to have a team where I could contribute my skills and resources to helping our Diocese through this time has been invaluable. One of my favourite contributions to this group has been to curate digital resources for our youth ministry and to support the work they are doing.
These times have highlighted the strength of our ministers, youth, and youth ministry to respond and adapt to the ways in which we connect and gather. By providing and curating online digital resources for our youth groups to use, I am merely (I hope!) inspiring and encouraging the great work our groups are already doing to stay connected and still have lots of fun along the way.
Some of that great work ranges from using Alpha Youth videos for discussion points online, to creating a private server on Minecraft (a popular video game set in a blocky 3D world) to play together, to curating a range of online quizzes through Kahoot! (a game-based learning platform).
It was great fun personally to see my work with the online Kahoot! quizzes in my own parish at St Stephen's, Coorparoo being used by our youth group with great engagement. It was also a pleasant surprise to us as leaders at how simple and easy some games were to play online, even 'paper, scissors, rock'! It's a good reminder that sometimes, simple works best.
Looking to the future weeks and months, I have spent time brainstorming ways in which we can continue to connect, deepen relationships, and build online environments that inspire and flourish the faith of youth and young adults. While there are many challenges that we face, I have found that there are just as many exciting opportunities to experiment, create, and curate more resources for now and in the future.
Online information for parishes and parishioners – Dr Stephen Harrison, Executive Director, Parishes and other Mission Agencies Commission
Since mid-March, one of the key contributions of the Parishes and other Mission Agencies Commission (PMC) has been the provision of online guidance and information on the ACSQ website for parishes and, both, long-term and new parishioners.
The 'Guidance and Information' webpage has been the primary source of information for parish clergy and others involved in ministry activities regarding, for example, worship and the sacraments; church gatherings, such as youth ministry activities and Bible studies; pastoral visits; the use of church buildings and facilities; and, op shop operations.
The guidance and information provided on this webpage have been based on state and Federal government advice in order to help keep our churches consistently current with COVID-19 related regulations. This has been a challenging process at times, involving a high degree of responsiveness, as I, and other staff, stay up to date with online government advice in a shifting environment and engage with senior clergy and government representatives to ensure both accuracy and timeliness.
We sincerely appreciate the commitment of our parish clergy in keeping their congregations and broader communities safe by regularly visiting the webpage and following its guidance.
The 'Churches livestreaming' webpage alphabetically lists the nearly 60 ACSQ parishes which are live streaming or recording services to help keep their community members spiritually nourished and socially connected. This page has largely been the work of Parish Liaison Officer Kelly Houston and PMC Administrator Belinda Macarthur, who put much care into creating a well-organised and aesthetically pleasing resource for the community.
Parishioner feedback for the 'Churches livestreaming' webpage has been incredibly positive. It is wonderful that so many of our congregation members have been 'attending' the many online services offered, as well as actively inviting friends and family members to also 'attend'. This has been an unexpected blessing for our Diocesan community, with a significant number of parish clergy reporting an increase in new 'church goers' with the shift to what has been affectionately dubbed 'Zoom Church'.
It is hoped that once we are able to gather face to face again that these new congregation members will continue to explore what Anglicanism and our faith community have to offer, as we warmly welcome them into the sacred spaces of our regular worship places.
COVID-19 Ministry Support 'Help Desks' – Kerryn Smith, Publishing and Social Media Coordinator, Anglican Schools Commission
In an Ad Clerum sent out just before Easter, Archbishop Phillip Aspinall said that the most important and immediate priorities were:
Pastoral care for your people;
Care for yourself and your loved ones; and,
Prayer and the prayer life of your community.
The Resource Collaboration Group took those words to heart and collaborated to intentionally assist parishes and the wider church so that they could focus on these priorities.
In early April, a survey was distributed to parishes and church groups in order to see how people were responding to operational changes and to identify any needs or gaps that were emerging. Analysis of that data revealed an opportunity for us to create forums that would assist clergy and other parish leaders to meet a variety of needs and collaborate with their peers.
It was decided that an informal online 'help desk' was initially the best way for people in parishes and church groups to problem solve issues or brainstorm ideas with a few friendly faces. Each session was hosted by three Diocesan staff with experience in liturgy, IT, communications and/or pastoral ministry. The Rev'd Canon Sarah Plowman (Diocesan Director of Ordinands and Vocations), Kelly Houston (Finance and Diocesan Services Commission), The Rev'd Jonathan Kemp (Anglican Youth Children's and Families Ministry), The Rev'd Richard Browning (Anglican Schools Commission), Peter Branjerdporn (Justice Unit), Erica Skerman (Anglican Youth Children's and Families Ministry), The Rev'd Jazz Dow (Community of The Way), Jonathan Sargeant (FormedFaith) and I facilitated three virtual help desks, hosted online via Microsoft Teams.
Some of the areas of interest and concern covered in these help desk conversations included digital technology or applications; reshaping liturgies; finding good resources; ideas for community engagement; and, getting referrals to the right people.
As a result of these sessions, we have subsequently gone on to host a range of online conversations that have been tailored to specific topics of interest, facilitated by people with particular knowledge and experience in those areas. These sessions continue to take place and are advertised here in anglican focus, 'Wednesday Weekly', ACSQ Facebook, and by email to parishes.
Zoom-based 360 webinars – Jonathan Sargeant, Director of Lay Education, FormedFaith, St Francis College
"This has been my first ever webinar, but I love learning in my own living room connected with people around the state."
"So much fun, and all over my little tablet. Thanks, FormedFaith!"
In the midst of COVID-19, with temporary restrictions on face-to-face contact, the need for learning and growing our faith continues. Meeting this need set us at FormedFaith on a new course, which may suggest the way of the future.
One of the most successful strategies for inspiring Bible re-engagement and faith learning across our Diocese over the last 10 years is undoubtedly the 360 Project. Growing out of the initial BIBLE360 seminar, the work of The Very Rev'd Dr Greg Jenks and The Rev'd Adam Lowe provided a platform which has grown into seven (and counting) seminars, run face to face in churches and church halls by local ACSQ members.
The current gathering restrictions have temporarily suspended the delivery of these full-day face-to-face seminars. Our answer? Zoom-based 360 webinars, free to anyone interested, run by Lay Education Projects Officer Fiona Hammond and I, and suitable for enjoying from wherever you like! By adjusting the day-long seminars into bite-sized 60-minute chunks, we have been running these evening webinars monthly since Tuesday 14 April, with participants signing in from every Region of our Diocese. Some join in for pure learning, whilst others have admitted they're checking the programme out for future parish-based bookings. Each webinar is standalone, so people can join in at any point during the short course.
I began with BIBLE360 'Intro to the Bible', a good starting point for the 360 Project overall. Numbers for the webinar have been growing with positive participant responses. The simplicity of joining webinars via computer, tablet, phone or smart TV means the learning experience is smooth and easy, with help for people in getting the technology right always the first step of the evenings.
Whilst the delivery of 360 seminars like MISSION360 'Opening the Circle' ( a workshop on making our parishes more welcoming) and FAITH360 'Praying in Anglican Ways' will return in the usual face to face format in the future, these BIBLE360 webinars will continue, joining people across our Diocese in learning and growing their faith together.
The next 360 Project webinar is on Tuesday 2 June from 7-8 pm. Focussing on fascinating overviews of the Old and New Testaments, as well as the Apocrypha, simply email me for a link to join in this, or a future, session.
Curating and creating Holy Week and Easter ministry resources – The Rev'd Canon Sarah Plowman, Director of Ordinands and Vocations
When the world began to change earlier this year due to COVID-19, I wondered what contribution I could make to the wider Church. So, when I was asked to be part of the Resource Collaboration Group to support parishes, I jumped at the chance.
As part of this group, I curated and created resources for use at home during Holy Week and Easter, which were uploaded onto the ACSQ's regularly updated new 'Faith at Home' webpage. In doing so, I spoke with many clergy across our Regions about what they were doing, and overwhelmingly, they were grateful for the contact and support.
The Resource Collaboration Group is 'the Diocese' with human faces and loving hearts, full of ideas, skill, warmth and generosity. My part was simply to collect and contribute resources for others to use, hopefully making someone's day easier because I could do what they did not have the time or energy to do.
I have learned two really important lessons in this experience. Firstly, that the people who minister in our Church have the capacity to rapidly learn and adapt in a changing environment – and I include myself among those! In the course of creating and curating online resources, I have had to learn to film quality video clips, curate online material, use Facebook and YouTube to best advantage, and become adept at co-hosting online meetings.
Secondly, I have learned that it takes courage to put your face, your voice, your church and your sermons 'out there' for the broader community to see and comment on. I salute all those who have started recording or live streaming services and other ministry activities (maybe for the first time) and now regularly appear online to nourish their congregations. This is truly stepping out in faith and I look forward to continuing to support our parish clergy and people in their ministry.
If you have resources to share with our Diocesan community, please email  The Rev'd Canon Sarah Plowman.
Online retreat: Sent inSide – The Rev'd Richard Browning, Director of Mission, Anglican Schools Commission
I have led plenty of retreats before, but never from home and across the web. Some bold clergy from schools and various parishes signed up. The invitation was simple: come on a journey with Christ from resurrection into mission, an intentional retreat in daily life called 'Sent inSide'.
Every Tuesday morning since Tuesday 5 May, we have Zoomed together at 9 am for two hours. The adopted framework is simple: going inside the head, the heart, the body (hand) in order to be sent out with head and heart and hand to love more fully as God loves us. The retreat has drawn participants into some simple practices that take us away from screens and into full bodied attention. The practices in our tradition are rich and many, including Lectio Divina ('divine reading'); silence; Examen (Ignatian technique of prayerful reflection); sabbath (rest); contemplation; meditation; and, The Daily Office.
Shaped by a desire in our heart and the discipline of our will, we practise a practice and train our body towards receptivity. The prayer is that in nurturing our receptivity, we would be met by Christ and nourished by his love, and there refreshed to be sent into the world God made and loves. I chose for my practice a labyrinth and mowed a large seven-channel path beside my house.
These are some early reflections from two of the retreatants:
"An online retreat is definitely different – no formal worship, no common meals, no scheduled downtime. Nonetheless, it has been wonderful. It has been more than just a two-hour break on Tuesday mornings. It has meant trying to carve out space in the day for reflection and spiritual practice. I am grateful for these chunks of time that have allowed me to be with an open heart and attentive mind." (The Rev'd Kate Ross)
"I've found the process one I've been able to take into my life each day – the intentionally of awareness of the world around me; the discipline of reflection at the end of each day; and, the shalom I've been led into. I have relished the Zoom conversations each week – the input from colleagues, including the opportunity to hear their stories and share my own." (The Ven. Valerie Hoare)
Messaging principles and anglican focus – Michelle McDonald, anglican focus Editor, Parishes and other Mission Agencies Commission
anglican focus aims to be an alternative to mainstream news, including regarding content, approach and messages. Thus, following the onset of COVID-19, it was decided that anglican focus would publish content that focuses on the creative, adaptive and constructive ways that various parts of the ASCQ are responding to the current health and socio-economic challenges.
In response, during an online Resource Collaboration Group meeting, I raised the need for a document to be created for anglican focus contributors, and potentially others involved in Diocesan communications, which provided messaging guidance so that published content was appropriate for our unique audience.
Fellow cross-commission group members Kerryn Smith and Fr Richard Browning from the Anglican Schools Commission volunteered to assist with the development of this resource. Within a week we developed the 'ACSQ messaging guidelines for COVID-19 related communications', seeking feedback and approval from other Resource Collaboration Group members in the process.
Without undermining the seriousness of the current situation, the messaging guidelines are assisting anglican focus contributors to ensure that hope; human agency; collective responsibility and community; people-centred language; and, Christian mission are encouraged and emphasised.
Contributors have been very responsive to the principles of the messaging guidelines, willingly embracing these in the shaping of their submissions.
The news site provides a channel for reader-contributors to share stories, inform, encourage, and inspire their fellow readers. Thus far, 80 news stories, reflections, features and videos tagged with 'COVID-19' have been submitted by clergy and lay people across our Diocesan community, and subsequently published, to raise spirits, resource, and encourage hope. This reflects the overwhelmingly thoughtful, collaborative and generous nature of our community, which has been incredibly inspiring for me as the Editor.
The following published items are among the reader favourites so far tagged with 'COVID-19' (based on digital analytics, but in no particular order):
'Caring for each other and staying connected during this challenging time' by Archbishop Philip Aspinall
'Nuptials via Zoom: a strange new world' by The Rev'd Donna Petersen
'Cathedral Good Friday service broadcast on ABC TV Australia-wide' by Ian Eckersley
'Remembering who God is' by Archbishop Philip Aspinall
'Supporting our parish clergy and lay leaders via the 4 p's' by Stephen Harrison
'What might be the invitation of the Spirit to you in these times?' by Bishop Jeremy Greaves
'The still small voice of calm' by Bishop John Roundhill
'COVID-19 chrysalis' by Bishop Cam Venables
'Tips for teenagers: keeping occupied at home in the school holidays' by Joshua and Steve Window
'Is that a palm on your letterbox?' by The Rev'd Andrew Schmidt
'The church does not close, only the building' by Janet Dyke
'ACSQ 'Thine be the Glory' video mash-up' by the ACSQ community (coordinated by St Bart's, Toowoomba)
'Finding myself in an enforced sabbath' by The Rev'd Penny Jones
'Zoom Church: discoveries and tips' by The Rev'd Dr Cathy Laufer
'A deacon, a dojo and a dentist' by The Very Rev'd Dr Peter Catt
'Remembering the forgotten in the COVID-19 environment' by Peter Branjerdporn
Jump to next article