What might be the invitation of the Spirit to you in these times?
"It seems to me that one invitation could be to explore or re-engage with some of the practices that have always been part of being Christian, but which have been neglected over recent years," says Bishop Jeremy Greaves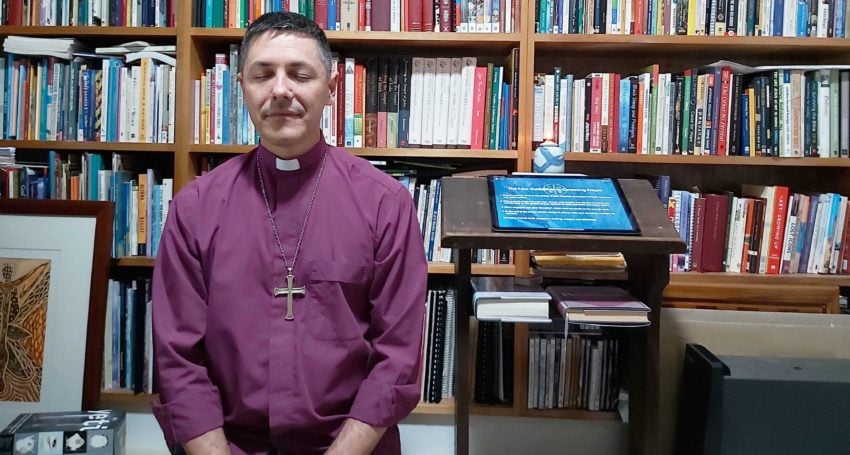 A little over a hundred years ago, when the world was struggling to deal with the Spanish Flu, people were living with similar restrictions to those we are currently experiencing. People were unable to gather in schools, theatres, restaurants and churches, with people confined to their homes except for essential trips out.
In Brisbane, the telephone exchange shut down because there were not enough telephone operators untouched by the flu to keep things going – with people unable to make phone calls, they experienced isolation as never before.
In 1918, during the Spanish Flu period, The Rev'd S.O. Coxe, pastor of Handley Memorial Presbyterian Church, in Birmingham, Alabama, reflected on the need for a ban of public worship gatherings, writing that:
"But, while this providence is a severe one, affecting as it does all our plans and programs…may we not yet turn this season to best account by accepting it as an opportunity for the exercise of a fuller devotion to God and to the things of His Kingdom? Necessarily we shall be kept in our homes many hours that would otherwise be spent in recreation and amusement…And certainly if we should improve these hours by prayer and meditation, the seeming curse of this scourge would not be unmixed with blessing."
The writer of the book of Revelation asked hearers to look around and see what was happening in their world and listen for the invitation of the Holy Spirit: "Let anyone who has an ear listen to what the Spirit is saying to the churches." (Revelation 3.22)
What might be the invitation of the Spirit to you in these times? It seems to me that one invitation could be to explore or re-engage with some of the practices that have always been part of being Christian, but which have been neglected over recent years, as gathering for Eucharist has been, for many of us, the only regular faith practice in which we engage.
Christianity has, from the very beginning, been as much about practice as it has been about belief, as Diana Butler Bass explains in Christianity After Religion:
"The early community that followed Jesus was a community of practice. Jesus's followers did not sit around a fire and listen to lectures on theology. They listened to stories that taught them how to act toward one another, what to do in the world. They healed people, offered hospitality, prayed together, challenged traditional practices and rituals, ministered to the sick, comforted the grieving, fasted and forgave. These actions included wonder, gave them courage, empowered hope, and opened up a new vision of God. By doing things together, they began to see differently… Jesus did not walk by the Sea of Galilee and shout to fishermen, "Have faith!" Instead, he asked them to do something: "Follow me." When they followed, he gave them more things to do. At first he demonstrated what he wanted them to do. Then he did it with them. Finally, he sent them out to do it themselves, telling them to proclaim God's reign and cure the sick. When they returned from this first mission, they could not believe what had happened. They discovered that proclaiming the kingdom was not a matter of teaching doctrine; rather, the kingdom was a matter of imitating Jesus's actions.
At least one study from the US shows that there is a link between "personal spiritual practices" and congregational vitality, suggesting that the "more emphasis a congregation gives to the value of home and personal religious practices, the higher the congregation's vitality and the more likely it is to be growing in membership."
One of the practices that I have been quite intentional about re-engaging with over recent weeks is the practice of centering prayer. While using the Centering Prayer app helps, it has taken some discipline to make sure I spend 20 minutes at the beginning of the day in silence, before the Daily Office or before looking at any emails, but it has made a tremendous difference to my sense of being able to pray through this time. Of course, there are many other spiritual practices and individuals and groups will choose to explore different options.
Various writers have recognised three types of spiritual practices – those that are individual and 'personal', upon which the more public or 'communal' practices are based and designed to build community. These in turn yield 'missional' practices – practices we undertake as we engage in our Christian ministry with others.
The 'personal' disciplines we might explore during this time of physical distancing are regular (likely daily) practices in which we engage so that we may be able to express our faith communally out of deep inner conviction and passion, rather than out of duty, custom, or fear. These include: Meditation, Prayer, Fasting, Study, Simplicity, Discernment, Pilgrimage, Forgiveness, Solitude, Submission and Honouring the body.
These might be good practices to explore until the time comes when we can gather together again and engage in more public or communal practices. A great place to begin exploring the practices of the faith might be the Spiritual Practices website.
But there are many other places to look and explore.
Jump to next article