Margaret's musings: spiritual stocktaking
"As a financial year ends and a new one starts there is always stocktaking, so at the start of this Church year we should all do some spiritual stocktaking," says soon-to-be-101-year-old Margaret Thurgood from St David's, Chelmer-Graceville and St Hugh's, Inala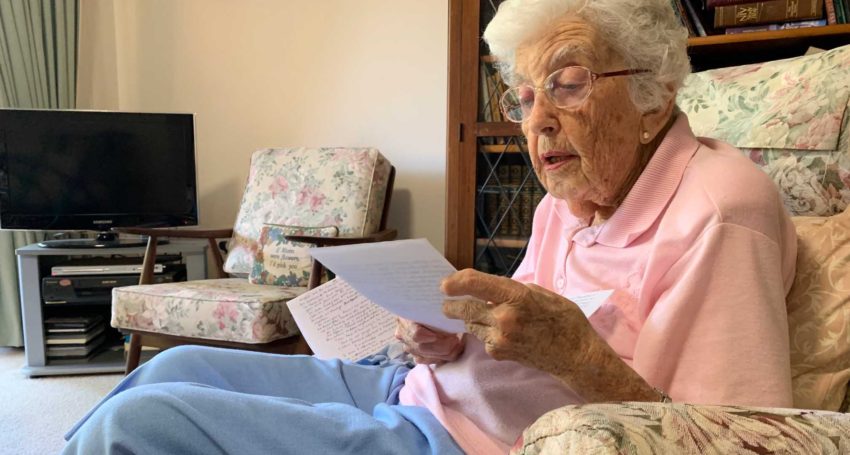 Story Timeline
Being Together This Advent
I am convinced the older one gets the faster time seems to fly. Here we are at start of December – the start of another Church year and only a few weeks to Christmas. As a financial year ends and a new one starts there is always stocktaking, so at the start of this Church year we should all do some spiritual stocktaking.
As a parish God has provided marvellously for our needs. He enabled us to carry on after Fr St John left us and answered our prayers for a choirmaster and Rector – "a shepherd after His own heart". A parish is always in a state of flux. God's people can be called to live elsewhere, and we do miss those who have left us. Many new families have joined us and for that we are thankful.
The past year for some has been sad as quite a few have lost loved ones. Many have borne illnesses bravely and some (myself included) have had operations. There are those who have struggled to bring up a family on their own and I expect many of you will have had family problems and trials of one sort or another. I hope that through these 'splinters' you have gained strength and a greater awareness of God's love. Some will have had the joy of living in Christian community at a Cursillo weekend – an experience that should not be missed and is open to all age groups (except children of course).
Now for a personal stocktaking. We should ask ourselves:
Have I grown closer to the Lord Jesus during the year? How much time have I spent in private prayer and meditation and Bible reading? Have I attended Holy Communion regularly? How has my witness been? Would strangers know by my attitude or demeanour that I am a Christian? Have I told anyone of God's love and grace? Have I been reconciled to anyone with whom I have been estranged? Have I shown to others love, patience, good temper, forgiveness and am I showing in my life the fruit of the spirit (Galatians 5. 22-23)?
Maybe it is also the time for resolutions. Our resolve should be for spiritual growth.
I am convinced that you really only grow spiritually if you are prepared to set aside a short time each day to be alone with God. Have a special place where you can sit and read God's word and meditate on it and wait for God to speak to you. Jesus commended Mary of Bethany for sitting at His feet. Work has to be done but if we do it putting Jesus first, we will do it with joy in our hearts and it will make all the difference to the day. For years I stagnated as a Christian because I neglected a 'quiet time'. Do endeavour to do this and you will receive countless blessings "the oil of joy for mourning and the garment of praise for the spirit of heaviness" (Isaiah 61. 3).
Using devotional aids can be helpful. I use Every Day With Jesus which is published bi-monthly and has a different theme each time. Other devotional aids were mentioned by our Rector in last month's 'News and Views'. Sharing with others in small groups is also a means by which we can grow spiritually. We were made for fellowship and Christian fellowship, where we can exchange thoughts and share our problems, read God's word and pray together, can be a very uplifting experience. Why not form a small group and try it?
Reading Christian literature can also be helpful. At St David's we have a library in the porch (seldom used now) with a variety of books which make enjoyable and helpful reading. Why not avail yourself of it? Perhaps you can take a book to read in the holidays.
Nothing is attained in this life without effort, perseverance and discipline. So, resolve to give God some of your time and you will grow closer to Him. It goes without saying that attendance at His banquet each Sunday or as regularly as possible is a 'must'. See you there! A happy and holy Christmas to you all.
Jump to next article