Four locals, four stories about finding room in the inn
In this special joint feature, four members of our Diocesan community each share about a unique experience of room 'being made in the inn' for them, including a former refugee and priest, a 'camper-outerer' and Cathedral parishioner, a parishioner and disability advocate, and a priest who moved to Australia from South Africa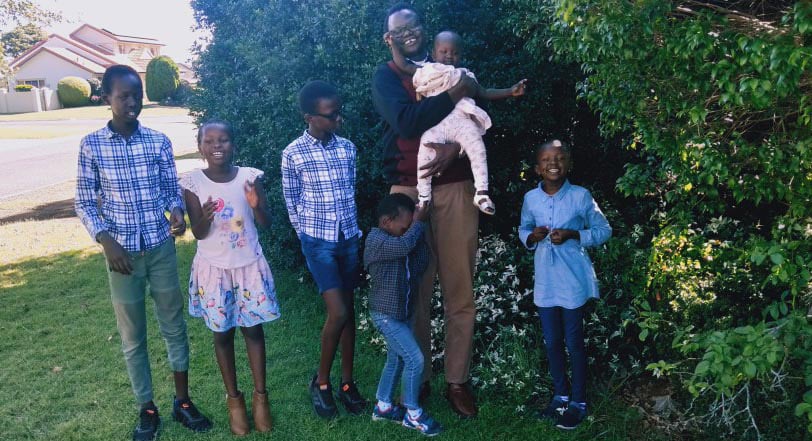 Story Timeline
Being Together This Advent
The Rev'd Peter Mayen – Assistant Priest at St Luke's, Toowoomba, father and former refugee
I arrived in Australia as a South Sudanese refugee from a camp in Kenya on 12 October 2004. I lived in the camp for 12 years from 1992 to 2004. A few Sundays after I arrived, a man from St Luke's Anglican Church, Ekibin, named Harry, welcomed me to the Sunday service and introduced me to parishioners after picking me up from my home. Harry also showed me how to shop and taught me how to drive and how to catch the bus and the train to TAFE, so I could learn English, and to work. The priest also warmly welcomed me into the worshipping community of St Luke's. The parish community made me feel welcomed and at home. As an Anglican, I was already familiar with the prayers – only the hymns were different.
I was very pleased to be safe from the threat of harm and the worrying about food security. Moving to Australia gave me a new beginning. While there were some initial adjustment challenges, especially with language and accents, my life transformed as I found work and a home in my new parish community.
The Church is a broad family. We are the Anglican community, with over 80 million people worldwide. We came out of Christ himself. For Anglicans, welcome is one of our gifts and one of our vocations. Worshipping together in a welcoming environment is healing for people from war-torn countries, like myself, and also enables us to serve and connect. It's healthy.
Christ himself welcomes us into the Kingdom of God. 'Advent' means 'arrival' – the arrival of Christ. It is our job as a Church to reach out during Advent and let Christ be known as we embrace the people of God. We the Anglican community, with the authority of Christ, are Christ.
Len – Cathedral parishioner and camper-outerer
I first started sleeping in one of the entrances of the Cathedral just over three years ago. Before then I used to camp out at Anzac Square. I had a business partner who was a lawyer – we created two companies together. After something went wrong, we decided to de-list so I lost the value of all my shares. When I ran out of money, I started sleeping in Anzac Square and then on the Cathedral grounds in 2017.
I had previously met Dr Solari [The Rev'd Dr Ann Solari, Honorary Cathedral Deacon and a GP] at what was then called the 139 Club – a Fortitude Valley drop-in centre for people I call 'camper-outerers'. I found out that I could sleep on the Cathedral grounds at night from an Anglican nurse who worked with Dr Solari. When I came to sleep at the Cathedral for the first time, Dr Solari gave me blankets. Dr Solari is first and foremost a very nice human being – she is strict but caring, and of course a very good doctor. One time I had an accident on St Paul's Terrace crossing the road. I smashed up my foot quite badly when I got hit by a car. I don't like hospitals, so Dr Solari took care of me by checking my foot regularly.
I feel welcomed at the Cathedral because most people say hello, including the lady priest with the glasses [The Rev'd Kate Ross], the male priest with the glasses [Fr Howard Munro] and others [Len, for example, pointed to Andrew Dowling from FDSC]. I feel welcomed because of that. Everyone makes me feel comfortable. I feel safe on the Cathedral grounds and I get a good night's sleep. Every morning I wake up and thank God for giving me a safe night, and then off I go. When you sleep you don't want to worry about drunks kicking you or coppers or security waking you.
It is important for churches to welcome camper-outerers because people need help. If more priests and others like Dr Solari were on the frontlines to meet these people, the camper-outerers would not get disillusioned and attracted to drinking and drugs. It would help them to keep faith, trust and hope in themselves, especially when bad things happen.
I started going to the Sunday night evening hymn service in 2017 – now I go every Sunday night. The first day I was able to attend the service after COVID-19, I started going and I have been going every Sunday since. I also like hearing them practise singing at night.
Dean Peter [The Very Rev'd Dr Peter Catt, Cathedral Dean] is always very polite. He always asks Dr Solari what our names are so he can call us by name. I never feel like I am imposing. I think camper-outerers should be welcomed by churches all the time. Things in Advent leading up to Christmas are no different to any other day in life for camper-outerers.
Elizabeth Mosely – Auchenflower-Milton parishioner and disability advocate
Our happy and small church community was shattered when a super storm wrecked our Milton-based heritage church in 2008. We were warmly welcomed to and integrated into the Chapel of the Holy Spirit community at St Francis College. From day one, I was relieved to find good wheelchair access and was also happy to be accepted as a valued addition to the congregation. In fact, I have never felt an outsider in this inclusive church community.
An invitation to read the lesson at a Sunday communion service on a regular basis was only stalled by COVID-19, and I am encouraged to read from where I normally sit. Serious health issues, including my own, are always sensitively covered by prayer and compassion. Being able to watch services in real time on YouTube means I am still included, even while I am in hospital. The smiles and welcome when I return to services in person are so good for the soul. I feel very blessed to be part of this exceptionally caring church.
Having an increasing level of disability means that I lean on my faith and support from my church more and more. Understanding and acceptance have given me a solid anchor in my day-to-day life. My strong faith and willingness to continue to sometimes struggle to get to church indicate how important it is to me.
My positive experience in a church community is unfortunately not universal. Lack of access is not the only problem for others who use wheel chairs or wheelie walkers. A welcoming atmosphere is imperative because people with disabilities and their families can be sensitive to negative vibes. Instead of being able to enrich the community, they are lost to it.
Advent is a time of hope and new beginnings – a time to reflect on our faithfulness. A time to make new intentions and to broaden our horizons. A new and determined resolve to actively look for and welcome folk who have family members living with disability into our church communities could be an exciting and satisfying experience.
The Rev'd Andrew Schmidt – Priest-in-Charge of The Anglican Parish of Bundaberg West, who grew up in South Africa
As a white man who came from South Africa in my late teens and who has visited a number churches over the years, one particular welcome sticks with me. I was part of a group invited to St Alban's Anglican Church in Yarrabah to worship there. After the church service, we went for coffee and raisin toast and as part of this morning tea we were welcomed to the community. In a very relaxed but paradoxically formal way, the Yarrabah people figured out which of the Aunties was the eldest, and she then told us a little of her connection to the Yarrabah region, and welcomed us to her land. After that there was a time of storytelling, making each other coffee and toast and laughter at the children who were running around.
At the time it felt very warming to be invited to a place that was sacred, both as a place of Christian worship and as the country of the Yidinjdji people. The worship we shared, which was very similar to the worship in the church services I grew up with, as well as the services that were a part of my regular Bundaberg West church life.
Part of what made that day stick in my mind is that it had people from many walks of life, singing together, praying together, sharing bread and wine, sharing coffee and raisin toast and telling stories. In that diversity, we shared more fully in the experience of being the body of Christ, something that I think each church community should be seeking.
During Advent, the time of preparation for Christmas, the time a young family welcomed the Christ child into their arms, I think it is particularly important that we be welcoming to all whom we might get a chance to meet, for in that way we might, as with Mary and Joseph, open our arms to Christ.
Jump to next article