Anthony of Egypt
"Recognised as the legendary pioneer of the desert Abbas (Fathers) and Ammas (Mothers), Anthony's individual qualities and fervent humility enabled the desert movement to shift the patterns of Christian discipleship," says The Rev'd Jamee Callard on Anthony of Egypt, while also inviting us to join her new Holy Hermits Online community in a nourishing ABM Lenten study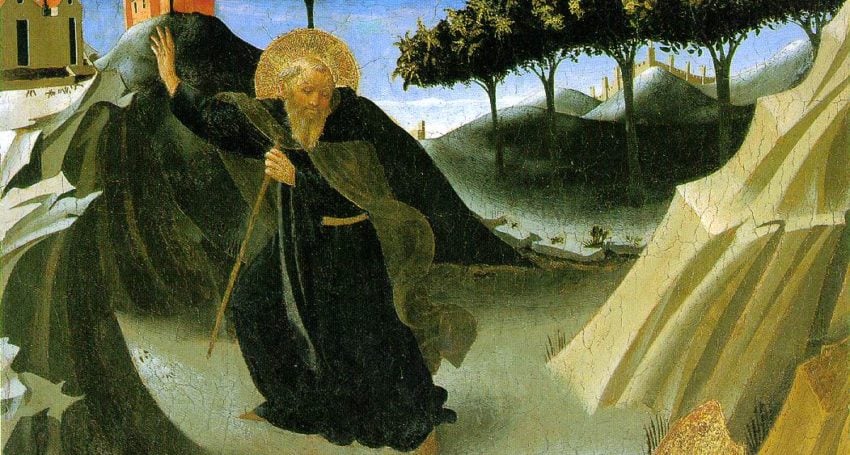 I first came across Anthony of Egypt in September last year when I was compiling a list of the holy hermits of our Christian history for our new ACSQ ministry Holy Hermits Online. His story and legacy offer ongoing inspiration to me and our intentional online community members as we use retreat and contemplation as strengthening practices for living out an authentic and connected Gospel life.
Known by different names such as 'Antony the Great', 'Anthony the Anchorite', 'Anthony the Hermit', 'Anthony the Abbott', 'Anthony of Thebes' and 'Anthony of the Desert', he is celebrated as the founder and Father of organised Christian monasticism. He is renowned for his contributions to the written works of the Desert Fathers and Mothers, which have seen a resurgence in popularity, celebrated in works like Silence and Honey Cakes: The wisdom of the desert by the former Archbishop of Canterbury, Rowan Williams. He is also recognised as one of the most remarkable spiritual warriors to fight against the forces of evil encountered in the wilderness in our Christian history.
Anthony was born into a wealthy family in Egypt in around 251. He suffered the loss of his parents in his youth and subsequently inherited their riches. Hearing the story of The Rich Man who asked Jesus for the road to eternal life in the Gospel of Matthew, Anthony bravely followed Jesus' direction literally. He sold all his possessions, placed his sister in a convent, distributed his wealth to people who were impoverished in the city and retreated to the desert in search of communion with God.
Tradition has it that his long sojourns alone in the desert are marked by his resistance to the forces of the Devil, and his rigorous discipline in the face of temptation. One of his sayings gives us a glimpse of his struggles in the wilderness:
"I saw all the snares that the enemy spreads out over the whole world and I said, groaning, 'What can get through such snares?' Then I heard a voice saying to me, 'Humility'."
Recognised as the legendary pioneer of the desert Abbas (Fathers) and Ammas (Mothers), Anthony's individual qualities and fervent humility enabled the desert movement to shift the patterns of Christian discipleship. He defined practical ways of living out the Gospel and striving for greater communion with God through committed and honest discipline. Another of his sayings gives insight into his battle-worn wisdom:
"The person who abides in solitude and quiet is delivered from fighting three battles: hearing, speech, and sight. Then there remains one battle to fight – the battle of the heart."
So, for us to emulate his example we don't need to camp out in the desert, but rather honestly present our own hearts to God, by knowing them ourselves and being open to God's transforming love.
This might sound like a solo journey, but Anthony didn't fight alone in the wilderness and nor must we. Supportive friends and disciples brought provisions for him on a monthly basis, enabling him to continue in his silence until he formed a community. I wonder how many of us can relate to that based on our recent experiences in the COVID-19 environment.
The most celebrated of Anthony's sayings, "Our life and our death is with our neighbor. If we win our brother, we win God. If we cause our brother to stumble, we have sinned against Christ", challenges us to push the boundaries of what solitude can do when paired with social responsibility and applied in communion with God and God's creation. We are called into community with God, which does require spiritual training and commitment. We are also called into community as the Body of Christ, made up of fellow pilgrims on the journey of life. By zealously seeking and pursuing depth in both communions, we find the greatest treasure which Anthony celebrated in the desert.
Anthony's legacy seems to personify the part of our baptismal liturgy which exhorts us to "Live as a disciple of Christ; fight the good fight, finish the race, keep the faith" (APBA p.60). Anthony fearlessly encountered his own self-hood in silence, as well as the power of the Enemy. The wounds he gained in these battles strengthened his witness, teaching us that in order to triumph over evil, an active and committed connection with Jesus Christ must be at the heart of every Christian.
This inspires my own vocational commitment to live authentically as a spiritual disciple and leader in the Church of God. Currently living this out with the Holy Hermits Online community, we celebrated St Anthony's lessons about endurance and commitment together on 17 January – Anthony's Feast Day. Our guest preacher The Rev'd Grant Sparks emphasised this in the message titled Committing to receive and share God's Love, which is available in video format on our website.
What this represents for our spiritual vigor and fitness for community life could be the battle we are invited to engage in for transforming the Church. Whether our current desert experiences are lived out by choice or necessity, for us as an Anglican Communion, St Anthony and other holy hermits have a lot to teach us.
I look forward to exploring this further with the Holy Hermits Online community in our upcoming online study, 'Lent in the Desert'. We will join together, from Wednesday 24 February, for an hour on Zoom each week to reflect and share our journey through the desert with Jesus. We will be using two resources which need to be downloaded and accessed before we meet. The first resource is the free Into the Desert Lent app, which has been developed by the Anglican Board of Mission and is available for both Android and Apple devices). The second resource we are going to engage with is Silence and Honey Cakes: The wisdom of the desert, by Rowan Williams, which delves into the writings and stories of the Desert Fathers and Mothers (some of the original holy hermits). This affordable book can be purchased from Koorong, as a Kindle e-book or accessed as a podcast on YouTube.
Register for the Lenten Study online. For more information on this exciting new ministry more broadly, visit the Holy Hermits Online website or email The Rev'd Jamee Callard via Jamee.Callard@anglicanchurchsq.org.au for more information.
Jump to next article