Taking time out to say 'cello'
Three members of our Diocesan community share about how they rest, recreate and find flow in the busyness of their daily lives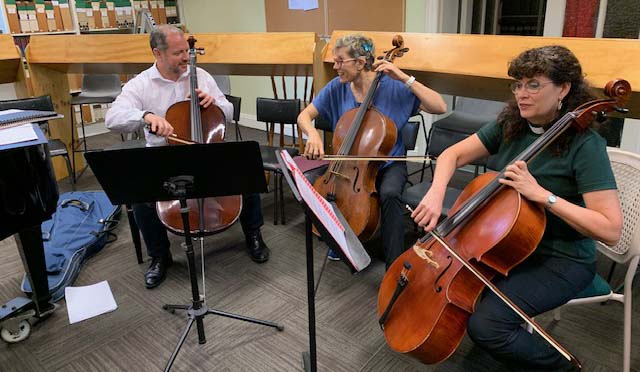 Around six months ago we started meeting every Thursday at lunchtime in the Cathedral Precinct's St Martin's House to practise cello together.
When the anglican focus Editor found out about our regular cello sessions, she naturally turned up with a camera to take pics and enquire about why we practise together, then asking us to write this joint reflection.
We find that taking this regular time out in the middle of our busy day is great for our wellbeing as it helps build community, brings joy and energises us for our respective work and ministries.
Meeting at the same place and time every week helps to give our lives rhythm, while arranging the weekly activity together as a group also helps to keep us faithful.
We also engage in a range of other hobbies, practices and sports during the week to help us to relax and recreate and find flow.
Being in nature, reading and finding flow – The Rev'd Sue Grimmett, Priest-in-Charge at St Andrew's, Indooroopilly
I love to go for walks with my border collie on tracks around the Western suburbs stretch of the Brisbane River. While I don't get out every day, I do manage a few walks weekly and a longer hike on my regular day off. I like to walk on my own because as I walk, things that trouble me fall into perspective. Being out in the natural world returns me to a sense of wonder and has a way of restoring a comforting sense of my (small) place in the world and the interconnectedness of everything.
I also love to read. The first thing I do every day before Morning Prayer is make a cup of coffee and curl up with it and a book in my favourite chair. Before the busyness of the day begins, while my mind is fresh, this time provides 30 minutes of encountering new ideas and having my own thinking stretched or challenged. I tend to leave the fiction reading for the end of the day and use the morning for non-fiction. There is not enough time for all I want to read, but habit has become my friend, and this small morning discipline of dedicated reading time leaves me with a sense of a spacious beginning to my day.
As well as these regular rituals, I find that wellbeing comes from the way I embody the time in my work – rather than how I best manage my time off. When I am doing it 'right', my time out feels like it is part of the flow of my role as a priest. What other job do you have the privilege of hearing people's life stories; standing with families at the most sacred times of their lives, like around the bed with them as a beloved one is dying or in front of a couple making promises to each other; and, gathering a community of friends you love every Sunday to celebrate what is most precious?
Creating music, running and bush walking – Frances Thompson, St Martin's House Receptionist
I play violin with the Brisbane Symphony Orchestra, sing with the Cathedral Singers choir and am a member of Brisbane Handbells. By making music with others, I need to listen and focus so I have to ignore the to-do list. It is so rewarding being part of a team that creates beautiful music, which is always good for the soul.
For a number of years I have also been involved in parkrun both in Bendigo, where my husband Bishop John Roundhill was previously the Dean of the Cathedral, and in Mansfield in Brisbane. In 2019, I wrote about how parkrun helped get me though breast cancer. Taking time out for parkrun when I was so unwell made me feel better and it helped distract me from the misery of chemo. John and I were regulars at Bendigo parkrun before my cancer diagnosis, and the team members were always supportive and encouraging whilst I was unwell. Whether I was walking, slowly jogging or volunteering as the tailwalker, I was always cheered to the finish line.
I also walk the family dogs Max and Arlo through the lovely bushland adjacent to Bulimba Creek, where I sometimes see koalas and wallabies and other wildlife. With so many shades of green to enjoy, being outdoors is a great opportunity for thinking, praying and reflecting.
Martial arts and walking the dog – Stephen Harrison, Director of Parishes and other Mission Agencies Commission
For a long time I trained in karate three times a week with a club on the Gold Coast. Karate is a vigorous practice that requires energy and attentiveness, so I found it great for both physical fitness and mindfulness. Recently, I started Brazilian Jiu Jitsu, a grappling martial art, early in the mornings at a Brisbane club. Joining a club with set class times helps keep me motivated to attend sessions so I can stay fit and take necessary time out. I enjoy the challenge of learning a new and difficult skill.
I also enjoy walking our family's Labrador Bella. It is a great way to get outside and take in some fresh air. I do this as often as I can. Spending time in nature and seeing things that you wouldn't see indoors, such as newly-hatched ducklings and other wildlife, is great for my wellbeing.
Editor's note: If you would like to share with readers about your regular or ad hoc practices, sports or hobbies that help you to rest and recreate, please email Michelle via focus@anglicanchurchsq.org.au
Jump to next article