My God loves everyone
"Some people have recently asked me about an old photo taken at the Pride Week event, so I'd like to share the story behind it. It's a great story about the opportunity to talk about Jesus with people who wouldn't normally have a conversation with a Bishop," says Bishop Jeremy Greaves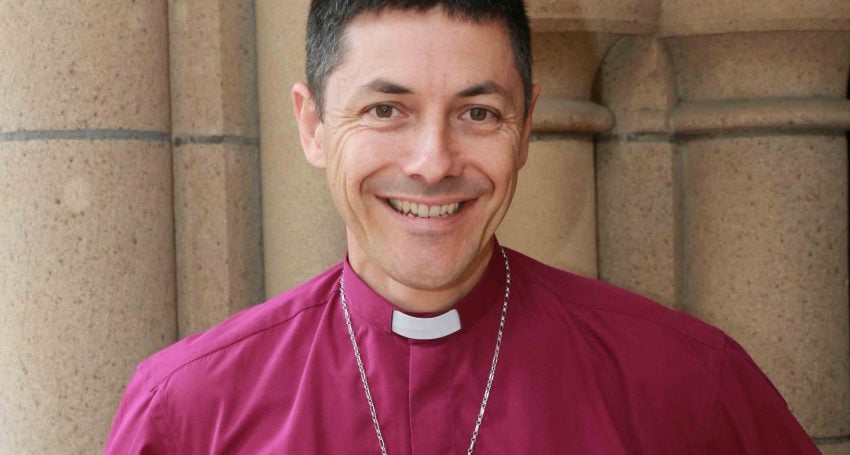 A couple of years ago I attended an event during Pride Week on the Sunshine Coast to show my support.
My decision to wear a t-shirt proclaiming 'My God Loves Everyone' in rainbow lettering at the event elicited mixed responses from event attendees – including derision and anger (from those possibly hurt by or suspicious of the Church) to thanks and curiosity (from those who seemed happy for the Church presence).
Some people have recently asked me about an old photo taken at the Pride Week event, so I'd like to share the story behind it. It's a great story about the opportunity to talk about Jesus with people who wouldn't normally have a conversation with a Bishop.
Amongst the many people I spoke to during the course of the day was the leader of the 'Sunshine Coast Satanists', Robin Bristow, who is pictured with me. As a fellow local, I have had a number of conversations with Robin over the years. While our conversations can be frustrating and challenging if we talk about faith and belief, I do welcome the opportunity to engage with people who have diverse, or in Robin's and my case diametrically opposed, views.
Christians are called to engage with all kinds of people. And, I would suggest that a person who calls themselves a 'Satanist' needs a conversation with a Christian as much as, if not more than, anyone.
However, despite the smiles in the photo, I left feeling more than a little cross and somewhat deflated. I also came away relieved that God is better at loving than I often am.
As Archbishop Desmond Tutu once wrote:
"In the end what matters is not how good we are but how good God is. Not how much we love God, but how much God loves us. And God loves us whoever we are, whatever we've done or failed to do, whatever we believe or can't."
And as we see in the life and teaching of Jesus, Tutu reminds us that, "God has a soft spot for sinners. His standards are quite low."
In fact God loves everyone (the world) so much that "he gave his only Son…" (John 3.16). That's how much, and how, God loves the world. And, as a friend reminded me recently, in Romans 5.8 we are assured that, "God proves His love for us in this: While we were still sinners, Christ died for us."
God loves everyone, sinners and saints – all of us.
My God loves everyone: tax collectors, gluttons and drunkards…and Satanists who don't think I believe in the Resurrection. God loves us all and – like a woman who turns her house upside-down searching for one lost coin, like a shepherd searching for one lost sheep, like a father rushing out to embrace the returning recalcitrant son – God will not rest until everyone knows the power of that love in their lives.
As Martyn Percy says in his new book, The Humble Church: Renewing the Body of Christ:
"…it is well worth remembering that you will never, ever, in all your life, meet someone that God does not love – fully, wholly and abundantly – madly and excessively, in fact. Equally you will never meet anyone who deserves all of this love, or who merits more or less than God's own love for you. You will never meet a person that God does not long to draw into an intense relationship of truth, peace, love, joy and mutual blessing." (p.189)
As God has designed it, we are all called to witness and share this love with everyone we encounter. A twenty-something French Catholic nun once proclaimed, "My vocation is love!" Young people seem to get this – I think it's time we all did.
Jump to next article