Q&A with pioneering priest, cradle Anglican and animal lover, The Rev'd Jamee Callard
Meet The Rev'd Jamee Callard and find out about her innovative Holy Hermits Online community, what holy woman inspires her the most and why, when she felt called to the priesthood, and what she does in her free time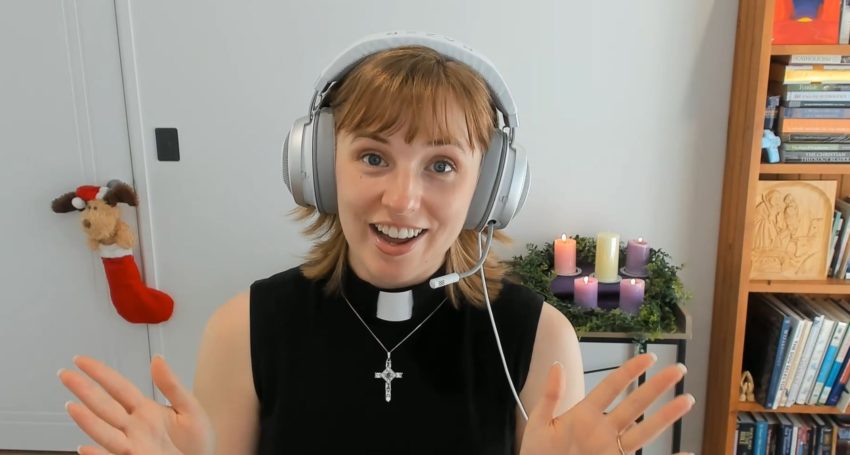 The Rev'd Jamee Callard is currently partnering with St John's Cathedral in her role as priest for innovative new ministry, Holy Hermits Online. Prior to this role, she served as an intentional interim minister.
Where do you currently live and where do you worship?
Currently, I live in Murarrie on Brisbane's south side with my husband Damian and our two cats, Mash and Star. I worship with the Holy Hermits Online Community every Sunday on Zoom and in Holy Hermits Online's occasional contemplative services.
How long have you been involved in the Anglican Church and in what role?
I'm what would be called a 'cradle Anglican', having been born into and raised with the people of St Peter's, Southport. My first involvement as a child was around our children's church ministry, assisting with lessons and often promoting fundraising for our new playground during the church notices from a young age. Gradually, this grew to include becoming an Liturgical Assistant and helping with youth group before I felt called to ordination.
Before my current role, I was an intentional interim minister, with my last locum appointments carried out at St Gabriel's, Carindale and St John's, Bulimba with the wonderfully faithful people in their communities.
What is your current role and what does your role involve?
The current role that God has gifted me with is to lead the new Holy Hermits Online community as we pioneer a new way of being Church online and make faith accessible through the vehicle of technology. Our mission greatly excites me, as we seek to outreach to those who cannot attend church in person and invite them into fellowship where we can all exercise ministry together.
Can you tell us a little about Holy Hermits Online?
Holy Hermits Online currently represents a diverse group of people, gathering from all over Australia, as well as internationally, with varied circumstances of ability, health, disposition and faith experience. We have seekers as well as seasoned churchgoers, and are forming ecumenical relationships as well, so all are welcome to join the Holy Hermits Online community by visiting our website and submitting their email address to be included in our send-outs.
What projects and activities are you currently working on?
Currently, we are working on a new partnership with St John's Cathedral and look forward to coming alongside the Cathedral Precinct team as we explore online faith community together. Being an experimental ministry, it is extremely encouraging to find a home with the Cathedral and try new things from a central space of ministry, enabling greater confidence in our outreach. We are also seeking other partnerships with parishes and agencies to share the invitation to our online community for their folk who may be in need of a temporary (for example, due to COVID-19) or long-term online spiritual home.
What have been the highlights of your time as a priest so far?
I have really enjoyed being with communities experiencing change and seeing how, with a balance of sensitive pastoral care and enthusiasm for trying new things, the Holy Spirit can move communities from one season of ministry to another with grace.
What have been the key challenges of your roles so far and how have you worked through these?
The biggest challenge in this role has been stepping outside of known ministry spaces and expressing our mission to others in such a way that they get on board and don't feel threatened by the newness of it all. Gladly, I have applied some of what I learnt as an intentional interim minister and sought to come alongside others in conversation and gently share the many positive possibilities having Holy Hermits Online as part of the wider Church presents.
Can you tell us a little about your personal faith journey?
God has always been there for me, a felt presence of love and acceptance. From about the age of four, I recall feeling profound belonging with the people of God in community and have loved growing in faith and learning more about God's story.
How and when did you feel called to the priesthood?
At the age of 18, I was completing my Cert IV in veterinary nursing, with an entry to a Bachelor of Education deferred, when I asked God to use me for serving Jesus in the world and to make clear to me how I could be of use for the Kingdom. Two weeks later the answer came. As I was already under The Rev'd Harry Reuss' wing as a Liturgical Assistant and church craft apprentice at St Peter's, he invited me to consider an Ad Clerum encouraging discernment from within the Church. All doors opened after that to lead me to reflection, discernment, formation, ordination, curacy, interim ministry and now pioneering online outreach.
Why did you decide to become a priest?
It seemed to be the best fit with the ontology God had gifted me with and where I was called to be of most use to share God's love with others.
What advice do you have for those considering entering into the priesthood in our Diocese?
It takes humility and vulnerability to present for ministry of any kind. Be ready to grow and even change through the discernment process. Regardless of whether you end up in ordained ministry or not, seeking God's direction and leading for your life is always a good thing, even if it is not what you could have anticipated, imagined or orchestrated for yourself.
What is your favourite scripture and why?
Matthew 11.28-30 is my favourite scripture: "Come to me, all you that are weary and are carrying heavy burdens, and I will give you rest. Take my yoke upon you, and learn from me; for I am gentle and humble in heart, and you will find rest for your souls. For my yoke is easy, and my burden is light."
Finding rest for my soul when my body doesn't find much, is such a relief living with a chronic illness. When the burden of Fibromyalgia fatigue and pain gets to be too much, knowing that Jesus feels it with me and invites me to come to him for rest, is what keeps me going or what gives me permission to stop and just be.
What person of faith inspires you the most and why?
St Julian of Norwich is my favourite holy hermit, and whom we honour at HHO on 8 May. She has been a source of encouragement for many others during the COVID-19 period, living through four sweeps of the Black Death in the middle ages and having her own near-death experience. Her work Revelations of Divine Love, the first published in English by a woman, relates her death-bed wisdom through 16 'showings' (or visions), communicating a theology of God and love which sits really well with me.
What are the primary strengths of the Church and what is the best way to make the most of these for the benefit of our communities?
In my view, the Church, like the broader world we live in, is a mess. This messiness should be named, and where possible celebrated, as it best reflects the relatable human condition and provides ground for God's love and mercy to be planted. We do ourselves a disservice when we try and present a Church that has it all together. We are made up of real people, so let's be honest with one another and others to authentically live as the Body of Christ.
What are the primary challenges currently encountered by the Church and what is the best way to overcome these for the benefit of our communities?
Clergy support and empowerment are the biggest challenge I currently observe around me in the Church. COVID-19 has gifted us with a much needed shift in ministry space, but that comes at an additional cost. We need our whole community to take a greater interest in supporting their clergy now more than ever. That could be a conversation starting with "Are you ok?" or giving permission to take time out to recharge and self-care (we struggle to give ourselves this permission a lot of the time) or even keeping us accountable (gently) to the pace which we are trying to maintain if it is unhealthy. Care for us the way that you would expect us to care for you.
What is the best piece of advice you have ever received and who gave you this advice?
"Your day off is your day off", so no looking at emails, answering phone calls or text messages, unless someone is dying or has an urgent need. This healthy boundary setting and expectation management within community was gifted to me by my mentor The Rev'd John Milburn during curacy and I am so grateful he taught me how to maintain these for the wellbeing of both myself and my community.
What do you do in your free time to recharge and relax?
Currently I am working three days a week with Holy Hermits Online, which leaves me with four days off. On these days I work on my health with intentional therapies and resting alongside my lazy kittens. I also love to paint my nails.
What needs do the Holy Hermits Online community have to become sustainable and how can the wider Church help?
The biggest need we have is spreading the invitation and making new connections.
If you (or someone in your circles) is unable or disinclined to attend Church in person, then please check out and share our website and consider joining our community by signing up.
The wider Diocesan community can help by:
Being open to partnership conversations as we make contact with clergy and Parish Councils, or even make contact with us first! Check out the partnership page on our website.
Pray for our growth and financial stability. As yet, we are unable to sustain our budget of $5,587 per month. Please consider a one-off or ongoing gift by visiting the Give page on our website and using our simple and secure online platform.
Share the invitation far and wide – all are welcome! We have flyers and posters available for download and distribution.
Editor's note 02/06/21: Text updated.
Jump to next article