How's the serenity?
Rod Mengel from St Francis College, Erica Skerman from AYCF and Michelle McDonald from anglican focus recently visited our Diocese's Pointro Campsite at Boonah. The ACSQ Facebook post of their day trip prompted many questions about the site, including about the camping facilities, bunkhouse accommodation and the local area. Rod, Erica and Michelle share their highlights of the visit, while answering some of the questions asked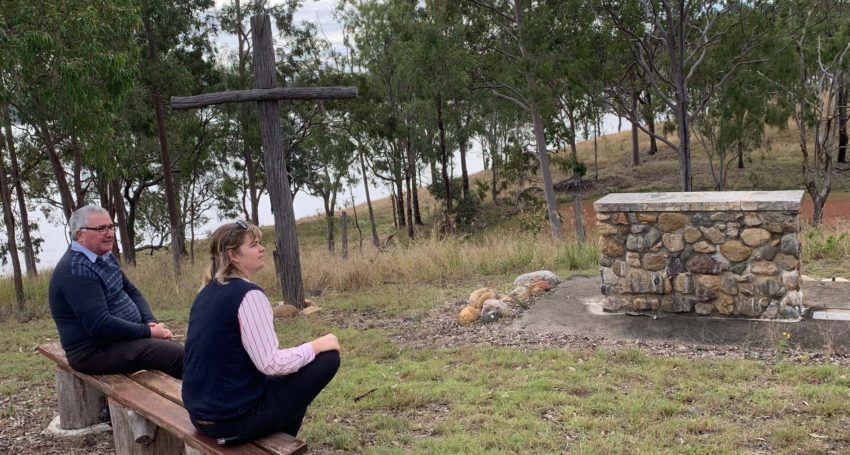 There once were three staff members from Milton
Who drove to Pointro Campsite in a Tucson
The three had a ball
The below pics say it all
They reckon it's even better than the Brissie Hilton
Ok, so it may not be worthy of a five-star hotel rating, but our Pointro Campsite offers affordable accommodation, spectacular views, lots of water activity options, hot showers, a friendly onsite manager…and "so much serenity".
Rod Mengel – Property, Finance and Administration Officer, Ministry Education Commission
I have been to our Diocese's Pointro Campsite half a dozen times in the last 18 months. My favourite aspect of the campsite is the peacefulness, as well as seeing how the site has developed between visits. One of my favourite spots is the open-air chapel. You can see the water from different directions from the pews. It is such a peaceful spot to sit and contemplate, to pray or to worship with others.
Because of the peacefulness, the campsite is the perfect place for parishes and ministries to enjoy fellowship time or go on retreat or pilgrimage.
The campsite and bunkhouse facilities are affordable, with camping from $13 per night per person and the bunkhouse from $20 per night per person. There are eight campsites in all, with the bunkhouse fitting 20 people during COVID-19 restriction periods and 36 people at other times.
Feedback from people who stay is always positive, as the site is lovely and Bill, the onsite manager is welcoming and has a great sense of humour. A Northern Region parish men's group, which books the bunkhouse annually, sent an email following their last stay, saying:
"We had a great time at Pointro on the weekend. Good Christian fellowship and learning. Finished with a chapel service."
Erica Skerman – Director, Anglican Youth Children and Families
There is something magical about silence when you encounter it surrounded by natural beauty. Maybe it's because I live in the heart of Brisbane, where general noise is your constant companion and it is only when you go out beyond the big highways and suburbs that you are reminded of just how loud and busy your life can be.
This was the thing that struck me the most about Pointro, to finally visit this site I've heard about and to encounter beautiful views and a stillness and silence that came along with it. It filled my soul and gave me new energy after just a day spent out there with Rod, Bill (the site manager) and Michelle.
It is my hope that working together and looking forward, that this place can become a well-known name among us here in Southern Queensland: that Pointro is one of our first choices to come to mind when asking where to spend a weekend away on a retreat for young adults or where we could run a youth group camp. It has all the infrastructure to become such a place, and is ready for groups to come and camp, head out on the water within the hills, spend time around the campfire, and to be reminded of God's presence in our lives at the outdoor chapel.
Pointro is a great position to become a beloved place for young and old alike – a place to encounter our God in the stillness and silence within nature.
Michelle McDonald – anglican focus Editor and mum
My highlight of our recent day trip was the lovely drive we enjoyed on the way back from our hearty lunch in Boonah. We stopped at an iconic farm road-side stall where I collected some just-picked produce for a vegetable soup. During this drive, I also chased after cows on the road to get an Out & About monthly album pic – given their head-turning stares, I think the cows and the quad-bike-riding farmer found me as quirky as I found them. We then stopped to explore a gorgeous swimming hole (sandwiched between rock faces) and its stunning waterfall, which are just around the corner from the campsite. The fresh air and stillness of the local area were really calming and centring.
Now that I know about this campsite and the beautiful surrounding area, I plan to visit with my son and a few friends for a camping trip soon. I noticed that there are eight well-spaced-out  camping spots to choose from, all of which are clearly marked with names like 'Upper Lake View' (posher than 'Lake View'), 'Lake View' (posher than 'Dunny View'), 'Shady Camp' (under a lovely tree) and 'The Penthouse' (highest on the hill).
I like the fact that there is plenty of hot water for showers, running toilets, firepits, safe places to fish (with a stocked dam) and catch red claw, and lots of water activity options. From a mum's perspective, our Pointro Campsite is the perfect place to get away with family or friends – there is lots to do (or not do, depending on your mood) with all the amenities you need and an onsite manager a phone call away if needed.
Editor's note: For bunkhouse bookings, please email pointro@anglicanchurchsq.org.au. For campsite bookings, please call the campsite manager Bill on 0491 446 271.
Editor's note 23/07/2021: Two additional images added to showcase the serenity. 
Jump to next article