"I first heard about Jesus when someone on the street gave me a Bible"
"When we become aware that God is calling us to ordained ministry, it may at first come as a bit of a surprise; a realisation deep within that feels both right, yet strangely uncomfortable," says The Rev'd Fang Ling Quested, as she shares her story of faith that brought her from the Buddhist temples of Taiwan to ordination in Brisbane, as Vocations Month continues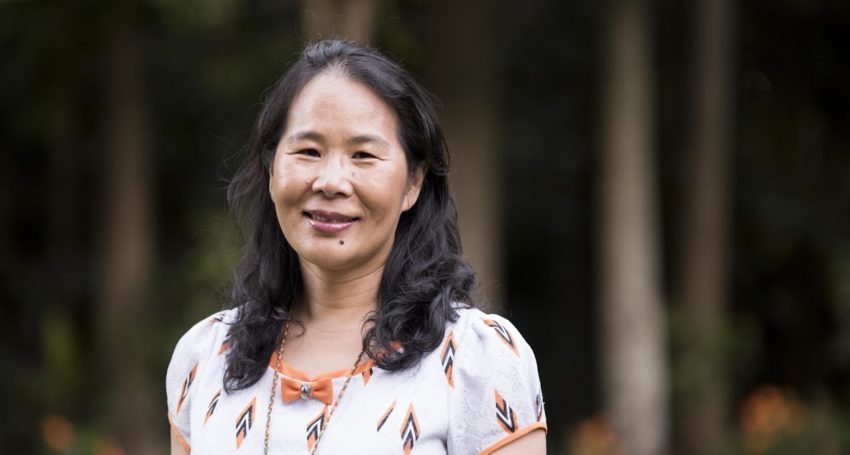 Ever since the age of four, I would often wonder what's beyond the sky. Growing up in a strong Buddhist family in Taiwan, spirituality has always been an important part of daily life. In seeking further understanding of spirituality, I often looked up at the sky and asked the questions, "Who are you?" and "Are you real?"
I first heard about Jesus when someone on the street gave me a Bible. A school teacher had told me about the Holy Spirit and then my friend told me about the Heavenly Father. So, I was slowly finding out about Christianity in instalments, fragments that were beginning to form a picture that was answering the questions my four-year-old self had asked.
Then on my sixteenth birthday, I heard a voice inside that woke me up and said, "But I love you". In my heart, I knew for reason unknown, that the voice was from the Heavenly Father whom I knew from my friend and from the Bible. I understood the part "I love you"; however, the word "but" didn't make sense. I realise that I tend to 'go the extra mile' for other people, and am not so used to receiving the same level of care from others. There was a profound awareness for me to know that regardless of whether others care for me or not, I will always have a Father who cares for me deeply.
I came to Australia to study theology at Brisbane College of Theology out of a desire to serve God and to care for God's people. I met my husband, Michael, in New Testament Greek class. Twenty-eight days after we first went out, he proposed to me. It is now our 29th year of marriage now and we have two grown-up children. Michael is a Defence Force chaplain, and we feel very blessed to be able to share life and ministry together.
I joined the Anglican Church because I married an Anglican student. Seeking to be ordained was a very natural part of wanting to serve God alongside of my husband. The day of my ordination to the priesthood was also the due date for my eldest son in 1996. During the ordination, I felt a strong sense of God's presence, protection and joy. It was a real confirmation to me of God's calling on my life – perhaps the first time I really felt convinced of God's calling to me, as I often doubt myself and sometimes wonder whether I am really suitable to ministry or not. In God's grace, since then, I have served in multi-cultural, inner-city, rural and parish ministry. In recent few years I have been ministering in tertiary (university) chaplaincy which has been an enormously rewarding experience.
Throughout these 25 years, my spirituality director has been The Rev'd John Clarkson. He is a deeply spiritual, intellectual and caring man of God. In my difficulty time of ministry, he and his wife Mary have showed so much love and understanding to me, really beyond words.
Mother Eunice and Sisters from the Society of the Sacred Advent (SSA) are spiritual people whom I have looked up to. While I struggled with English as my third language as a young priest with small children, the SSA sisters showed me great care and compassion; their level of love is something I will always remember. Thank you, John, Mary, Sisters and to Mother Eunice, who is now happily with our Father. It is your love that strengthen me to serve others.
When we become aware that God is calling us to ordained ministry, it may at first come as a bit of a surprise; a realisation deep within that feels both right, yet strangely uncomfortable. Scripture tells us that those whom God calls, God also equips (Ephesians 4.11-13). Equips with what? To instantly become an inspiring preacher, skilled counsellor and parish leader – no.  When God puts a call on our life, He calls us into a partnership with him for something God holds very precious – the Church, the people of God.
God's Son died for God's people to truly live! When we are called to ministry, God calls us to love what He loves – you have never once in your life looked into the eyes of anyone that God doesn't love. Mother Teresa of Calcutta once said, "There is more hunger for love and appreciation in this world than for bread." If you love God's people enough to accept them just as they are and love them too much to leave them where they are at – then the Spirit has already equipped you, and the rest is just training and experience.
We are called in ministry to simply show love to others as Christ has shown love and acceptance to us. If, as Christians, we are showing the love of Christ to others then we are offering something very, very special that the world can't offer. Where people feel loved, they will stay.
Editor's note 09/08/2021: Text re SSA sisters updated.
Jump to next article