Opening our hearts and sparking joy this Advent
"Advent is more than about spending time with loved ones – it's about spending time with those who are in need or different from us. A simple act of kindness directed towards another is bound to spark joy in both your life and the lives of others. Through Advent we find joy in the celebration of diversity and achieve this by opening our hearts," say Cannon Hill Anglican College's 2022 Spiritual Leaders, Oliver Cameron, Charlize Lacey and Zakary Myles-Hawkins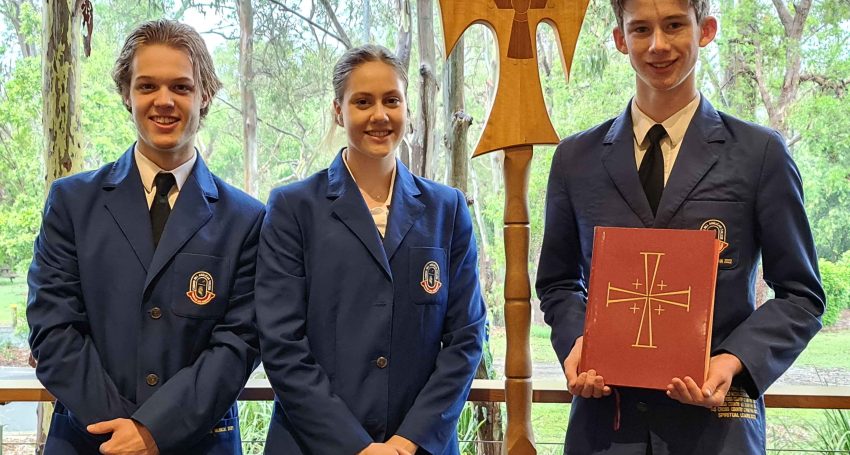 As the Spiritual Leaders at Cannon Hill Anglican College, we are busy preparing for the College's Advent assembly. Joy is certainly in the air, and the foundation of the service. When we were talking about the service with College chaplain Br Nathan and Life and Faith teacher Mrs Duvenage, we said that we wanted to celebrate the joy of Advent. After all, isn't that what Advent is about – joy?
Advent is a time of preparation for the most significant moment in human history. During Advent we celebrate the long-awaited birth of the Messiah, Jesus Christ. Joy is a sign of our appreciation for his birth and all the amazing things that happened as a result. It is crucial that we remember what happened – his birth, death and resurrection – and because of this we are saved. Now isn't that something to be Spirit-filled and joyful about?
Being a spirit-filled and joyful person means spreading positivity and hope, not only to your loved ones, but to people in need. It is important to be a Spirit-filled person during Advent as spirit is contagious. Associating Advent with being happy and joyful is important. It creates hope and happiness for all kinds of people around the world, facilitating peace and spreading love to all. Being joyful and being Spirit-filled is crucial, perhaps even more so in the wake of COVID-19.
COVID-19 has been challenging for all of our communities. We have seen families and loved ones separated. We have seen strong reactions to government and other authority's responses. Now more than ever we need to maintain a sense of hope and unity. Advent gives us that opportunity.
On the one hand, Advent is a season where we can spend time making new memories with those we love, sharing our experiences with one another as we look forward to Christmas and the birth of Christ. On the other hand, as the classic saying goes, 'the more the merrier'. So, Advent must be more than just a time with those we love and care about. If we only did that, we would miss the whole point, that the one we are waiting for, Jesus, comes to all, regardless of race, gender, sexuality, economic status, or political persuasion.
Jesus was an exemplar of inclusion. By sharing the season of Advent with a richly diverse group of people, not only will more significant memories be created, but experiences we cannot begin to imagine will be shared. Advent is more than about spending time with loved ones – it's about spending time with those who are in need or different from us. A simple act of kindness directed towards another is bound to spark joy in both your life and the lives of others. Through Advent we find joy in the celebration of diversity and achieve this by opening our hearts.
The Prophet Isaiah called God's people to prepare the way of the Lord, to make their paths straight. In Advent we are called to a time of preparation. We are called to reflect on how we can prepare our hearts and homes for Christ's birth in the world as it is today. At our Advent service we are going to adapt part of a scene from the musical Godspell. The opening song begins with a solemn solo of 'Prepare Ye the Way of the Lord'. Then, the musicians change up the beat to a fast, joyful tempo. At the same time all our Spiritual Leaders, accompanied by other students, will bust into the auditorium in song and dance, in joyful celebration as John calls the people to prepare their hearts for the coming of Jesus. We want others to see that the message of John, and the life of Jesus bring great joy and freedom. Advent challenges us to prepare our hearts to receive God's gift of his son. May you know this joy at Advent and in your life as we move into a new year.
Jump to next article