Complexity is our friend
"Complexity means one plus one can be more than two, then two plus two can be a surprisingly large number. A complex system is more than its component parts, for out of the relationships between the parts new things emerge. A lichen on a desert rock near Thargomindah emerges from the interactions between a fungus and an alga that normally cannot live in dry air or full sun," says Prof. Roderick Rogers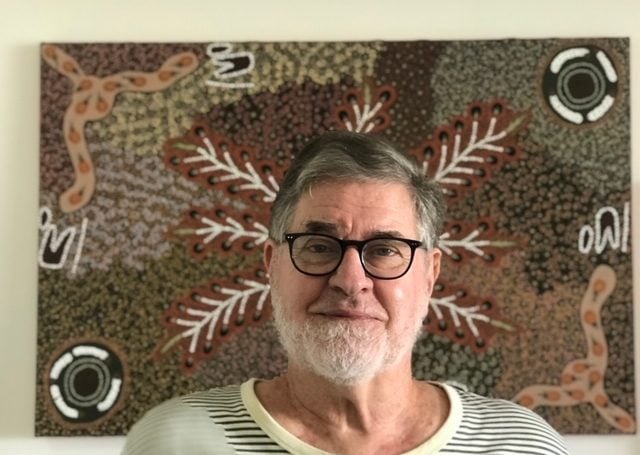 "To every complex problem there is a simple solution…"
I saw these words across the top of a poster when I was working in a research laboratory in Sheffield. It pictured an idyllic thatched cottage with roses over the door and hollyhocks in the garden. At the bottom right corner in small letters it continued " …and it's wrong."
Complexity is sometimes frustrating, sometimes fascinating, often both. I argue, however, that complexity is our friend for complexity sponsors creativity. You can't build much with one plastic brick, but a couple of thousand make the possibilities amazing. Plastic bricks can build castles and monsters and houses and farmyards. The bricks stay the same, but the interactions as they are put together change everything.
Lichens are small organism-like life forms found from rocks in the Antarctic to leaves in tropical rainforests, from the soil in the Great Victoria Desert to the twigs of the dripping cool forests of Tasmania. You have probably seen them around Brisbane as grey patches on tree trunks. Lichens were my academic specialty and are my retirement hobby. Several hundred species of lichens live in Brisbane, and at my last count there were 1,353 species of lichens known from sub-tropical Queensland.
Yet lichens are composed of two essential components – a fungus and an alga.  Fungi usually live in moist dark places, intolerant of light and decaying whatever they touch. Algae are normally aquatic, needing water and screened light. But on at least 23 occasions through geological history fungi and algae have formed lichen associations whose descendants are with us now – lichens are tough.
These two fragile organisms have evolved together as lichens over at least 40 million years and as lichens thrive only in situations that are suited to neither. The unexpected complexity of the interactions between fungus and alga is slowly emerging as their relationship in lichens is studied. One Australian desert lichen I studied could survive two months dry and stored in a paper bag in a cupboard – and resume normal activity in about two minutes when given water and light. Fungus plus alga make lichen – lichen has properties neither fungus nor alga has.
Complexity means one plus one can be more than two, then two plus two can be a surprisingly large number. A complex system is more than its component parts, for out of the relationships between the parts new things emerge. A lichen on a desert rock near Thargomindah emerges from the interactions between a fungus and an alga that normally cannot live in dry air or full sun.
In 1966 I worked on the largest computer in the southern hemisphere. It had an astonishing 150 kilobytes (octal) of memory and could do unprecedented calculations. That would hardly ring a respectable doorbell now, as we can buy laptop computers described in terabytes. Yet every one of us has a brain with vastly greater computing power than any computer envisaged.
A human community is, therefore, a jaw-droppingly complex thing. Take a group of people and encourage them to interact and they spark off each other. Writers go to workshops because in their interactions they produce new things that alone they could not. Businesses hold workshops and buzz-groups. Church council meetings have enormous potential. Interaction is creative. Complexity and interaction are features our community experiences like no previous community. We need to mix up more.
Complexity is our friend, for complexity permits complex interaction from which new things emerge. Emergence is intrinsic to our universe. There are many problems we need to solve, but we live in a complex universe and have such complex brains that creativity is possible. Complexity is our friend.
First published in the December 2022 edition of The Eagle, the magazine of St John's Cathedral. Read the latest edition of The Eagle online.
Jump to next article