Church leaders' Easter statement on the environment
Dozens of church leaders, including many whose communities have been directly affected by flooding and bushfires, have signed an open letter calling for government leaders to take effective action to protect our climate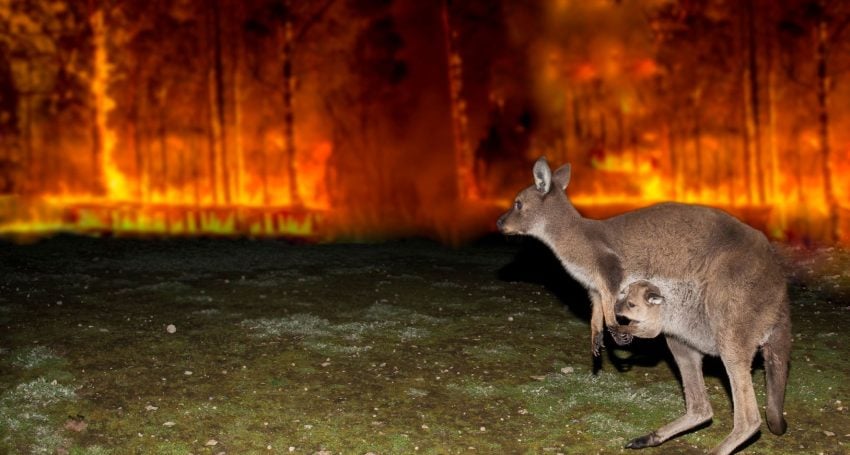 Easter is a celebration of life. In order to celebrate life all people need to flourish, but we acknowledge that Australians have been enduring dark days – with droughts, bushfires, severe storms and massive floods.
Our churches, along with homes and businesses in our communities, are being burnt down, flooded and severely impacted by extreme weather. Damage to the climate is a key contributing factor to these events.
Yet among these shared struggles there is Easter, a message of hope. Hope which reminds us that we can overcome the challenges that face us lifts hearts and minds to perceive a transformed world. Amongst the greatest challenges we face, is climate change. This is a challenge that collectively we can overcome. Facing this challenge requires us all to act responsibly and courageously.
Faith communities have worked tirelessly – alongside our neighbours – providing relief, comfort and practical support to those affected by climate driven disasters. But we cannot do this alone. The greater challenge of preventing such disasters in the future requires systemic transformation. We need our government leaders to heed the advice of climate experts to reduce carbon emissions to ensure a safe and sustainable future.
Churches along with other institutions in civil society and the business community must examine our own practices so we can help reverse damage to the climate. We commit to this action, in particular to support and protect marginalised communities and First Nations people who are on the frontlines of these dramatic environmental changes.
As our political leaders continue their election campaign this Easter, we welcome them to our churches and call on them to take powerful action to preserve and protect God's creation by:
Halving carbon emissions this decade, in line with the recommendation of scientists and targets of our major trading partners;
Transforming our energy system towards 100% renewable electricity while delivering a planned and just transition for energy workers; and
Investing in programs to support communities on the frontlines to plan, prepare and adapt to the extreme weather events.
Signed by
Rev Sharon Hollis, President Uniting Church in Australia Assembly
Ann Zubrick, Presiding Clerk, Quakers Australia
Archbishop Haigazoun Najarian, Primate, Diocese of the Armenian Church of Australia and New Zealand
Rev. John Gilmore, President, National Council of Churches in Australia
The Most Rev'd Kay Goldsworthy AO, Anglican Archbishop of Perth
The Most Rev'd Dr Phillip Aspinall AC, Anglican Archbishop of Brisbane
The Most Rev'd Mark Coleridge, Catholic Archbishop of Brisbane
The Most Rev'd Vincent Long Van Nguyen OFM Conv STL DD, Bishop of Parramatta
The Right Rev'd Dr Murray Harvey, Bishop of Grafton
The Right Rev'd Dr Peter Stuart, Bishop of Newcastle
The Right Rev'd Kate Prowd, Assistant Bishop, Diocese of Melbourne
The Right Rev'd Sonia Roulston, Assistant Bishop, Diocese of Newcastle
The Right Rev'd Charlie Murry, Assistant Bishop, Diocese of Newcastle
The Right Rev'd Jeremy Greaves, Assistant Bishop, Diocese of Brisbane
The Right Rev'd Cameron Venables, Assistant Bishop, Diocese of Brisbane
The Right Rev'd John Roundhill, Assistant Bishop, Diocese of Brisbane
The Right Rev'd Philip Huggins, Diocese of Melbourne
The Right Rev'd Dr Stephen Pickard, Adjunct Professor, Australian Centre for Christianity and Culture, Charles Sturt University
The Right Rev'd Dr George Browning, Inaugural Convener, Anglican Communion Climate Network
The Very Rev'd Elizabeth Dyke, Dean of Bendigo
The Very Rev'd David Price, Dean of The Murray
The Very Rev'd Richard Humphrey, Dean of Hobart
The Very Rev'd Dr Kenneth Lay, Dean of Townsville
The Very Rev'd Darryl Cotton, Dean of Bunbury
The Very Rev'd Dr Andreas Loewe, Dean of Melbourne
Bishop Chis McLeod, Dean of Adelaide
The Very Rev'd Chris Chataway, Dean of Perth
The Very Rev'd Katherine Bowyer, Dean of Newcastle
The Very Rev'd Dr Peter Catt, Dean of Brisbane
The Very Rev'd Ken Goodger, Dean of Wangaratta
The Very Rev'd Rob Llewellyn, Dean of Darwin
The Very Rev'd Robert Riedling, Dean of St Patrick's Cathedral, Parramatta
Kristyn Crossfield, Common Grace Board Chair
Sr Anne Lane President Society of Presentation Sisters of Australia and Papua New Guinea
Sr Eveline Crotty Institute Leader Sisters of Mercy of Australia and Papua New Guinea
Sr Wendy Hildebrand, Institute Leader Loreto Sisters Australia and South East Asia
Jump to next article