Community of The Way members respond to the Archbishop's Lambeth Conference call
"After Archbishop Phillip received a special call from the Anglican Church of Australia for volunteer Lambeth Conference stewards, Community of The Way's Eleanor, Aaron and Stacey stepped up to accept the challenge," says Community of The Way Chaplain Dr John Rolley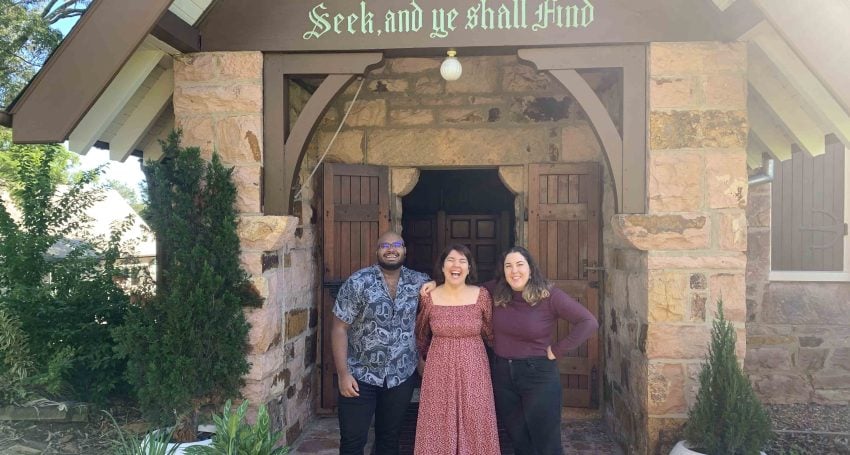 Three Community of The Way members will be serving at the biggest meeting of the Anglican Communion, the Lambeth Conference, between 26 July and 8 August.
Eleanor Reid, Aaron Vidyasagar and Stacey McCowan will be representing the Anglican Church Southern Queensland while serving as volunteer stewards at the once-in-a decade conference.
After Archbishop Phillip received a special call from the Anglican Church of Australia for volunteer Lambeth Conference stewards, Community of The Way's Eleanor, Aaron and Stacey stepped up to accept the challenge.
Due to COVID-19, the Lambeth Conference has been delayed by four years, last being held in 2008. At this year's conference, all Diocesan bishops, provincial Archbishops and a host of others from 46 member churches across the globe will meet to discuss contemporary issues facing the Church and world affairs.
After their arrival, Eleanor, Aaron and Stacey will attend a two-day training session prior to the conference. During the conference, they will serve with young people from other Anglican Churches across the world. They will provide logistical and practical support in setting up venues for sessions and supporting delegates attending sessions.
Following the conference, Eleanor, Aaron and Stacey will join other stewards on a three-day retreat to reflect on their experiences together as a community.
They are thrilled about their forthcoming trip and especially keen to meet people from across the Anglican Communion, to explore local historic Anglican sites and to gather in prayer with others.
Stacey says: "I'm so excited about the conference as it's a once-in-a-lifetime opportunity to travel to England and work with others from the global Anglican Church. It will be beautiful there for the summer and we will get to spend a lot of time in fellowship with our peers while we live and work together."
Elanor says: "I am really excited for meeting Church leaders from around the world and hearing their insights on their faith and world issues, as well as exploring the beautiful and historical surrounds of Canterbury."
Aaron says: "I am super excited about talking to Bishops and learning about their faith journeys and perspectives on moderns issues and the future of the Church. I am also looking forward to joining in daily prayer in a place that has such a wealth of faith and Biblical knowledge."
They are looking forward to sharing their conference and retreat insights and experiences with anglican focus readers.
Eleanor is studying to become a teacher and is also actively involved in Anglican Youth, Children's and Families' (AYCF) ministry. Aaron is a part-time university student studying psychology and is actively involved in AYCF and youth ministry in our Diocese. Stacey is a theological student at St Francis College and works as Children and Youth Ministry Coordinator at St Andrew's, Springfield.
Funds have been acquired to support Eleanor's, Aaron's and Stacey's airfares and the Lambeth Conference provides room and board. As they are volunteering and will not be paid during their time away, they have created a GoFundMe fundraising page to request support with travel insurance costs and the ongoing expenses that they will be unable to meet while serving at the Lambeth Conference.
Editor's note: If you would like to contribute to the Community of The Way members' Lambeth Conference fundraiser, please do so online. All donations are gratefully received.
Jump to next article