TSS Yarning Circle launch
"By starting to make changes and unlocking new abilities, we can strengthen the TSS community and also bring everyone closer together, which is what Reconciliation is all about," says The Southport School Indigenous Liaison Officer and Ngemba and Ualaroi man, Matthew Dalton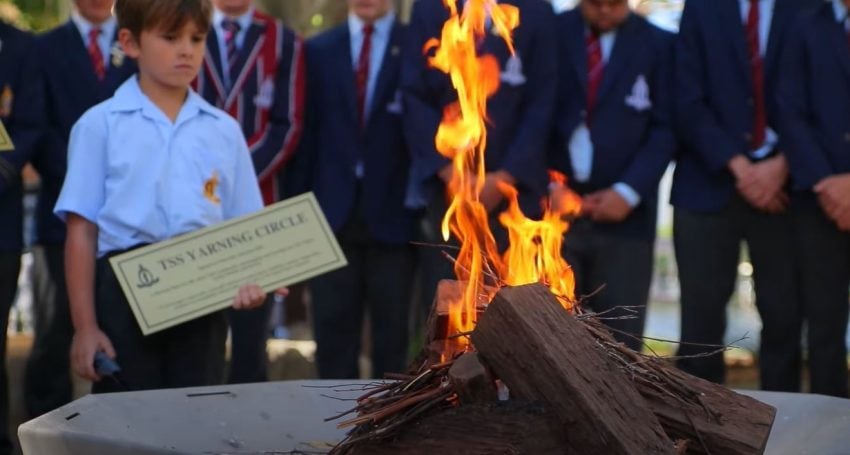 Firstly, I'd like to pay my respects to the Indigenous people of this Land both past and present and extend my respects to those in attendance today.
The feeling of walking throughout this school hasn't changed since I first started here as a student and no matter how many times I get asked to speak, I feel both nervous and excited.
Being back here at TSS is an absolute honour, while also being given the opportunity to be a staff member and give back to the school is an even better feeling.
The most common thing I am asked every day by students is what House was I in? I still remember the first time I walked through the McKinley doors after my interview to join the school with my mum and Mr Hawkins.
I was told by Mr Hawkins, who was himself a McKinley Old Boy, that I was heading into the best House in the school and that under the reigns of then Housemaster Mr Watt, I'll fit in just fine.
This week is National Reconciliation Week and it is a time when we as a community can connect to learn about everyone's stories, culture and backgrounds. I am originally from Western NSW in the Brewarrina area, and I am a member of the Ngemba and Ualaroi peoples. Reconciliation Week has a theme and this year the theme is "Be Brave, Make Change".
"Being Brave" is encouraging you to leave your comfort zone and to take that risk that will have a positive impact to your life, whether you are trying a new sport, instrument or subject.
By starting to make changes and unlocking new abilities, we can strengthen the TSS community and also bring everyone closer together, which is what Reconciliation is all about.
"Be Brave, Make Change" fits perfectly with the new TSS Yarning Circle that we are opening today. Our Indigenous boys being brave and making a change within the school to open a welcoming area for our whole community to use and helping TSS become the first Anglican and GPS School in the country to have a Yarning Circle is absolutely amazing and something we all should be proud of.
It is important to acknowledge an Old Boy of the school and an Elder of the community, Uncle Graham Dillon, who passed recently. Uncle Graham's totem is being displayed on the totem poles to pay respects to his input in the school's community and the wider Gold Coast Region. We thank the Dillon family for being in attendance today.
I cannot praise our Indigenous Banam Bowie students enough for taking action with ideas and designs and acknowledging Mr Brown, Mr Eardley and Mr Lestro for their efforts in assisting with the project.
Further my gratitude to the teaching staff that have assisted me with my new role at TSS, in particular Mr Bos who has worked incredibly hard to make this day happen also. Thank you to the boys and staff for being here today, to our ground staff for doing an exceptional job preparing the area, and the special guests and also my family who are also in attendance today.
Jump to next article