Girls' Friendly Society: 140 years of ministry in our Diocese
"GFS has been a strong foundation of faith for many women in our Diocese, some of whom have been ordained. These inspirational women include The Rev'd Kaye Pitman OAM, who is chaplain emeritus, and The Rev'd Canon Cheryl Selvage, who is our current chaplain," says GFS – An Anglican Ministry Office Administrator, Margaret Humphries, as the 140th anniversary of the first Brisbane branch approaches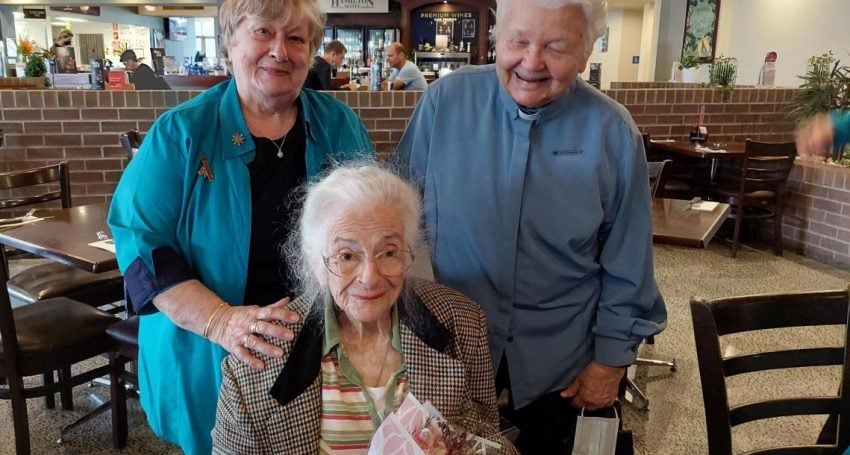 GFS – An Anglican Ministry, formerly known as Girls Friendly Society or GFS, is a worldwide not-for-profit fellowship organisation in the Anglican Communion. It was founded in England in 1875 by Mary Elizabeth Townsend, an Irish clergyperson's daughter.
Mary started GFS out of concern for the welfare of young women and girls from the country who moved to the cities for work. These young women and girls were vulnerable to exploitation because they usually lacked family and other networks in the cities to support them. GFS helped connect them to women "associates" who offered spiritual, practical and housing support.
The first Australian branch was launched in 1879 in Adelaide, with other branches established throughout the country by 1901. Brisbane held their inaugural meeting on 6 November 1882, so we are currently planning our 140th  anniversary.
GFS has been a strong foundation of faith for many women in our Diocese, some of whom have been ordained. These inspirational women include The Rev'd Kaye Pitman OAM, who is chaplain emeritus, and The Rev'd Canon Cheryl Selvage, who is our current chaplain.
When speaking to past members, many comment that they enjoyed belonging to GFS immensely, made life-long friends, continue to meet with GFS friends, and are "thrilled that GFS is still going". This is a testament to the value that the GFS journey has had on faith formation and the wellbeing of girls and women over the years.
In our Diocese, we give thanks to the women whose resourcefulness and foresight enabled the purchasing of a New Farm property, so young women from regional areas had accommodation while they studied or worked. For a number of years committed local Anglicans, Aunty Flo Granville, Betty Riley and Ailsa Skippen, cared for these young women.
Later the building became a women's refuge under the auspices of Anglicare until it was sold in 2009. A book was published in 2005 about GFS House, written by Dr John Mackenzie-Smith titled, Caring for young women in war and peace: a history of GFS House, New Farm 1942-76.
Some of the funds from the sale went towards Anglicare's Home Away From Homelessness project, which provides crisis accommodation for single women in Toowong. Proceeds also allow GFS – An Anglican Ministry in our Diocese to fund children and youth projects. All this can only happen with God's spirit and grace
There are two children's branches in our Diocese – KidsPlus+ in The Parish of Bundaberg and KidsPlus+ in The Parish of Clayfield. In the 1990s GFS commenced KidsPlus+ to accommodate both boys and girls attending branches.
Clayfield also has a GFS group of young women, who provide spiritual development; arts and crafts, games, drama and cooking initiatives; and, parent evenings.
Two Townsend adult fellowship groups also meet regularly, with the Headquarter Fellowship Branch meeting monthly and the South Side Townsend group, consisting of women and men, meeting every two months in different members' homes. A new adult Townsend branch is starting in Kenmore shortly.
There are other members who do not belong to a specific branch, but remain affiliated nonetheless – some have been members for over 80 years.
GFS Brisbane also supports a children's branch in another Diocese.
We also have two outreach groups of past and present members who meet twice annually. One of these is a social event and the other is the GFS World Day of Prayer, which is a service celebrated at a local parish.
GFS – An Anglican Ministry in our Diocese supports a range of initiatives locally and internationally.
We provide grants for parishes; bursaries for St Francis College students; financial support for Ichthus camps; and, funding for a chaplain one day a week at Queensland Children's Hospital.
We assist GFS Papua New Guinea with leader training support (when travel permits) and toiletry and face mask donations.
We also support First Nation communities by sending goods to op shops in remote areas.
So our members certainly live up to the GFS motto, "Bear one another's burdens, and so fulfil the Law of Christ" (Galatians 6.2). And, we give thanks to the past and present leaders, and their teams, for bringing the Gospel and life skills to the many children who have been part of the GFS journey.
We also give thanks to our Diocese's GFS – An Anglican Ministry Chair, Lesley Briggs, and to the Executive members.
GFS current members, past members and friends are warmly invited to celebrate the 140th anniversary of GFS – An Anglican Ministry (formerly known as Girls' Friendly Society or GFS) in our Diocese on 29 September at St Bartholomew's, Mt Gravatt. The event will also mark the GFS World Day of Prayer (St Michael and All Angels Day) service, and will include a catered lunch in the parish hall.
Editor's note: If you would like to attend the 140th anniversary celebration, or join GFS – An Anglican Ministry, please contact the office administrator Margaret Humphries via gfsbrisbane@hotmail.com by 26 September. 
Editor's note 20/09/2022: Text updated to correct chaplain references. 
Jump to next article