As Bethlehem prepares for Christmas, "it's all about community"
As Christians around the world mark the Advent season, preparations are in full swing in the place where it all started, Bethlehem, to celebrate that one story that lies at the heart of all Christian traditions, as shown in this photo essay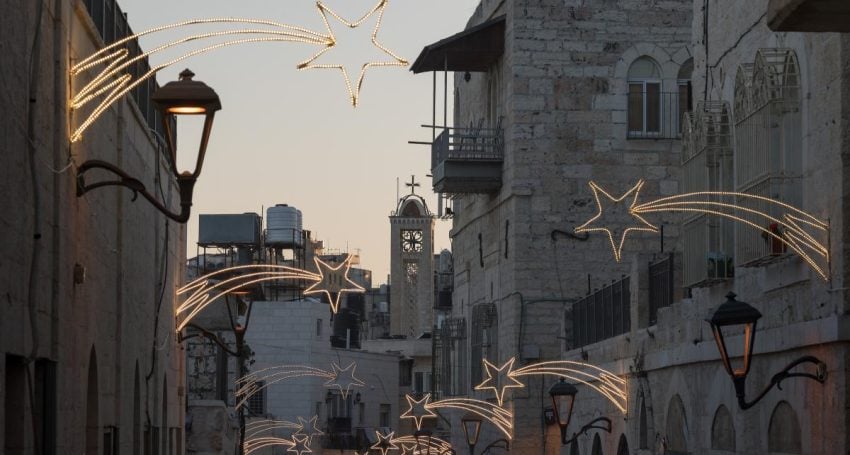 But as heartfelt and festive as the Christmas season may be, reality for people in Palestine today remains one of life under occupation.
"As Palestinians, we have an incredibly rich history, culture and heritage," says Saleem Anfous who lives with his family – his wife Lubna and their three daughters – in Beit Sahour in the Bethlehem Governorate of Palestine.
"But despite all the joys of that heritage, we live under occupation, and this inevitably affects our identity as Palestinians too," he says.
Rejoicing in Christmas as a family
Saleem and his wife Lubna rejoice in the fact that Christmas is approaching, as for the family, and the community in and around Bethlehem, it is a high-point of each year.
"As parents with kids, we get excited when Christmas is here. There's music everywhere, bazaars, festivals, all of Star Street turns into a Christmas market, and we go to all of these," Saleem says. "And for the girls, when we get the Christmas tree in place and they help us decorate it, when they see boxes underneath, it's all a bit crazy."
The family's oldest daughter, eight-year-old Celia, is already a bit of a Christmas veteran. At the age of three, she starred in a family video in which she recited parts of the Christmas story in different parts of Bethlehem, and each year she takes on the task of writing a letter to Santa to declare her Christmas wish list. This year, a table for doing make-up is at the top of the list.
Celia's mother Lubna reflects on the way memories of Christmas stay with you as a family. "You know, just seeing the eyes on our girls' faces when they wake up in the morning on Christmas Day and think Santa has been there to visit during the night," she says with a smile.
But Saleem and Lubna also talk of a larger community in Bethlehem that comes together to celebrate Christmas, how all of Manger Square fills to the brim with Palestinians in early December as they light the star at the top of the Christmas tree outside the Church of the Nativity, and also how Palestinians rejoice together across traditions.
"In Bethlehem, we celebrate Christmas not once, but three times," the couple explains: in December for the western traditions and twice in January for the different Orthodox traditions.
"In our culture, it's all about community," Saleem states.
The bitter taste of military occupation
At the same time, the effects of ongoing military occupation of the West Bank do not go unnoticed even at Christmas.
Bethlehem is a city sealed off from otherwise nearby Jerusalem by a concrete wall stretching 8-9 meters up into the sky, carving its way through the land and sealing off access for anyone without a specific permit to cross.
And while Christmas itself has in the past meant Palestinians can get 'holiday season' permits to visit Jerusalem as part of their celebrations, Saleem says, this hasn't happened since the arrival of COVID-19 in early 2020.
Some way further down the road, the Aida refugee camp – established in 1950 to house Palestinian refugees – serves as yet another reminder of a conflict that after decades upon decades remains unresolved.
And reality is that life under occupation has ramifications for Christmas preparations too for Palestinian Christians.
"We really love celebrating Christmas," Saleem says, "but in the past, if there has been what we could call a major political event happening around Christmas, or around any other holiday, we know that as Palestinians we need to come together to take a stand, and this has meant that celebrations in Palestine has been cancelled or postponed. How could we celebrate when we know that other people in this same country are suffering?"
"So even as we prepare for Christmas, we don't know if we can actually celebrate," he concludes.
First published on the World Council of Churches website on 8 December 2022.
Jump to next article