Walk like a Tasmanian
"After my dad's death in the middle of last year, I became determined to re-walk my favourite journeys while I can, aware that my earthly life is indeed finite. I wasn't the only one on the pilgrimage who was coming to grips with mortality," says The Ven. Valerie Hoare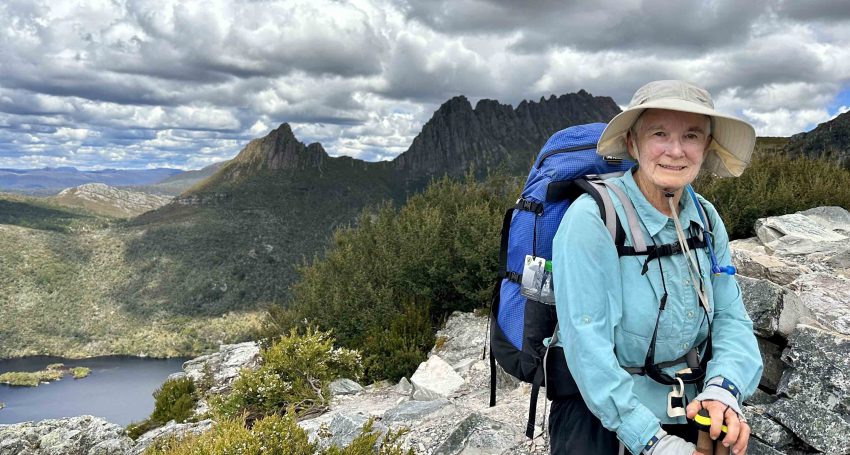 "'Sacred geography walk' – what does that mean?" asked one of my friends recently, and "Why do you have to go to Tasmania to do it?"
I must say I didn't have an easy answer – we chatted about geography (the queen of studies, I think), sacred places (personal and communal) and pilgrimage.
I shared about the Camino de Santiago, the "Aussie Camino" following St Mary MacKillop's ministry stages, Chaucer's The Canterbury Tales, the Hajj to Mecca, and the way people have walked the world's pilgrim trails searching for meaning, purpose and truth for centuries.
These pilgrimages all go to places people generally see as religious shrines or sites. So what's in Tasmania? The six-day walk along the iconic Overland Track in the World Heritage Listed Cradle Mountain-Lake St Clair National Park answers this question.
It's a place of exceptional natural beauty, not tied to any faith tradition, offering its sacred geography to anyone willing to leave life as they know it behind, open themselves to listen to the voice of the country and to their own truth, as they connect and reconnect body, soul and spirit.
I signed up and made my pilgrimage at the end of January.
The Tasmanian Walking Company has partnered with The Rev'd Dr Sarah Bachelard, a Canberra-based theologian and spiritual director of Benedictus Contemplative Church.
The Walking Company looked after transport to and from the park and provided food and shelter and two exceptionally fit and knowledgeable guides to keep us safe, while Sarah provided thought-provoking input and initiated conversation and reflection.
We started each day with silent meditation.
I saw the walk as an opportunity to intentionally immerse myself in an unfamiliar alpine and glacial landscape, while undertaking an inner mental, emotional and spiritual challenge, and maybe to find, as I let go of my security, insights into my own darkness.
Does that sound like a pre-Lenten journey to you?
Between you and me (and I'm whispering this bit), over this walk I recognised that throughout my life I've had a tendency to give up and turn back just before I've reached the goal or the end. This can happen when I panic and realise I've lost sight of the security and safety of the familiar, rather than continuing on into unknown terrain.
After my dad's death in the middle of last year, I became determined to re-walk my favourite journeys while I can, aware that my earthly life is indeed finite. I wasn't the only one on the pilgrimage who was coming to grips with mortality. I begin to wonder if perhaps I will have to settle for an incomplete life – and maybe that that's okay.
I persevered through the physical challenges of sustained daily walking over tracks that varied from muddy sludge to rocky boulders to boardwalks. I delighted at waterfalls, tarns, button grass, pines, myrtle-beech forests, towering peaks and sweeping vistas. Psalm 8 often sprang to mind:
"When I consider your heavens, the work of your fingers…who are we that you should be mindful of us, who are we that you should care for us?" (Psalm 8.3-4)
Other pilgrims wanted to deepen meditation practice or to improve their relationship with the country, letting the rich landscape settle into their psyches and absorbing the spiritual energy of the place.
We all embraced a practice of slow, solo contemplative walking. I heard talk of tree hugging and reflective moments by tarns and streams.
One participant spoke of how while she didn't expect to enjoy the trip, she knew she would be enriched by it. At the end of the pilgrimage, she spoke of greater self-knowledge – particularly who she is and who she is not.
Another reflected that the stillness of walking – with its absence of cluttering voices – had her pondering about whether she was intentionally blocking out or turning away from aspects of the world in her routine life.
I know you mightn't have the opportunity to undertake a week-long physical pilgrimage like I did, but I reckon we all can make a pilgrimage during Lent. This could take the form of intentionally leaving behind familiar comforts, or adding a special daily intent while setting out to journey with Jesus in the wilderness or to Jerusalem, or embracing more fully the challenging parts of our spiritual journey, or including a daily walk in nature in lieu of time usually spent on social media, so as to cultivate a deeper relationship with the Divine.
Walking in the sacred beauty of creation does, I've found, lead us towards abundant life.
There'll be a similar walk next January – more information is available online.
Jump to next article