A nation-wide movement that started in a pub and led to my arrest
"I was arrested around 10 years ago during a prayerful sit-in inside a Senator's Bendigo electoral office," says Bishop John Roundhill, with Peter Branjerdporn from the Justice Unit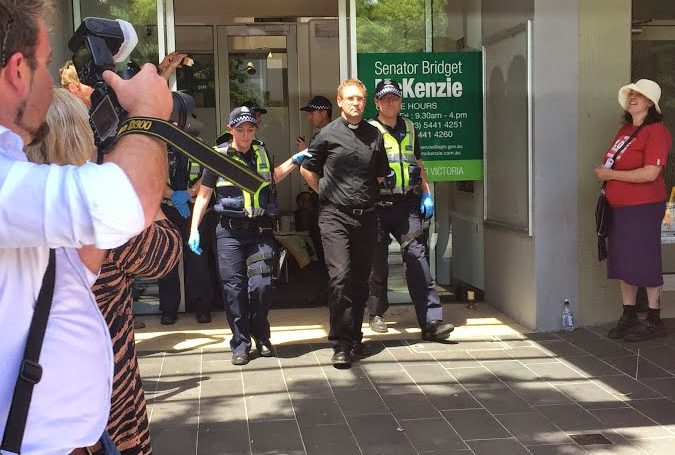 I was arrested around 10 years ago during a prayerful sit-in inside a Senator's Bendigo electoral office, along with other Christians in "Love Makes A Way" – a movement of local Christians seeking compassionate policies for people seeking asylum through prayer and nonviolent action.
Love Makes A Way was conceived by four Christian friends chatting over a few pints in a Sydney pub.
It quickly grew into a nation-wide movement that now has over 20,000 followers, including a number of local Anglican community members.
Early in 2014 whilst serving as the Dean of Bendigo's Cathedral, I received a call from a friend who asked if I would join a small group preparing to gather and pray inside Senator Bridget McKenzie's office.
Her office was in a Bendigo mall and my friend had written to her numerous times requesting a meeting to discuss the babies and kids on Nauru. The group continued to make this request right up until we sat down in her office to pray.
What happened next was something of a Love Makes A Way first. There had been a number of Love Makes A Way electoral office sit-ins around the country, and we thought the Bendigo gathering would be like the others.
Like other sit-ins, the police were called and those arrested were taken to the watchhouse. But unlike others, we were all handcuffed before being taken away in the "divvy van", which is Victorian speak for "police van". I was surprised by how heavy the cuffs were.
We were cuffed for several hours, very conscious that any discomfort we felt was minor to the daily hell experienced by children detained offshore.
When I was first asked to join in the electoral office sit-in, I was surprised by how ready I was to say "yes". I asked myself later, "If you had not been ready to take a stand on this, what would you take a stand on?"
Eventually, those of us who were arrested had to face the Bendigo Magistrates' Court, where the charges were surprisingly dismissed.
At the time, some people thought that no one cared for the children detained overseas. But the work of Love Makes A Way and other groups, such as "Grandmothers Against the Detention of Refugee Children", showed that these children were at the centre of many people's prayers.
Some people in the Bendigo community thought that my actions were unfitting for a Christian leader. That still puzzles me. "Who is the Jesus they follow?" I wondered.
Ten years ago it was expected that Love Makes A Way would be a short-lived movement – it was hoped the children would be evacuated from Nauru quickly.
However, it took the #KidsOffNauru alliance, which Love Makes A Way joined, in 2018 for the Commonwealth Government to evacuate all the refugee children to Australia.
Over 170,000 Australians signed the petition to evacuate the kids before the alliance's World Children's Day deadline in November that year.
Many of these children are now living in the United States or New Zealand, while others are living in our local suburbs supported by churches and community groups while awaiting their own third-party resettlement.
Hundreds of adults have since taken up third-party resettlement or were brought to Australia for emergency medical care. Another 150 remain in Papua New Guinea and on Nauru.
Bishop Daniel Abot and our Social Responsibilities Committee recently sent separate submissions to the Senate Legal and Constitutional Affairs Legislation Committee about the Migration Amendment (Evacuation to Safety) Bill 2023 so these remaining adults would be evacuated.
Despite the community only having two weeks to do so, the Committee received over 210 submissions, letters and statements concerning the Bill.
The sole submission that opposed the Bill was from the Department of Home Affairs.
If passed, this Bill would have led to the evacuation of the remaining 150 adult refugees who have been held offshore in Papua New Guinea and on Nauru for 10 years.
However, the bill was voted down on Wednesday.
I read online that while the Committee noted the failings of offshore medical facilities, the convoluted medical transfer process, and that human rights violations were occurring, their report offered no reason for their stance.
Fourteen people subject to offshore processing have died, with many of these deaths caused by treatable illnesses.
Let us heed the words of Nur Mohammad, a refugee who was recently transferred from Nauru to Australia for medical treatment:
"I come here now and I got the treatment, I feel a little better now. But do something, not just for me but for everyone else, for the next generation. We all have family, we have the same blood, we are human. For the next generation, too. I want to see justice for my friends in Nauru and PNG. Open your hearts and minds and do something."
Editor's note: Peter Branjerdporn from our Justice Unit is encouraging anglican focus readers to:
Pray for the people still held offshore on Nauru and in PNG and for the softening of our political leaders' hearts.
Organise a peaceful prayer vigil at a relevant location, such as outside the Department of Home Affairs on Adelaide Street, and post images on social media using the tag #AusPol.
Find out more about the impacts of offshore processing by reading Behrouz Boochani's No Friend But The Mountains.
Stay up to date with Brisbane Refugee and Asylum Seeker Support (BRASS) Network news and initiatives by following BRASS on Facebook.
Jump to next article