Canterbury tales: pilgrimage highlights and insights
Assistant priest The Rev'd Mel Conway from St Anne's, Highfields and St Francis College formation student Allana Wales from St Andrew's, Indooroopilly recently received a scholarship so they could participate in an annual pilgrimage for seminarians and clergy in the early years of their ordained ministry. In this special joint reflection they share their pilgrimage highlights and insights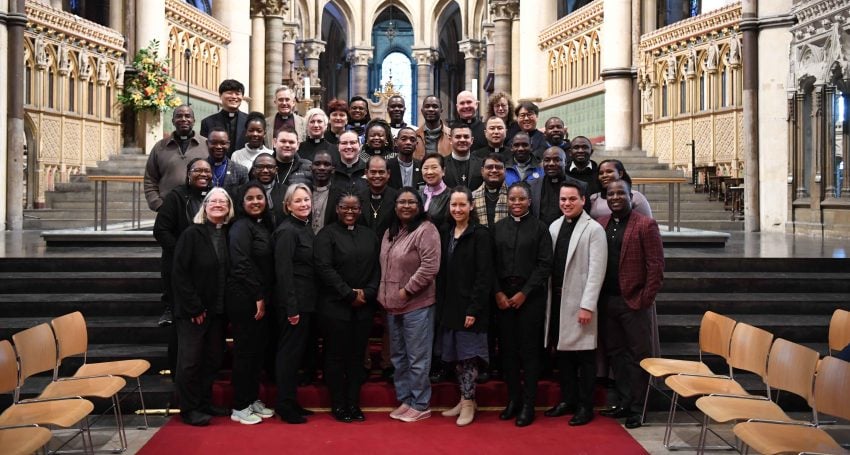 The Rev'd Mel Conway and formation student Allana Wales from St Andrew's, Indooroopilly recently received a Ministry of Education Commission Christian Needham Travelling Scholarship so they could participate in the annual 'The Anglican Pilgrimage: Conference for Seminarians and Clergy in the Early Years of Their Ordained Ministry'. In this special joint reflection they share their pilgrimage highlights and insights.
The Rev'd Melissa Conway – Assistant Priest, St Anne's, Highfields
One of two field trips Allana and I took during our recent Canterbury pilgrimage included visiting St Martin's Church in Canterbury, which is the oldest church in the English-speaking world. As I wandered around the ancient cemetery, I heard a familiar tune but words I didn't understand. It was Neema, from Tanzania, singing in her native Swahili. I joined in harmony – in English, of course: "What a friend we have in Jesus".  It is such a simple, special hymn to so many people in many different countries, and singing it in that ancient sacred place with a new friend from Africa resonated profoundly.
Because I broke my arm while I was in England a few days before the conference started I struggled with being so dependent on others. Over the fortnight, I accepted my own limitations and consequently help from others who were from vastly different backgrounds. I appreciated what a huge journey it was for many of the participants, linguistically, theologically, physically and financially. Together we worshipped, ate, shared Bible studies, learned more about Anglican identity and history, and celebrated as a global fellowship. That fellowship, though humbling and often challenging, has been the greatest pilgrimage takeaway for me.
Returning to parish life, I had to continue asking for help, which has fostered a healthier interdependence. I have also started applying my experiences and learnings in my parish ministry, including planning future Anglican Communion Bible studies and exploring areas of mission partnerships, such as working with disability support enterprises. The group stays in touch, and we share our day-to-day ministry highs and lows. Since returning home, Julio, from Mozambique, sent us a video of himself changing a parish vehicle tyre on a country road while out on a visit. While, Noel, from Malawi, is helping three local men start a business after they decided to leave behind a life of drug use, and a few of us are helping him with funding.
I am deeply grateful to those who made my trip possible, including my parish, Bishop Cam, St Francis College and the Ministry Education Commission. I received financial support from the Christian Needham Travelling Scholarship and a private donor, which meant that there was no financial burden on the parish and my own expenses were minimal.
The Anglican Pilgrimage: A Conference for Seminarians and Clergy in the Early Years of Their Ordained Ministry is hosted annually by the Canterbury Cathedral and sponsored by the Friends of Canterbury Cathedral. The two-week residential conference is primarily based at the cathedral, and offers participants an opportunity to immerse themselves in daily cathedral worship and Bible study, experience key cultural and historic church sites relevant in the British Isles, and learn about contemporary issues impacting the Anglican Communion.
Allana Wales – formation student, St Francis College and parishioner, The Parish of Indooroopilly
One of my most moving experiences during the Canterbury Cathedral conference was being immersed in some of the Church of England's most iconic and historical places and in the life of an Anglican worshipping timetable, while being simultaneously thrown into a cohort of new ministers representing 17 different countries of the Anglican Communion.
Certainly a highlight for me was visiting St Martin's Church, the oldest Christian place of worship in the English-speaking world. The church is part of a UNESCO World Heritage list that also comprises Canterbury Cathedral and St Augustine's Abbey. I was able to kneel and lay down prayers at this ancient site for my faith community back home – St Andrew's, Indooroopilly.
Our Canterbury cohort included representatives from Zambia, Kenya, New Zealand, Mozambique, Malawi, Scotland, Canada, Australia, Zimbabwe, Saint Vincent (a volcanic island in the Caribbean), Colombia, South Korea, Eswatini (formerly Swaziland), Bangladesh, India, Tanzania and South Africa. The most significant thing I learned is that many young ministers in the same network of Anglican Communion churches are doing wonderful work in contexts that are vastly different to ours.
"Independent and interdependent" was the way Archbishop of Canterbury Justin Welby described Anglican churches serving across the world when he visited our conference gathering. I learned that in many cases it is context that can define how our theology is lived out, and what is important. Sometimes in conversations together with young ministers from other contexts, I often had a sense that I "knew, but did not know" about the basic needs of nutritious food, water, aid, shelter and education that bring about such pressing concerns for people ministering in countries that are not as wealthy as our own. Humanity's care of creation here also has a bearing on how these basic concerns can be aided or abetted.
It was a privilege to stay next to Canterbury Cathedral for The Anglican Pilgrimage, to receive an expansion of vision about our wider church, and to gain insight into the lives of Anglicans across the world. I cannot now imagine my formation towards ordination without having had this experience, nor my own connectedness to others without the conversations we have shared. Through these conversations and through eating together and worshipping together over days, I think my humility was deepened and my connection to others was strengthened.
This pilgrimage has shown me that every act of care for humanity and creation, even in our vastly different ministries, is important and essential. I am deeply grateful for the Ministry Education Commission's allocation of the Christian Needham Travelling Scholarship, which facilitated this absolutely invaluable opportunity. Thank you.
Jump to next article