Parish of Burleigh Heads helping to change the ending
Burleigh Heads Anglican Church recently installed a Red Bench in partnership with the Red Rose Foundation as they serve to advocate and care for women and children impacted by domestic and family violence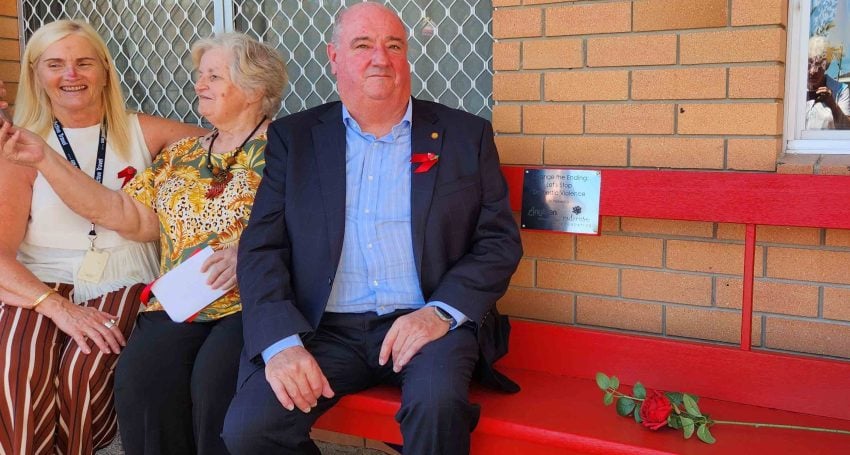 The Rev'd Eron Perry – Priest-in-Charge, The Parish of Burleigh Heads
The recent implementation of the Red Bench in Burleigh Heads Anglican Church is a natural progression of the work we do in the social justice / welfare sphere. We assist many people through our emergency food pantry, thrift shop and Goodwill Garden of fresh vegetables, including many women and often their young children. These families frequently come to us for help because of domestic and family violence.
The idea of the Red Bench came about through a mid-week service that Father Peter Uther was conducting for Mothers Union during the "16 Days of Activism against Gender-Based Violence" campaign. One of our parishioners who was at the service, Lea Carmichael, heard about the issues surrounding domestic and family violence and various ways people can respond and help.
The Red Rose Foundation and their Red Benches was one such group and initiative mentioned. Inspired by the amazing work of the Red Rose Foundation, Lea approached me with the idea to install a Red Bench. An old church pew, which was restored and painted red, located outside our church office and thrift shop was selected as our Red Bench. The parish raised money to purchase a plaque identifying the pew as a Red Rose Foundation Red Bench, and an additional $250 was gifted to the Red Rose Foundation to assist in their great work of enhancing awareness and seeking prevention of domestic and family violence.
I was very encouraged on the day of the Red Bench's unveiling to see people from several different groups represented, including the Burleigh and Robina Anglican Churches, local and state politicians, members of the Burleigh RSL and other community-minded locals.
Bowen Miller – Family Support Minister, The Parish of Robina and Resource Church Specialist
I attended the unveiling of the Red Bench at Burleigh Heads Anglican Church, as the Burleigh and Robina Parishes seek to strengthen connection together and create new opportunities as Resource Church partners. As a Resource Church Specialist in community outreach, I was delighted to see the local community's support for this event.
A young man and his disability support worker made scones and served morning tea, while local Members of Parliament and the Burleigh Heads parish community mingled. It was a beautiful picture of a strong community where vulnerable people were seen and valued on many levels. It also highlighted the power of advocacy and how the Church can use its voice and influence to help bring about positive change in our communities, including addressing domestic and family violence. By speaking out and taking action, the Church can play an important role in promoting a more just and equitable world.
It was a real honour to attend and support the work of Lea Carmichael and her parish and continue to grow in our understanding of our respective parishes as we can work together and implement great ideas.
We have a member of our Kids Op Shop excited about the idea of installing a Red Bench project here in The Parish of Robina because of what they saw Burleigh Heads parishioners doing.
Jennifer Clark – ACSQ Domestic and Family Violence Project Officer
Our Diocese's response to domestic and family violence (DFV) is guided by the 'Ten Commitments for Prevention and Response to Domestic and Family Violence in the Anglican Church of Australia', which Diocesan Synod has committed to working through.
The 'Ten Commitments' aims to increase the awareness of domestic violence, strengthening prevention, and enhancing responses to people impacted by violence. The Ten Commitments focus internally on parishes and other church organisations, agencies and structures. They were developed out of an extensive survey of the Australian Anglican community that identified that the prevalence of domestic and family violence was the same or slightly higher within Anglicans than the broader community.
The Ten Commitments contains 56 strategies and 26 other ideas to give life to this response. It includes powerful statements of support and understanding through to specific, practical examples of action that give life to the Ten Commitments.
The emergence of "Red Benches" in Anglican parishes is a tangible demonstration of a number of these commitments and strategies. Recognising DFV and starting with lament sets the scene for what follows, taking responsibility for past actions and promising change:
"We start with lament so that we face honestly the problem of violence in our church. As our whole Church responds, with members and leaders working together, we start the long work of change." (Commitment 1, Strategy 1)
And
"Dioceses and parishes make the prevention of violence an ongoing goal for the church." (Commitment 7, Strategy 2)
Red Benches also demonstrate the Church's commitment to work at several levels to prevent and address violence. The Ten Commitments require:
"Clergy and other pastoral staff clearly teach and [sic] that loving and healthy relationships that reflect God's intentions are characterised by mutual service of the other, mutual respect and affirmation, partnership, honesty and accountability, trust and fairness. They also clearly teach that violence, abuse and any coercive or threatening behaviour, is contrary to God's will and that it is not a sin to leave a violent or otherwise abusive partner.
(Commitment 4, Strategy 1)
And
"Parish councils and other church agencies identify and develop relationships with local service providers working with particular groups of people, such as disability services, Aboriginal and Torres Strait Islander services, and migrant and refugee services."
(Commitment 5, Strategy 2)
"Parish councils and other church agencies are aware of local actions to prevent domestic and family violence and are involved with these actions where appropriate.
(Commitment 6, Strategy 3)
Over the course of 2023 you will hear a lot more about the Ten Commitments and how actions across the Anglican community in Southern Queensland are demonstrating the rollout of the many strategies and associated ideas raising awareness, seeking prevention and enhancing response.
Note from The Rev'd Gillian Moses, Chair the ACSQ Domestic and Family Violence Working Group: The Anglican Church Southern Queensland (ACSQ) is committed to promoting and supporting a safe environment for all. Domestic and family violence is unacceptable. We offer pastoral care to victims of domestic and family abuse. The ACSQ is part of the Queensland Churches Together Joint Churches Domestic Violence Prevention Project (JCDVPP), which publishes resources for clergy and lay people. 
If you are in immediate danger, call 000 for police or ambulance help. For a list of helplines and websites available to women, children and men, visit this page on the Queensland Government website. 
Jump to next article