Prayers for people in Sudan and South Sudan
"I am writing this to ask anglican focus readers to pray for the people in Sudan who are in deep need, for South Sudanese people who are stuck at the border desperately trying to get home, for people in South Sudan who are also impacted, and for Sudanese and South Sudanese community members in Australia, including Anglicans in our Diocese, whose family members have been killed or are missing," says Bishop Daniel Abot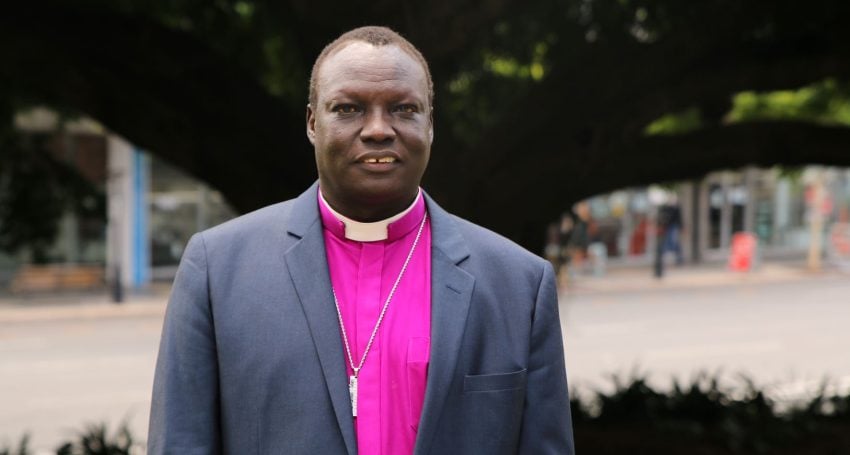 Please be aware that this content may be distressing for some readers.
I have been serving in the role of Ethnic Congregations Specialist now for nearly three and a half years. Much of my ministry involves praying with and pastorally caring for multicultural folk in our Diocese and beyond.
In mid-April conflict broke out in Sudan, with churches and mosques bombed and hospitals raided. Nearly 2,000 people have been killed, more than 5,000 injured and more than one million have been displaced in-country, with 300,000 fleeing across neighbouring borders.
Two rival military leaders and their forces are battling for control of the resource-rich nation.
Last week 18 civilians were killed and more than 100 injured in a poor part of Khartoum, Sudan's capital, as the people went about their shopping in a local market.
There are Anglicans in our Diocesan community who have missing family members and whose family homes have been destroyed in Sudan.
The family of my wife, Rachel, is suffering. Rachel's mother, sister and niece fled their home in Sudan, leaving everything behind. They are now staying in Renk with other family. Because conflict broke out while school was in session, Rachel's 16-year-old niece was missing for two days. The family is traumatised as a result. Please pray for Rachel's family.
The Rev'd Rebecca King, who is Priest-in-Charge of The Parish of Yeronga, is ministering to her Sudanese and South Sudanese community members who are grieving the deaths of family members and worried about others who are in danger. At the same time, she is extremely worried about her own family due to bombing, gunfire and air strikes. Eight of Rebecca's close neighbours have been killed. Her elder brother was missing for many weeks. Twenty five members of her family went into hiding at the start of the fighting. The Archbishop of Khartoum has been forced out of the Cathedral and is now in hiding. Please keep the Archbishop, The Rev'd Rebecca and her parishioners and their loved ones in Sudan and South Sudan in your daily prayers.
I recently spoke to an Anglican priest friend who is based in Darfur, which is in the west of Sudan. Two months ago he moved to Darfur from a refugee camp in another country to preach the Word of God. He is unable to return to the camp because it is too dangerous. I first met this priest in an Ethiopian refugee camp when we were young boys. He is also a former "Lost Boy" — we fled our villages as young children to avoid being forcibly conscripted into the military as child soldiers.
Another Anglican priest friend and his family are on the run. They have no food or access to clean water. This second friend began hosting the other priest after he arrived in Sudan. We met through the power of prayer eight years ago after he felt a call of God upon his life to convert to Christianity. I was a newly consecrated Bishop at the time. He would seek me out, asking me to pray and read the Bible with him. A fellow Anglican sponsored him to attend Bible College in Juba, which is the capital of now South Sudan. He was ordained a priest after completing his Bible training.
Please pray for these two priests and their families and communities.
Most Australians in Sudan — nearly 200 citizens — have been repatriated; however, many remain stuck there, including people who have registered their presence. Reaching evacuation points is dangerous, with fuel in very short supply. Please pray for all those seeking safe passage.
People in South Sudan are also terribly impacted. Eleven people lost their lives while attempting to reach a newly established safe zone in Duk, which was particularly cruel of those who are intentionally working against peace in the area.
Starvation is becoming more widespread in Duk and across other parts of South Sudan, which is partly due to the disruption in humanitarian aid provided by the United Nations. They are also experiencing financial destitution because of the flow-on effects of the conflict.
I am writing this to ask anglican focus readers to pray for the people in Sudan who are in deep need, for South Sudanese people who are stuck at the border desperately trying to get home, for people in South Sudan who are also impacted, and for Sudanese and South Sudanese community members in Australia, including Anglicans in our Diocese, whose family members have been killed or are missing.
A few days after the conflict broke out, the Archbishop of Canterbury, Justin Welby, called Anglicans to pray. Please join me as I echo his prayer:
"We hold the nation of Sudan in our prayers at this time. Lord God, protect the civilians, bring peace to this appalling crisis in the nation's life, and allow political stability to return."
Jump to next article