Game changers: boys' and mixed-team netball embraced at Toowoomba Anglican School
Netball is taking centre court at coeducational Toowoomba Anglican School (TAS), with more players getting involved in the boys and mixed teams than ever before — TAS Boys Netball Coach and three players reflect on what the sport means to them and share their advice for others considering playing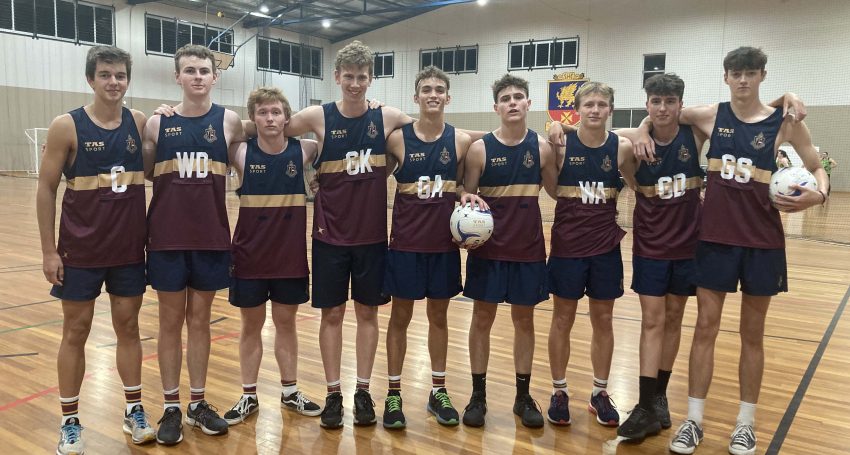 Teagan Deer — Assistant House Parent, Secondary Teacher and Boys Netball Coach, Toowoomba Anglican School
As a coeducational school, we actively encourage all students to get involved in sports, and we now have a number of boys and mixed teams competing in netball tournaments across the year. The students in our all-boys secondary netball team are setting a great example for our younger students and demonstrating how boys' and men's netball is increasing in popularity. We have developed quite the following in terms of supporters, with a dedicated bunch of parents, teachers, fellow students and members of the wider community turning out to watch each of our games.
I have always loved netball and have played, coached and umpired for several years. I enjoy coaching the boys — they are enthusiastic, athletic, strategic, and just genuinely a pleasure to watch. Every game is extremely dynamic, they go from making big flashy plays, with huge standing jumps and flick passes to yelling "Here if you need!" and cheering each other on in a matter of minutes.
While traditionally seen as a game for girls and women, I think it is important to recognise the inclusive environment that netball offers. It is a game that can be played by people of all ages, genders and skill levels. By encouraging young men to play netball, the sport becomes more diverse, improving the game.
In terms of advice for others considering playing netball: embrace the opportunity and approach netball with an open mind and a positive attitude. And, embrace the
chance to try something new and challenge yourself in a different sporting environment.
Remember to have fun and enjoy the experience of playing netball. Embrace the camaraderie, the physical activity, and the joy of competing. Appreciate the lessons you learn on and off the court and the friendships you form along the way.
Matthew Horrocks (Captain), Finn Robert (Vice Captain) and Patrick Walsh (Senior Player) — Boys netball players, Toowoomba Anglican School
The original idea behind the netball team was having some fun and seeing how far we could get. Netball gives us the opportunity to play a sport that is accessible to everyone and means that from the beginning we are all on a level playing field because we all had to learn the rules and nuances of netball. Now we love the strategy and game play. When it all comes together on the court, it is magic!
We have a dedicated team of staff that have supported us with opportunities to grow and succeed as a team. Our coach (Miss Deer), manager (Mrs Goddard) and netball coordinator (Ms Singleton) have taken us from just learning the rules to playing matches against the Queensland Men's teams in a under a year. The whole school community has also played a role in supporting us, coming to watch us play and encouraging our team on and off the court.
We think it is important to encourage young men to play netball and challenge traditional stereotypes. Through playing we hope we can promote inclusivity, equality and broaden the horizons of both genders, allowing everyone to enjoy and benefit from the sport.
Netball is no longer just a sport for women, so don't be afraid to get out there and give it a go!
Matthew Horrocks
My personal highlight of the senior boys' netball team is seeing how far our team has come. In the two years of playing netball, we have played over 20 different games against various school men's and women's teams, as well as Toowoomba and state representative teams. As a captain I am very proud of how far we have
come and am anticipating the upcoming State Vicki Wilson Finals and the Queensland Independent Secondary Schools Netball carnival in Brisbane.
Finn Robert
My personal highlight of playing netball was at the recent Vicki Wilson Championships. After taking some tough one-point losses against the same team, we came back from three points down in the final to win. Our teamwork in that game was next level and everything gelled together like we had planned.
Editor's note: These students are setting a great example for the younger students at Toowoomba Anglican School, and we look forward to watching the boys take to the court throughout the rest of the year.
Jump to next article