Q&A with former UN peacekeeper, now peacemaker, The Rev'd Ron Paschke
Meet The Rev'd Ron Paschke and find out about his Army Chaplain ministry, the highlights of his current role at Holy Trinity Church, Woolloongabba and how his favourite scripture got him through the greatest challenge his family has faced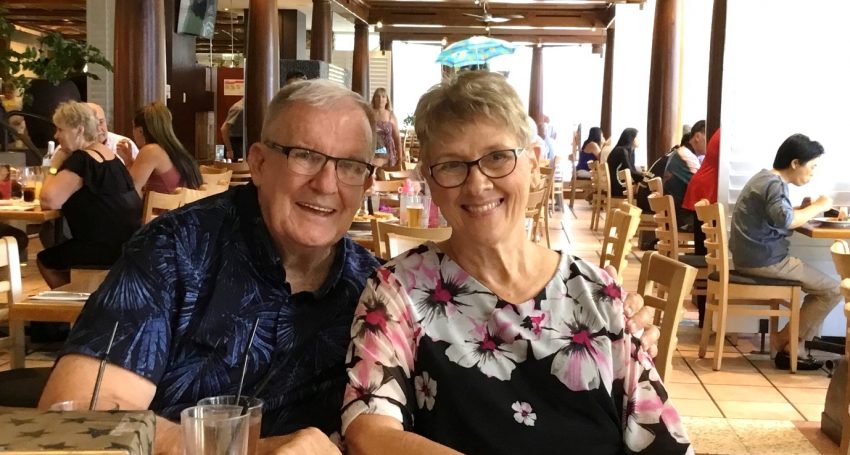 The Rev'd Ron Paschke is a retired Army Chaplain and current Priest-in-Charge of Holy Trinity, Wolloongabba. He is married to Jenny and together they have three children and six grandchildren.
How long have you been involved in the Anglican Church and in what roles?
I grew up in the Anglican Church. I was confirmed at St Matthew's, Holland Park and went to the Youth Group at St Stephen's, Coorparoo where I met and married Jenny. The family then moved to Slacks Creek where I was the Treasurer at the local parish. It was then, at the age of 33 that I responded to a call upon my life to enter into training for ministry at St Francis College. After a period as a Curate, I served as a Parish Priest on the Gold Coast, where I started the Parish of Mermaid Beach/Robina.
I joined the Australian Army as a Chaplain, where I served with distinction for 18 years, including as Chaplain to the United Nations Peace Monitoring Forces on Bougainville. I was recognised for my work at the Jungle Training Centre at Canungra with a Training Commander's Commendation.
At the grand old age of 60, I retired from the army and undertook the position of General Manager and Chaplain to the Mission to Seafarers Centre at Fisherman's Island in Brisbane.
What is the name of your current role and what does your role involve? 
In March 2008 I received a call from God to return to parish ministry and so I came to Holy Trinity. As a driver of change, I have led the parish to a position where we are confident to extend our mission into the community. I was due to retire from full-time ministry in August 2016, but have continued as Priest-in-Charge for the past three years, where I have continued my ministry on the hill with enthusiasm and humour. It is my role to provide sacramental and pastoral ministry to my people. Along with parish visitation, conducting meetings and preparation for Sunday, I find myself increasingly involved in administration related to governance.
What have been the highlights of your role so far?
We have in the Parish the people I believe God wants to be here and there is a wonderful feeling of commitment to Christ and to each other. If I were to choose any one situation that gives me great pride, it would be that we have several men who have now joined their wives and children as regular worshippers and have in each case been baptised and confirmed.
What are your plans and goals for the next few years?
During my time at the Defence Intelligence Training Centre I had the privilege of obtaining my qualification as a Training Development Officer. Having gained this I was then able to produce numerous training programs for use by Chaplains in their daily work. They were basically Counselling Skills Programs and Life Enrichment Skills Programs. These were written with the soldier in mind. What I wish to do during the next few years is to rewrite them for use within the parish setting and then put them on a resources website, which I have already begun developing. For 15 years I also used to send a daily devotion out to all the staff on my base and will now include them on the website along with my sermons. Personally, I plan to spend more time with my wife Jenny, our children and our grandchildren.
What is your favourite scripture and why?
"I have heard your cry and seen your tears." (2 Kings 20.5) I have always been a strong and resilient person and have handled life's battles with confidence until almost four years ago when our family had to face an event which truly tested our personal strength and especially our faith.
Our granddaughter, Denicka, suffered a wet stroke when she was only one years old. We were called to the hospital as she was being prepared for surgery. The prognosis was that if she did not have the surgery she would most certainly die and most probably would die even if she had the operation. I remember thinking "I have no answers to this problem. I always have answers", but I was totally lost. The surgery went well, but we had a 72-hour wait to see if she had a chance of life. She was in an induced coma for several weeks. But, one night just after the surgery I could not sleep, I could not stop the tears, and got out of bed and went into the lounge. I sat there for hours asking a single question, "Why?" And then into my mind and heart came these words, "Do not worry, I have heard your cry and have seen your tears." Despite having 25% of her brain removed she is now five years of age, attending Kindy and due to start in Prep next year. According to her Kindy teachers, they feel that if they didn't know her story they would not know there had been a problem. God is just so good and faithful and I now have the answer.
What person of faith inspires you the most and why?
Interestingly enough, the person who inspires me the most is my wife Jenny. When I felt my original call from God, Jenny, who knew me better than most, was very much against my ministry. In spite of everything we went through at that time, she remained totally obedient to her Saviour and here we are in the twilight of our joint ministry and she is always there at my side and still giving advice.
What do you do in your free time to recharge and relax?
I find spending time with Jenny, our children and grandchildren to be the most enjoyable times as I enter into retirement. Our three children are Joanne (married to Mark), Mark (married to Fiona) and Jonathan (married to Louise). We have six grandchildren: Katie, Joshua, Micah, Kayleigh, Isaac and Denicka. I also do enjoy simply sitting at Sienna Café in Carindale, with a hot coffee, watching the world go by.
If you found yourself on a deserted island, what three things would you choose to have with you?
A full refrigerator with a generator full of petrol, a Bible and a satellite phone.
What is your favourite book and why?
My favourite book is Miracle in Darien. It has assisted me greatly in my understanding of ministry. It is not all about me, not about Church Wardens etc, but simply about the Lordship of Jesus Christ. He is the Head. I have returned to it continually as I have gone through the last 12 years.
Jump to next article