International Youth Day
12 August 2019 is International Youth Day, a day first designated by the UN General Assembly in 1999: in this joint feature, clergy and lay people across our Diocese share their thoughts on the 2019 International Youth Day theme 'Transforming Education'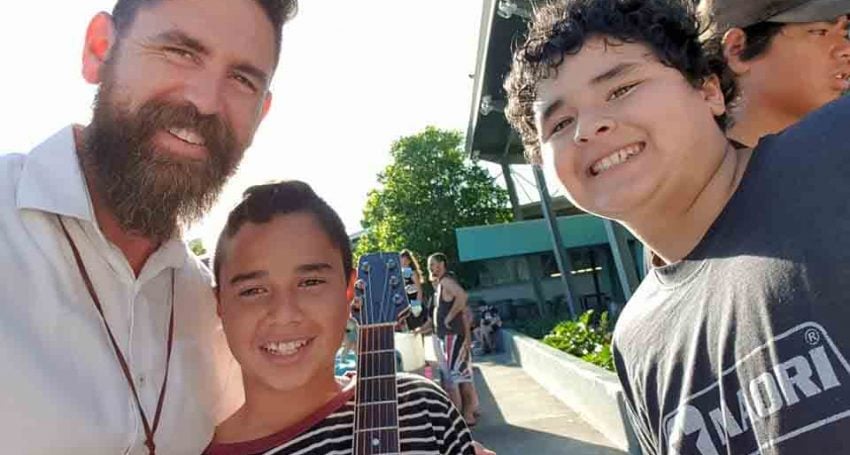 12 August 2019 is International Youth Day, a day first designated by the UN General Assembly in 1999. According to the United Nations, there are currently 1.8 billion young people between the ages of 10 and 24 in the world, which is the largest population of youth historically. Over 55 per cent of these children aged between 6 and 14 years lack minimum proficiency in literacy and maths skills, with one third of these youth unable to access primary or secondary education.
This global learning crisis is severely compromising the 2030 targets of the Sustainable Development Goals, which are a blueprint for achieving a fairer and more sustainable future for all. International Youth Day serves as an annual celebration of the role of young people as essential partners in change, and an opportunity to raise awareness of challenges and problems facing the world's youth. In this joint feature, clergy and lay people across our Diocese share their thoughts on the 2019 International Youth Day theme 'Transforming Education'.
Facilitating legal education with the Wakka Wakka in Cherbourg – Eleanor Reid, QUT Law student, Christ Church, St Lucia Youth Leader and Community of The Way member
This year's International Youth Day celebrates 'Transforming Education', particularly focusing on the provision of inclusive and equitable quality education, and the promotion of lifelong learning opportunities for all. This theme not only recognises people's work to improve education for young people, but the work of young people to improve multidisciplinary education for people in all walks and stages of life.
As a law student at QUT, I have the privilege to work with the Indigenous community of Cherbourg, located 250km north-west of Brisbane, and one of the most economically disadvantaged places in Australia. The QUT project I am involved in aims to further the legal education of the Wakka Wakka, the traditional owners of the land around Cherbourg, and beyond to Nanango in the north and Mundubbera in the west. In the spirit of reconciliation and self-determination, our projects are entirely dependent on the needs of the community; we listen to the local Elders and what they want to achieve in their community, and develop projects that help achieve those goals.
The current project is focused on responding to the community's questions about their legal rights and responsibilities in the format of a regular radio segment. While our part in the process is undeniably important – we provide resources and connections to legal advisers that the community would not otherwise be able to access – the community's role in choosing what questions they want answered and what projects they want completed, enables them to empower themselves to create positive change.
Not only is the project empowering and educational for the Cherbourg community, but also for the students working on the project. By collaborating with a rural Indigenous community that is so different from those in which we live, we are both challenged and informed; we have already learnt so much about Wakka Wakka culture and history having only just started the project. For example, on a recent trip to Cherbourg we learnt about the involvement of Indigenous men in World War I, and their unfair treatment both on the battlefields and at home. For me, this has highlighted that sometimes opportunities to learn are found where you least expect them – while I started this project intending to teach others, I have learnt more than I thought I could.
The United Nations describes education as a 'development multiplier'; it can accelerate progress in other areas, such as poverty eradication, reduced inequalities, and peaceful societies. My work with the Wakka Wakka community has really demonstrated this – through mutual education we are able to better understand each other and work towards a more accepting and respectful society.
Equipping youth – Nathaniel Crank, Co-Worship Leader, The Lakes Anglican Church
The topic of International Youth Day this year is 'Transforming Education'. The questions I want to raise are; what is the place that the church has in the lives of its teens from an educational point of view, and also how best can we utilise the influence that the church has on its youth?
So, let us back pedal for a moment and see what the Bible says about educating youth. One verse in particular that provides an interesting way of looking at teaching is, "Train children in the right way, and when old, they will not stray (Proverbs 22.6)." Although this verse is about youth, the message is clearly being directed to the teacher of the youth.
The reasoning for this verse being relevant to the 2030 Sustainable Development Goals is that Proverbs 22.6 is talking about what teaching should be. It does not say anything about telling teens the yes and no answers of what to do if questions or troubles arise. Instead it states that teaching should be the act of providing tools for youth to use throughout their lives to help maintain the correct course in life – tools such as, providing them with decision making processes, ways to communicate better, and ways of understanding and problem solving. It is about giving them their own knowledge and decision making tools, through the guidance of teachers and role models, to make their own conscious decisions to better themselves and the people around them.
To sum it all up, the most important thing a church can do is teach the youth. But not just inform them of your own beliefs, but allow them to understand and delve deeper into those beliefs, and have the power to control their own path with conscious thought and not just to be led astray because they were unequipped for what the world can throw at them.
More than mere words – The Rev'd Dan Berris, Priest-in-Charge, The Lakes Anglican Church, North Lakes
The theme of International Youth Day for 2019 is 'Transforming Education'. Goal 4 of the 2030 Sustainable Development Goals is to make education relevant, equitable and inclusive, and for youth to be involved in the solutions.
In James 2.14, we hear that faith without works is dead. Christians must not say to brothers and sisters, peace be with, keep warm and be fed without offering warmth and food to bring peace. Offering words of sympathy may make us feel good, but actually putting these words into action shows we are interested in the person and their needs – and that more importantly, so is God.
So, who are our brothers and sisters? Can they provide for themselves, yet choose not to? Do we have resources to help? Are we creating a culture of dependence? In many cases, the best reflections and actions come from those in need – if they are given a voice, taken seriously, empowered to respond and supported in taking positive steps forward.
While transforming education will inevitably flow onto other areas, we must be willing to impact the students' environment which will impact their engagement. In building The Lakes Church community and partnering with Y-Care vocational school, it is clear youth cannot simply hear the words of peace, learn to be fed and be warm – they need people willing to show that their voice is important and taken seriously.
When offered actions that support them, they are more open to being trained, empowered and supported to respond in their own context. This is a key message for our churches. If we wish to take seriously the future of our youth, we must show we are as interested in them and their context, as God is.
To adapt an old saying – youth do not care how much you know, until they know how much you care.
Education: forming, informing and transforming – Jonathan Kemp, Director of Youth, Children's and Families Ministry
It has been suggested that if a person from 1000 years ago was transported through time, one of the first places in our society they would likely recognise is the classroom. In other words, despite all the changes in human life and conduct over the centuries, the manner in which we approach the task of formally educating our young has been among the most stubbornly resistant to change.
I say this as a former (but by no means embittered) schoolteacher who taught for nearly twenty years, spending plenty of that time reflecting on what we all thought we were doing and how we could be doing it better. While I have met plenty of common-room cynics, there is no doubt education can dramatically change young people's lives for the better.
But what makes a classroom magical? I have witnessed principals and edu-crats of all kinds come back from pilgrimages to Finland claiming they have virtually grasped the Holy Grail: over there, they say, teachers are highly paid and treated like royalty; no homework is set; there are only three or four hours per day of actual classes; the curriculum is broad and based on real-life needs, and so on. And yet, in Australia and elsewhere, we persist, like so many muggles, in spending our time on standardised testing regimes, apparently to determine high and limited achievers so we can allocate praise and scorn respectively. Such priorities are most unlikely to transform young minds!
Ultimately, report cards never tell the whole story. Did you come away from high school with confidence? Did you learn how to get on with others? So often, the learning process proves to be more important than the content: learning to learn and be flexible in new contexts can benefit a person for their whole life journey and bring immeasurable rewards, as technology changes our lives again and again. Education can FORM young people to suit a particular mould or tradition; it can INFORM them relentlessly, via the power of Google; or it can TRANSFORM them, so that they may come to know themselves thoroughly and be able to make inspired decisions for the good of themselves, their loved ones and their world. On International Youth Day 2019, we encourage young people to demand an educational revolution and we applaud the teachers who support that bold aim.
On pilgrimage – The Rev'd Jazz Dow, Chaplain, The Community of The Way
Driving over the mountain range, I sensed we were entering paradise. The beauty and abundance of the landscape took my breath away. As we descended into Yarrabah, I was drawn in by the spirit of the place, the stories that resided in this particular land. The houses painted in vibrant colours lined the shores like confetti scattered at a celebration. This was a special place. Indeed, it was a transformative experience for myself and for those I travelled with.
We, the pilgrims of the 2019 Wontulp-Bi-Buya ABM pilgrimage, gathered for worship with the Yarrabah Anglican community. The worship was sacred, spirited, and contextual. After church we had the privilege of listening to a group of traditional owners and Elders speak to us about what living in Yarrabah is like, the history of the place, the beauty, and the pain.
Piercing the beauty came the story of the pain that colonialism brought to Yarrabah, and the associated inequalities still facing a large community of people. One of these shocking realities is that in a community of 5000+ people, the local high school finishes at Year 10. If students want to continue to Year 11 and 12, and onto university they must travel into town, leaving very early in the morning to make the long trip by bus, which takes up to 1.5 hours each way. This not only has impacts on the individual young person, it takes them out of their community and Country, thus having ripple effects throughout the shire.
Goal 4 of the 2030 Agenda for Sustainable Development is to "ensure inclusive and equitable quality education and promote lifelong learning opportunities for all." It is obvious to me that an inequality exists for the young people of Yarrabah (and many other communities in this 'lucky' country), that education is a human right, a key to unlocking future opportunities. If we start putting limits on certain young people having access to the same education opportunities that other young people have, we will continue to build an inequitable society, further stretching the gap between Indigenous and non-Indigenous peoples in this country.
Education must be relevant, equitable, and inclusive. Wouldn't it be grand if the young people of Yarrabah could participate in the national curriculum of Year 11 and 12 using their culture and Country as a lens for interpretation and future learning?
Jump to next article