Q&A with new Diocesan Director of Ordinands and Vocations, priest, mum and gardener, The Rev'd Canon Sarah Plowman
Meet Sarah Plowman and find out about her new role, why she loves being a priest, the kind act that changed her forever and what she would write on a billboard and why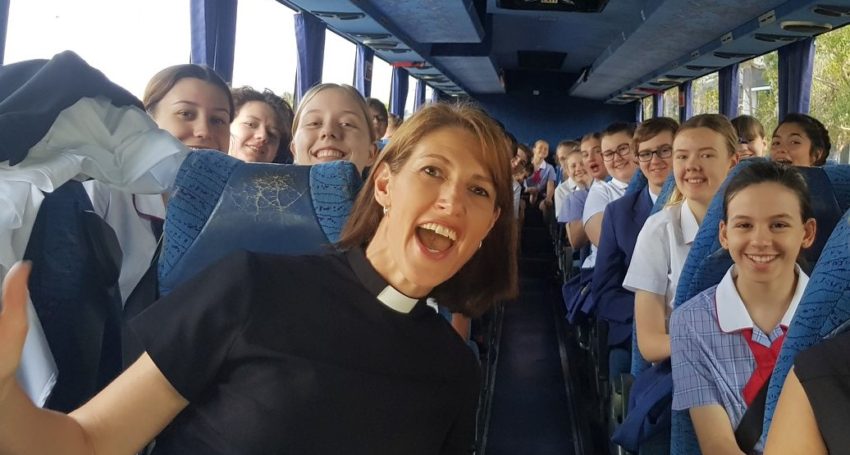 The Rev'd Canon Sarah Plowman is the new Diocesan Director of Ordinands and Vocations (DDOV). Prior to commencing this role in February, she served as the Chaplain at Cannon Hill Anglican College for almost 11 years. Before becoming a priest, she was a Science and Maths teacher. Sarah has twin 14-year-old daughters, Georgia and Hannah. She loves running and growing vegetables.
How long have you been involved in the Anglican Church?
My faith journey began in the church of St John the Baptist in Nambour when I was a child. I became involved in Anglican Youth Ministries in my teens and 20s, worshipping in faith communities in Brisbane and on the Gold Coast. I have been a Youth Minister and School Chaplain. Now I am the Diocesan Director of Ordinands and Vocations and hope to be able to serve God and the Church in a whole new capacity.
What have been the highlights of your role as a priest so far and why?
Since entering the priesthood in 2006, I have felt most privileged to journey with people exactly where and as they are. This is especially evident to me when we celebrate the Eucharist together, bringing all of ourselves (including the broken bits) to the Lord's Table to join with him in celebration of life. When distributing the bread at Communion, I am always very conscious of the hands which reach out in a silent "yes" to Christ. Some are strong, some young, many old, most scarred, all unique – these are the hands with which God chooses to love the world and I am humbled to gather them in the Sacrament.
What advice do you have for those considering the priesthood in our Diocese?
Most people see only a fraction of what a priest does – there is such variety and depth to the role. No two days are ever quite the same and you find joy and hope in such unlikely places. The Church needs leaders of many different kinds; don't assume that you aren't the right 'type' of person to be a priest! There is no 'type' and every Christian should ask the question of themselves at least once! You just never know!
You were recently appointed the Diocesan Director of Ordinands and Vocations – what will your new role involve?
The Diocesan Director of Ordinands and Vocations (DDOV) role is exciting and challenging for me. I will get to meet and journey with people who are asking big questions of themselves and their vocations. Some will end up as priests and deacons, some will end up doing something else entirely. My role is to help them listen and discern so that they end up where God calls them – and that could be in any number of vocations. Hopefully many will go on to serve and lead in our parishes, schools and other ministry areas. I will also be responsible for post-ordination learning, with a personal goal to inspire our clergy to be 'lifelong learners' who value continuing their ministry education for the duration of their lives.
What are your plans and goals for the next few years?
Some strategic projects for the first couple of years of my ministry include refreshing the Graduate Clergy Training program, so that our newly ordained deacons and priests are well supported and continue to be inspired to learn and grow. I also look forward to working with the staff at St Francis College to streamline our processes through Enquiry and Formation so that our candidates have the best possible experience as they move toward and beyond ordination.
Why is it important for us as Christians to serve the broader community?
The Church should always have its eyes on serving those at the margins of society because that's what Jesus did. When we close our hearts and our doors to the world, we are limiting where we believe God is and where God's love can reach. God's love is big and wide and is already in every corner of creation; this is the heart of the Gospel and we simply follow where God leads, loving and serving wherever we find ourselves.
Can you tell us a little about your faith journey?
When I was in my 20s, I was sure I knew God and what God was like and who God loved. As I've grown older, I'm learning that what I know is only a glimpse, so my humility and wonder are growing. I'm not sure of anything anymore except that God is big and loving, I am human and fallible, and that to err on the side of compassion is totally acceptable.
What is your favourite scripture and why?
I love the honesty of Peter in John 6.68. After Jesus asks, "Do you also wish to go away?" when following him became hard, Peter answers, "Lord, to whom can we go? You have the words of eternal life." When people ask me why I am a Christian, I always answer with this verse. Nowhere have I heard or seen a philosophy of life which satisfies like the life and teaching of Christ. I cannot conceive of a better way to live my life than to follow Christ's example, and so I do.
What person of faith inspires you the most and why?
There was a German philosopher, Edith Stein, who converted from Judaism to become a Carmelite nun in the 1930s. She wrote about prayer as being a stillness in which we become energised beyond our own capacities. I have never ever forgotten those words which I read very early in my adult life. Sadly, Edith perished in the gas chambers of Auschwitz, but her influence lives on in my life.
What are the primary strengths of the church and what is the best way to make the most of these for the benefit of our communities?
The Church's great strength is in community, providing a place of belonging for all people. There is evidence to show that people are longing to belong to a community (think of the huge growth of the Parkrun movement) and are looking to deepen their experience of life beyond the accumulation of material wealth. Young people want to serve and make a difference to the future of their planet. The Church is already working in all of these spaces; we simply don't tell people about it enough. Perhaps one approach is to invite people to be involved in our activities without necessarily being worshippers in our services.
What are the challenges currently faced by the Church and what can be done to overcome these?
Personally, I believe that while there are many people who don't believe in 'God', their concept of God is not one that most Christians would believe in any way! The challenge for the Church is to get people rethinking their stereotypes of God and church, and that will only happen if we can stimulate conversation in our communities. I'd love to see 'town hall' style discussions about faith and God where people could talk and laugh and demonstrate that talking about God is normal and engaging and not confrontational.
What is the kindest gesture you have experienced or witnessed?
When I was in my early 20s, my dad and mum invited one of dad's friends over for Christmas lunch. I was a bit miffed because I wanted 'just' my family there on that day. Dad gently explained to me that John was alone as his family was away. We had so much to share that it cost us nothing to offer some kindness and a warm welcome to someone who was lonely. I felt ashamed of my selfishness and it changed my attitude forever.
What do you do in your free time to recharge and relax?
I like to run. I find it freeing and challenging, and it keeps me fit and healthy. It also gives me a way to connect with people who don't go to church. One of my dreams is to have a fun run (or walk) for clergy during the Synod weekend called the 'Clergy Classic'! It would encourage all our clergy to look after themselves year-round and then pit themselves against each other annually around the grounds of Churchie! I think it's a winning idea!
If you found yourself on a deserted island, what three things would you choose to have with you?
I'd need a good book – probably The Lord of the Rings because it's pretty big. And a pruning saw or axe – I think I could build myself a pretty good treehouse with a bit of time. And maybe a fridge full of cheese. And crackers. And maybe something to drink… just for when I'm watching the sun go down over the ocean each day.
If you could have a billboard with any text on it, what would it say and why?
"Be kind to each other." It seems simple, but people can just behave really badly. It drives me mad.
What's your best childhood memory?
When I was little, my dad was always renovating our house, but never finished it. We spent many years with verandas with no railings, and doors that led nowhere. I loved the chaos and the sense that there was always something more to expect. And there were always bits of wood and nails for me to build my own creations alongside my dad. It was fun.
If you are having a bad day, what do you do to cheer yourself up?
Lately, I have really enjoyed going out for a milkshake or a meal with my two daughters. They are teenagers now, and we have our best chats over a bowl of chips or a pizza. It never fails to cheer me up.
What is the funniest thing that has happened to you recently?
When I was teaching, we had to mark the roll electronically at the start of each lesson, and the teacher had to click on a link that said, "Mark Roll". Each lesson, I would say to my class "Imagine if your name was actually 'Mark Roll'." They groaned every time, but then we did some research, found a Professor Mark Roll in the United States and, because I could, I emailed him and told Professor Roll about my daily 'Mark Roll' joke. The students were horrified at my boldness, until the lovely Professor returned my email, greeted the class warmly and told us all about his research in chemical engineering! Such a lovely man, and we now had a real Mark Roll to talk about. I instigated the 'Professor Mark Roll Award for Unexpected Kindness' in my class. It was the best lame joke outcome ever!
Jump to next article