The conversations that encouraged my call to ordained ministry
"I would not be where I am today without those critical vocation conversations – with the caring Society of the Sacred Advent sisters, the insightful parish priest and the wise friends. God uses ordinary people like you and me to initiate conversations of encouragement," says The Rev'd Canon Sarah Plowman on her call to the priesthood, as Vocations Month continues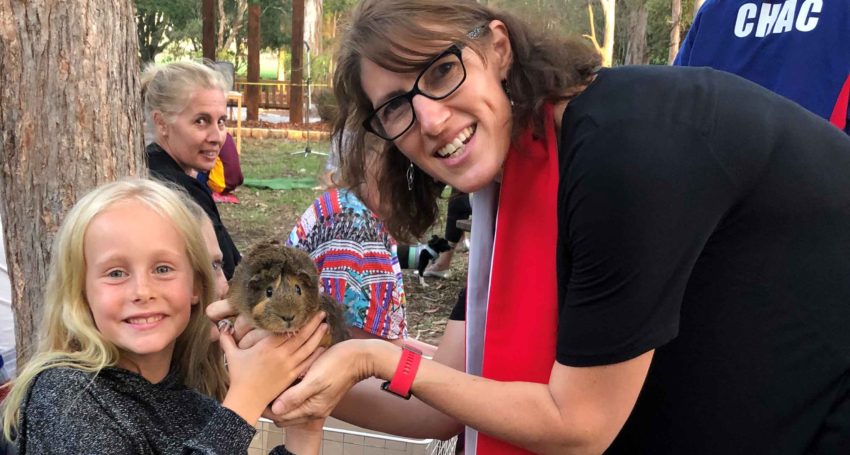 'Vocation' is an elusive thing. At times, it seems as real as the nose on my face and at others vague. We don't talk about vocation much because it is often associated with archaic concepts of convents and religious orders. And, historically in church cultures, talking about vocation is reserved for the 'very religious'.
It's time to change the conversation. Vocation is so much bigger and more important than how it has been historically considered.
Vocation is about listening to the call of God on our lives and responding to it. Not everyone has a vocation to ordained ministry or to join a religious order, but everyone has a vocation. That may be as simple as doing your regular job with all the love and grace you receive through Christ. It may be found in volunteering with children's ministry. It may be as a mum or dad or carer.
Some people, however, receive and are equipped for a special call to service in the Church. It is our responsibility to recognise and foster that call for ourselves and each other. I've responded to the call of God a number of times and pursued a number of vocations. A few false starts may have been just what I needed to put me in the right place at the right time for God's purposes.
When I was 16, I first felt the inkling that God wanted me to give more of my life than just church on Sundays – I was ready to give my whole life to God. That was in 1989 and women's ordination wasn't a thing yet, so I pursued a vocation to the religious life of an Anglican nun. The sisters at the Society of the Sacred Advent were kind and gentle and helped me on the journey, even though that journey led me away from them.
Later, the call to ministry re-emerged and I became a youth minister because I loved to work with young people and that seemed the thing to do. I faithfully followed that path, until an insightful parish priest with whom I was working said, "Sarah, do you think you are called to be a priest?" It took me some further years of discernment before that vocation fully emerged and was affirmed by the Church.
I was then called into school chaplaincy as a lay (non-ordained) person for many years and felt utterly fulfilled in that ministry – until God came calling again and conversations with wise friends led me to where I am today.
I am now feeling that sense of rightness in encouraging the vocations of others, and helping new clergy truly flourish in their God-given ministry. The restlessness I felt in past years has gone, and now the excitement of participating in the mission of God is enlivening each day.
I would not be where I am today without those critical vocation conversations – with the caring Society of the Sacred Advent sisters, the insightful parish priest and the wise friends. God uses ordinary people like you and me to initiate conversations of encouragement.
Having the initial 'vocation conversation' with someone can be as simple as affirming them.
"You read the Bible so clearly in church this morning. It really came alive! You should do that more."
"I feel so grateful for the way that you pray in our small group. Your prayerfulness is a blessing and a gift."
"You seem to love our Bible study group. Have you thought about doing some theological study at college?"
"You have been showing some signs of spiritual leadership in our church. What are your thoughts about becoming a priest?"
And, if you really feel that someone is called to ordained ministry, get in touch with your parish priest or chaplain and work with your church community. Affirmation and support from local congregations and other church groups are vital signs of God's call to ministry and leadership.
15 July to 15 August is Vocations Month. We are calling on Anglicans around Southern Queensland to initiate a 'vocation conversation' with people they know who may be called to ordained ministry. If you would like to chat more about how to initiate a 'vocation conversation', please contact The Rev'd Canon Sarah Plowman, Diocesan Director of Ordinands and Vocations, on (07) 3835 2267, via email at DDOV@anglicanchurchsq.org.au or via Anglican Vocations Facebook.
Jump to next article