The Grizzlies
"I was won over. I think you will be, too, by the authentic tale of these young people inspired that darkness would not be their final destination. As the credits roll and you see images of the real-life equivalents of each of the cast members and their ongoing life situations, the transcendent uplift is palpable," says anglican focus film reviewer Jonathan Sargeant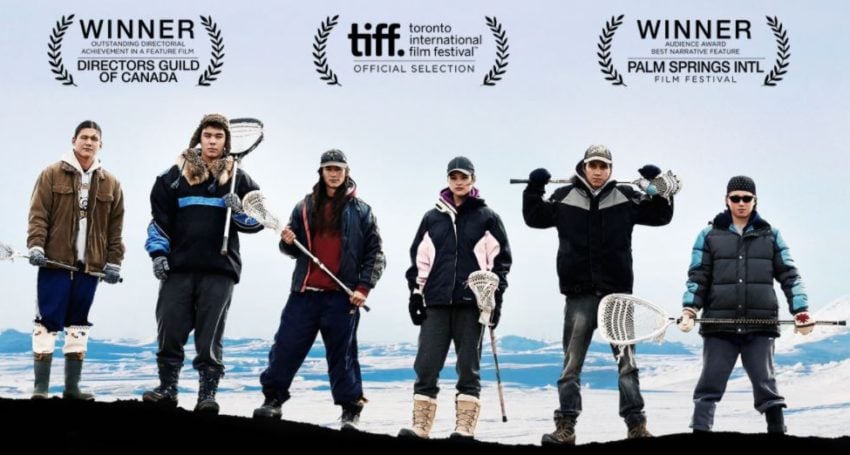 Can a film about an underdog sports team from the middle of nowhere transcend a familiar trajectory? 
Russ Sheppard (Ben Schnetzer) is a fresh-faced teacher, arriving in the small Arctic town of Kugluktuk to take what he expects will be a temporary post at the local school. This stint in an impoverished place is a stepping stone which Russ expects will lead to a position at a much more prestigious college. But it isn't long before conditions in the town, with one of the highest teen suicide rates in the world, become clear.
Students are disengaged, many barely showing up to classes. Eventually, Russ banks on sports as an answer, introducing the young students to lacrosse. Unsuccessful at first, he gradually wins over some key teens as players and administrators. Adam (Ricky Marty-Pahtaykan) and Zach (Paul Nutarariaq), along with Miranda (Emerald MacDonald), each make small steps out of their troubled circumstances. But can it last? You may or may not be able to guess the remaining beats in the film, but the sincerity brought by these mostly first-time actors, adept at lighter moments and serious events is beyond infectious.
The Grizzlies is a wonderful balancing act. First-time director Canadian Miranda de Pencier has created a film that straddles two worlds successfully. On the one hand this is a story that pulls no punches in depicting the ongoing aftermath of colonialism and cultural imperialism, waves of trauma that infect every aspect of this community's existence. On the other, this is a story that gloriously embraces every trope in the underdog sports film playbook, wearing its heart on its sleeve to elevate the many moving aspects of this true-life story somehow without sentimentality.
The path of the story might feel familiar, but the setting and characters are new. In that respect it makes a wonderful introduction to life in the far north of Canada and to Inuit customs. Sheppard's character is a nice balance, too, bringing both the innocent naivete of a new teacher and a world-weary frustration with the systemic nature of the problems the teenagers, and in fact everyone, in the town are facing.
The performances director de Pencier has enabled from the cast are terrific, especially considering filmmaking was a new experience for many of them. Back in the 1960s, directors like Pasolini received plaudits for using 'found actors'. The Grizzlies' cast appears to be as experienced as any in a Hollywood film. Yet this is a very embedded style of filmmaking: as the Internet Movie Database says, "A paid mentorship program invited Inuit actors, crew, musicians and other creative collaborators to participate, and in the end, more than 91 percent of the cast and more than 33 percent of the crew were Inuit or Indigenous." This adds a discernible layer of truth to the proceedings here that fly-in-fly-out performers could not achieve.
To be honest, as an educator, I'm a sucker for stories that demonstrate the inspirational nature of teachers and the educative process. That adds to an occasional cynicism at other school-based movies, with stories often so well-worn as to be worn out. But Russ Sheppard's journey is one of teaching AND learning, in that he is taught by the First Nations people he is expected to teach. He is not the White Saviour here. It's no spoiler to note that, in the best sense, each person contributes to the redemption of the whole community.
I was won over. I think you will be, too, by the authentic tale of these young people inspired that darkness would not be their final destination. As the credits roll and you see images of the real-life equivalents of each of the cast members and their ongoing life situations, the transcendent uplift is palpable. Go Grizzlies!
The Grizzlies, rated M and directed by Miranda de Pencier. Thank you to Reading Cinemas in Newmarket for providing anglican focus' film reviewer Jonathan Sargeant with a complimentary ticket.  
Jump to next article