Why I studied theology
"The St Francis College lecturers come from a wide range of backgrounds, which allows for rich and deep conversation on many topics. It is a safe space in which to learn where everyone's opinions and values are respected. Face-to-face lectures are second to none, although online attendance is also possible for those who can't attend in person," says The Rev'd Dr Gemma Dashwood OAM, who was ordained a Deacon in December last year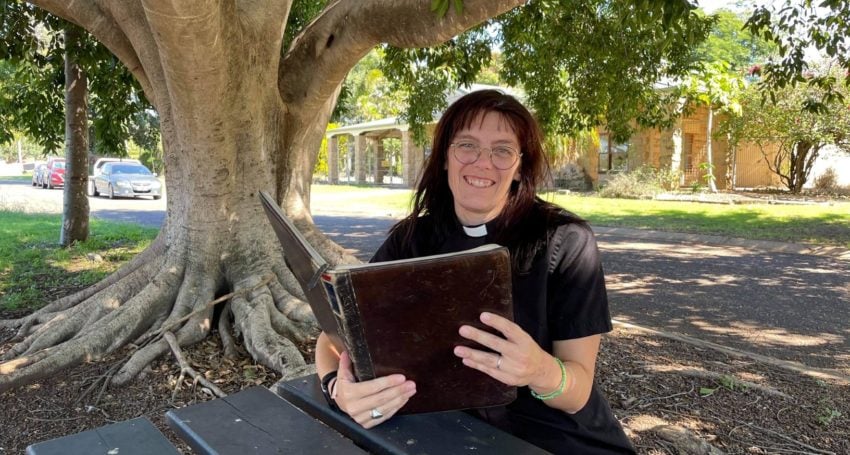 Being born and bred Anglican, I initially started studying theology so that I could be more engaged with liturgy and increase my knowledge of the Bible. I began by just doing one subject at a time; however, within a couple of years I was hooked. I then started to realise that my interest ran somewhat deeper than what I had initially thought, and so I started picking up more subjects.
I was active as a Liturgical Assistant in my local parish, and I eventually realised that I was being called to take up more of a leadership role within the Church, specifically as a non-stipendiary priest in areas of need. So, in 2017, I made enquiries into the Formation Programme and, after a lengthy period of discernment, was ordained a Deacon in December 2020.
I studied at our Diocesan community's theological college, St Francis College which is located in one of the most precious spaces in Brisbane. The location is often accurately described as a 'sanctuary' or 'oasis' just outside of the city. The surroundings are beautiful and the chapel is intimate and peaceful (my grandfather also loved it when he used to visit many years ago). The regular opportunities to worship within the St Francis community provide a spiritually and liturgically rewarding experience.
The Roscoe Library is a book lover's and researcher's goldmine. The library staff are wonderful – nothing is too much trouble for them. The range of resources is amazing. But, a heads up – you can spend hours of your day in there once you start exploring.
The St Francis College lecturers come from a wide range of backgrounds, which allows for rich and deep conversation on many topics. It is a safe space in which to learn where everyone's opinions and values are respected. Face-to-face lectures are second to none, although online attendance is also possible for those who can't attend in person.
Academically, learning Hebrew and Greek at St Francis College has given me a greater appreciation of Biblical interpretation, and the various Biblical subjects have definitely assisted me in sermon writing and presenting. On the other hand, the humanities-based subjects have helped me to extend theology into the real world, which is invaluable when taking part in pastoral care and interacting with parishioners and members of the wider community.
One of the most significant activities I was involved in as a student of St Francis College was the Morning and Evening Prayer broadcasting that started during the first COVID-19 lockdown. We each took turns at leading the liturgy from wherever we were – and for me that was often at the hospital where I work as a doctor. Not only did I end up broadcasting to my fellow students, but I also livestreamed to the hospital television network. The number of people (staff and patients) who said they benefited was enormous. It was a great privilege to be a part of that.
Another highlight of attending St Francis College is meeting many special friends and colleagues during, with whom I have formed lifelong connections.
If you are thinking that studying theology might be for you, I firstly encourage you to explore further. Looking back, I wish I had started my theological study earlier.
Secondly, keep an open mind to where it might lead you. Each one of us has a role to play in carrying out the will of God and the St Francis College team is experienced in helping people discern where their calling might be.
Most importantly, remember that everything you have to offer is important and valuable. No matter what your background is, St Francis College has a pathway for you to explore Anglicanism and the scriptures.
Oh, and finally, remember that we are all lifelong learners. All of us.
Editor's note 8/10/2021 (updated note with forthcoming Open Day information): If you would like to know more about studying theology, come to the St Francis College Open Day and find out about our wide range of study options. Visit the St Francis College website to register or for more information. The Virtual Open Day will be held on Tuesday 2 November at 7 – 8.30 pm and the On-campus Open Day will be held on Thursday 4 November at 12 noon – 2 pm and 5 – 7 pm.
Jump to next article