"Animals in the sky, animals on the land and animals in the ocean"
"We are grateful for regular visits by Kombumerri Traditional Owners and Yugambeh Elders, which help to build our relationships with and knowledge of our local First Nations peoples and their cultures, thus contributing to the vision of Reconciliation," says St Hilda's School Pre-Prep Director, Lisa Cleverly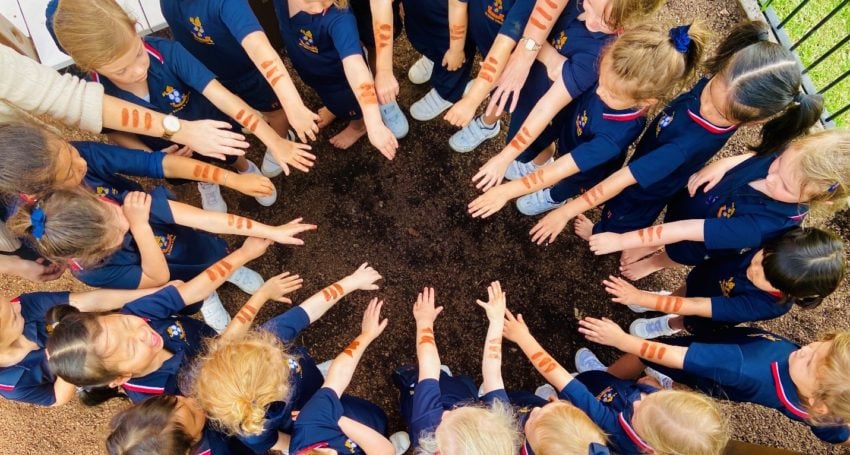 Relationship building between the wider Australian community and First Nations peoples is an integral part of our whole nation's Reconciliation journey.
The 2021 St Hilda's School Reconciliation Action Plan (RAP) was recently approved by Reconciliation Australia, and an important part of our RAP is developing cultural competence in children and educators and building relationships with our local Traditional Owners and Yugambeh Elders.
This term, Yugambeh Elder Uncle Allan and Kombumerri Traditional Owner Justine and her cousin Madeline visited our Pre-Prep to lead girls in cultural education activities. The girls learnt Yugambeh Language, including this Acknowledgement of Country which we now say each day with the girls:
Jingeri Nyunga (Hello sun)
Jingeri Chagun (Hello earth)
Jingeri Tullei (Hello trees)
Jingeri Jimbelung (Hello friends)
Numulla Jara (Embrace Country)
This Acknowledgement highlights the connection the Traditional Owners have with Country and the respect we all should foster.
Uncle Allan played the didgeridoo for the girls and brought along native animal furs for the girls to feel. He also talked about the native tickle bees which the girls found fascinating. We have our own native beehive, so it was interesting and important for the girls to learn more about them.
The girls also made ochre paint and learnt the meaning of symbols when it is used to paint their bodies. The ochre was then used to create their own artworks.
Eden from Pre-Prep 1 said – "She put ochre on me. We used water and rocks to make it. There were 1, 2, 3 lines for animals in the sky, animals on the land and animals in the ocean."
Grace from Pre-Prep 2 said – "We were making ochre. We started with rocks and added water and mixed it. I drew with it and I made a turtle."
Wynter from Pre-Prep 3 said – "We used ochre and dotted with it and drew pictures. We put it on our arms."
Ada from Pre-Prep 2 said – "They burnt the inside of the didgeridoo to see if there were any bugs in it. They can then put their mouths on the didgeridoo to play it."
We are grateful for regular visits by Kombumerri Traditional Owners and Yugambeh Elders, which help to build our relationships with and knowledge of our local First Nations peoples and their cultures, thus contributing to the vision of Reconciliation.
Jump to next article