ACSQ community members take out prestigious Gold and Bronze ARPA Awards
St Andrew's, South Brisbane Youth Group leader Oscar Delaney has won the 2021 Australasian Religious Press Association Gold Award for 'Best Young Writer', with 29 Diocesan community members contributing anglican focus content to two Facebook campaigns that collectively won Bronze in the 'Best Social Media Campaign' category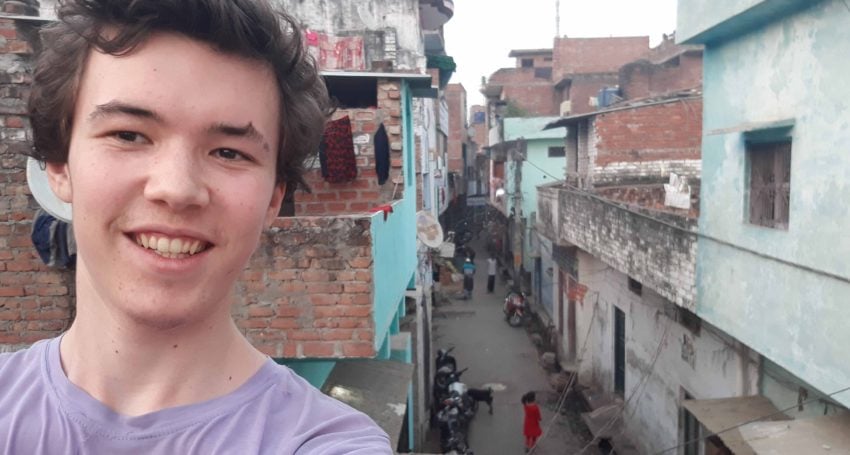 The 2021 Australasian Religious Press Association Gold Award for 'Best Young Writer' was taken out by St Andrew's, South Brisbane Youth Group leader Oscar Delaney in an online presentation on Saturday.
In his compelling 'Slumdog takes on millionaire' feature, Oscar, who was only 18 years of age at the time of writing it, reflected on growing up in slums in India, how climate change has hit the worst-off first and hardest and why he was consequently taking on mining tycoon Clive Palmer.
The judge's citation, which can be read in full on the ARPA website, described Oscar's feature as "thoughtful and well-written" and that it "richly deserves its winning place in the competition":
"…Oscar was living a few years ago with his parents and older brother in the slums of New Delhi. Later he wrote this absorbing reflection about life in the slums with a family who was modelling incarnational ministry. Among the challenges faced by city dwellers today is the social and political strife caused by climate change…'One of the many things I have learnt from Jesus,' he writes, 'is that the personal and the political go hand in hand. Jesus did not just pray for the world, he went out and changed it. And, we are called to do likewise – in whatever ways we can.' "
Oscar's is the third consecutive Australasian Religious Press Association (ARPA) Gold Award for anglican focus since the news site was launched in October 2018.
The news site currently has 500 individual contributors from across our Diocesan community, with around 20 per cent of these aged under 25 years.
Oscar said that he is encouraged by the prestigious award win, saying that it is important for the Church to engage in climate and creation care discourses and for our nation's leaders to work alongside young people.
"The Church has a significant role to play in the climate and creation care conversation, at both local and national levels," Oscar said.
"As such, we need our future emerging leaders to nudge and inspire our elected representatives and business and community leaders to work with us towards effective and sustainable climate solutions.
"Thank you to ARPA for their hard work and kind words; these encourage me to keep writing, even when it can be hard to be sufficiently motivated when there are always other easier and more pressing things to do."
anglican focus intentionally offers an alternative to both mainstream media and other Christian news sites, with content targeted to a Southern Queensland Anglican audience.
Consequently, anglican focus, as part of the Parishes and other Mission Agencies Commission (PMC), launched two social media campaigns last year, which were collectively recognised on Saturday with a Bronze Award for 'Best Social Media Campaign'.
These two campaigns, '#BeingTogetherThisAdvent' and 'Supporting our parish clergy and lay leaders via the 4P's' were initiated to resource and connect our community during COVID-19 lockdown and restriction periods.
In acknowledging the two campaigns, the judge's citation commented favourably on both content and approach:
"Loved the content. The 4xP's approach to engaging your online audience, having that clarity of what you want to move your viewers to – a call to action is critical. Linking in the online virtual choir is a special touch, too. Video content helps to drive views also and increase engagement."
In total, 29 people contributed anglican focus content to the two campaigns.
The six clergy and lay people who submitted content to the 'Supporting our parish clergy and lay leaders via the 4P's' campaign, which encouraged support for our parish leaders as they cared for their communities during last year's extended lockdown, are:
Twenty-three members of our community contributed to the award-winning '#BeingTogetherThisAdvent' campaign, which was launched during Advent to help resource churches in the busy liturgical period of a very challenging ministry year.
'Being Together' is our overarching Diocesan theme for 2020-2022 and the '#BeingTogetherThisAdvent' campaign name seemed particularly relevant given the year's lengthy lockdown periods and associated physical separation.
Each week of Advent explored a given theme via anglican focus content and Facebook graphics, with the following people contributing news site content:
Content for graphics was contributed by The Rev'd Canon Linda McWilliam from Anglicare, Sophia Colledge from St Margaret's Anglican Girls School, Gubbi Gubbi man Tom Hammer and centenarian parishioner Margaret Thurgood.
This collaborative effort from generous community members reflects the mission of the news site, which is, "To deliver a free community-owned news site for diverse ACSQ members to proclaim the Gospel, reflect, inform, advocate and resource in order to nourish spirituality and unite community."
Congratulations to Eternity and Soul Tread for taking out the Gold and Silver Awards, respectively, for Best Social Media Campaign.
Thank you to all of the contributors who submitted the Gold and Bronze Award-winning content and to Dr Stephen Harrison, The Rev'd Dr Howard Munro and Kerryn Smith for their assistance with shortlisting nominations and for their ongoing help and encouragement.
Thank you, also, to the Australasian Religious Press Association for supporting Christian media since 1974, and especially to ARPA President Sophia Sinclair who coordinated a highly engaging and polished online presentation on Saturday during lockdown in Aotearoa / New Zealand.
Jump to next article