Post from a Palestinian priest (and St Francis Theological College alumnus)
"One of my favourite memories of my time studying for the priesthood at St Francis Theological College in Brisbane in the mid-1990s was sitting on the steps drinking a XXXX beer…while listening to Palestinian music on CD and looking up at the stars," says Palestinian priest The Rev'd Hanna Dally, who has a special invitation for Australian Anglican churches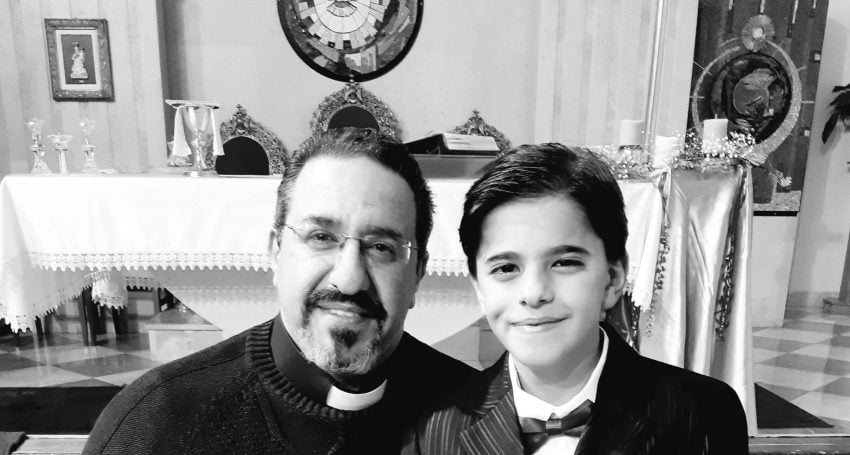 One of my favourite memories of my time studying for the priesthood at St Francis Theological College in Brisbane in the mid-1990s was sitting on the steps drinking a XXXX beer (pronounced "four ex" for any non-Aussies reading this) while listening to Palestinian music on CD and looking up at the stars.
I received a scholarship to study theology at the college, arriving in 1994 and graduating in 1996. My name was inscribed on the brass plate of the "Best Preacher" trophy in 1995, which meant a lot to me as English is my third language – after Arabic and Hebrew.
I still dream at night about my time in Brisbane as it was a beautiful period in my life. A number of people I studied with at the college have visited me in Palestine. As I did not have family in Brisbane, I was warmly embraced as a brother by my fellow students.
I love the Aussie people – they are open, loving, accepting, generally think the best of others and work hard. I have been to many places around the world and my travels have shown me that Australians show their love through their care.
During St Francis Theological College study breaks I used to go to Point Pearce in South Australia, a small village about 200 kilometres north of Adelaide near the ocean. I stayed with Aboriginal people there. I felt the pain that they bear – the pain of being dispossessed from ancestral and Indigenous homelands.
I was given a large painting by an Aboriginal man in Point Pearce. At the top of the painting are a number of separate circle shapes created by dots. The circles represent different Aboriginal peoples because there have always been distinct Aboriginal nations.
I was born in the Palestinian village of Kafr Yasif, in western Galilee, in the early 1970s. As it's an Arab village, Kafr Yasif has a mix of Christian and Muslim Palestinians. There are also a number of refugees from other parts of Palestine who have sought safety among us and whom we have welcomed as members of our village.
In 1948 the British Mandate expired and the state of Israel commenced. Consequently, Palestine was occupied and the ethnic cleansing of my people began, leading to 700,000 Palestinians being evicted or forced to flee from their ancestral homelands.
When I was living in Australia and people asked me where I was from, I would explain that I am an Arab Christian from Galilee in Israel. Many people found this confusing, as they thought that all Arabs were Muslim and that all people living in Israel were Jewish. So, I explained that Arabs are a mix of religions.
In Acts 2.1-13, which tells the story of Pentecost and the birth of the Church, Arabs were among those present who were filled with the Holy Spirit. The first Christian Arabs were the Ghassan, a group of Arab tribes who lived in the Reineh area, where I minister. We named our son Ghassan after the Ghassan tribe. People from this group of tribes were present at the birth of the Church at Pentecost. So, we Christians in Galilee are among the original Christians, and remain the continuing people of the area.
Palestinian Galilee came under Israel's control in 1948 during the start of the ongoing Nakba ("catastrophe"). While many maps have Galilee located in Israel, Palestinians and those who understand our history of dispossession, still regard Galilee as Arab land.
I currently serve as the Director of the Holy Family Episcopal Church in the small village of Reineh, between Nazareth and Cana. Because Reineh has the only spring between Nazareth and Cana, Jesus of Nazareth would have passed through Reineh when travelling to Cana.
There are 18,000 people in Reineh now. Of these, 3,000 are Christian and 250 of these are Anglican. While we are a minority, Anglicans live with other Palestinian Christians and Muslims in harmony.
The Episcopal Diocese of Jerusalem has 26 parishes and many more ministries, including 36 institutes, such as schools, hospitals, medical centres, aged care homes, ecumenical programs and projects for youth and women. Through these ministries, we are being Jesus' hands to the people in need.
When I came to Reineh eight years ago, I said that I am a priest for the whole village. As a parish priest, I minister to all my people and so I care for both Anglicans and people of other faith backgrounds. We hold many activities in the church hall for all community members.
This week I am planning a meeting with the village elders. They like to play a game similar to chess called shaish baish. The game is popular among older people here, and is commonly played on people's verandahs. At my invitation, men gather in the church to play shaish baish and enjoy each other's company.
My church and I are very keen to partner with parishes in the Anglican Church Southern Queensland and other parts of Australia so we can be supported through prayer. We already have prayer partners in Scotland and would very much like Australian Anglican churches to partner with us as well. If you are an Anglican Church Southern Queensland clergyperson or lay leader and you are interested in your church becoming a prayer partner with our church, please email the anglican focus Editor Michelle McDonald via focus@anglicanchurchsq.org.au and she will put you in contact with me.
Jump to next article