Being a baptised people this Advent
"Kieron's patience in trusting that God would make a way for him to baptism, in God's time and in God's way, was a beautiful model of what the season of Advent can mean for us. We who anticipate Christ's birth in our midst with much excitement and who also await the second coming of Christ, can often wonder how these things will come to be," says priest for Holy Hermits Online, The Rev'd Jamee Callard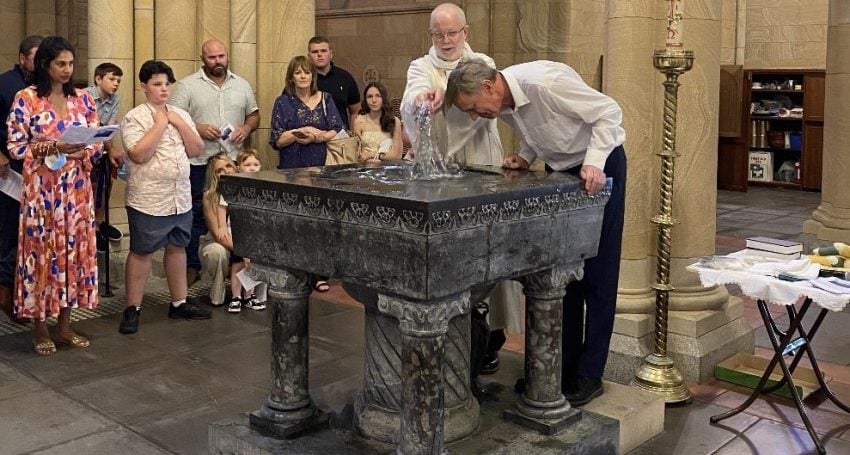 I was baptised as an infant with my parents and Godparents speaking on my behalf. They witnessed to a call on my life, agreeing to intentionally raise me in the community of faith as a child of God. For many people this is also their experience of baptism, with promises being made for them, until they are able to make their own promises at confirmation. For many others, baptism is a deliberate decision made after they have discerned that call themselves.
As it was for one of our Holy Hermits (HHO) family members who was recently baptised in the first HHO / St John's Cathedral hybrid baptism service. Kieron had discerned that God was calling him and offered himself for baptism. The sacrament was originally planned for Easter last year at St John's, Bulimba before COVID-19 arrived on our shores. With services moving online he was admitted to the catechumenate on Easter Day at St John's, Bulimba.
When HHO commenced as a new outreach ministry in September last year, Kieron faithfully continued to join in HHO services, helping to form the community, while trusting that in God's time his baptism would take place. When we stepped into partnership with the Cathedral earlier this year, we finally saw the fulfilment of Kieron's call on 10 October.
Kieron writes of his experience:
"Technology has given to me the experience of a hybrid baptism, possibly the only one in the Anglican Church in Australia.
It was a unique experience that added another dimension to the baptism. It gave a sense of the whole world watching and joining you, as people from many parts of Brisbane and my baptism sponsor in America took part.
Thankfully, the technology worked well and I was able to listen to The Rev'd Jamee's homily over the digital airwaves, as I stood in the church surrounded by my friends and family. Later, my sponsor in America informed me the that the local church where he lives also joined in prayer for me and the gift of baptism, and I reflected on people from the other side of the world holding me in their prayers, and how technology can be a very good thing!
It was a special time and I have felt a closeness to God and a sense of belonging in the Christian community."
It was a great joy to be present online with 15 of our members while our dear friend was finally marked with the sign of the cross, the promises of God visibly signed and sealed for him. The message that was on my heart during this wonderful sacrament was one affirming God's call to all who are baptised – that we have a call within a call, in that we are each gifted a vocation.
The gift of vocation can guide us in our living and working for the revelation of God's Kingdom while we await Jesus' return. We are all given gifts that we can uniquely offer back to God so we can serve to build up the Body of Christ. Those gifts can be applied in great variety, in ways that are unique to each of us. In applying our gifts to different contexts, we may be called upon to adapt, pool our resources and go with the Spirit's leading, even when the way ahead seems unclear.
Kieron's patience in trusting that God would make a way for him to baptism, in God's time and in God's way, was a beautiful model of what the season of Advent can mean for us. We who anticipate Christ's birth in our midst with much excitement and who also await the second coming of Christ, can often wonder how these things will come to be. We can grow weary or desperate for the culmination of the Kingdom to hurry up and arrive. We may also grow such fixed ideas of what God's Kingdom will be like that we could miss out on being part of it unless we remain open to new possibilities or even zany ideas – like hybrid baptisms or virtual Church communities.
Keeping faith through the trials and times of waiting, we can be sure that God's promises will be fulfilled – and that we will be enabled through our communion in the Church to "fight the good fight, finish the race and keep the faith". In time we will all arrive, intact and unmarred by the hardship we suffer in this liminal space, to the glorious unity and wholeness promised to all God's children through Jesus, Emmanuel – God is with us.
The companionship that a faith community provides is a great comfort and encouragement in our time of waiting, as we remind one another of our shared call to vocation and witnessing to Jesus in our midst. I am so glad to be walking through our second Advent season with the faithful people of Holy Hermits Online, celebrating our mission to be Church family for those who gather in the virtual space, and welcoming any who may wish to experience an online adventure with us during the Advent season and at Christmas. You can join the community as a regular member or just for the Advent and Christmas online studies and services via the Holy Hermits Online website.
Jump to next article