"An exquisite transcendent tension"
"Because of the way I understand and make sense of Scripture and the teachings of the Church, I am an evangelical. However, there is a danger in labelling ourselves and others anything at all," says The Rev'd Rick Gummow from the Parish of Drayton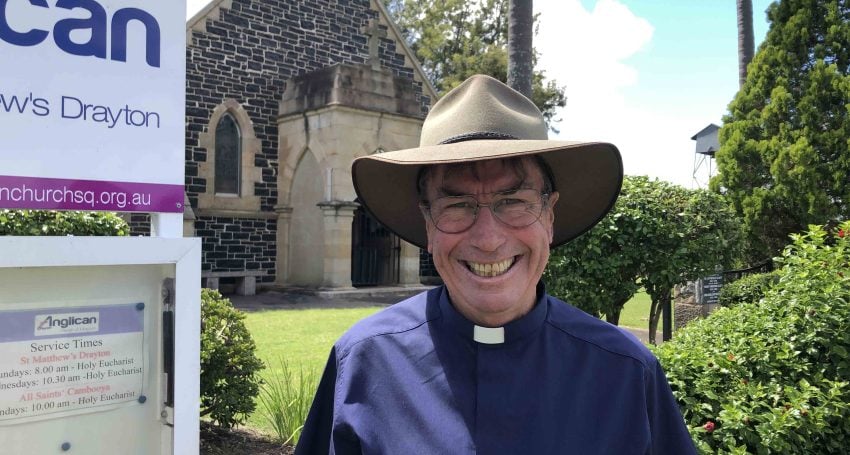 Whilst we all must be true to the revelation of God given to us by the Holy Spirit, it took the first 30 years of my life to discover that aspects of this revelation can be different for each of us.
My first memories are of being part of a family who was very actively part of another family – the local Anglican parish. This was in the Diocese of North Queensland, which I guess could be described as "high Anglo-Catholicism in sandals". I then attended an Anglican boarding school where the Anglican tradition was expressed in quite a different and much "lower" way. After school, I travelled and didn't go to church much at all.
When I settled down and got a job, the nature of my first career as a bank officer meant that I moved town every couple of years. In each town, I went to the church of a different denomination that were all – with one two-year exception – liturgical, Protestant and mainstream.
But there was something hovering in the background, unnamed and unknown to me at the time, that bothered me. It struck me one day in Brisbane, where I thought I would be permanently based. The various faith communities I joined were all very proud of who they weren't – that is, Roman Catholic or Anglican.
There was very little theological or liturgical diversity in these faith communities, and I started to miss the two very different, yet very Anglican, expressions of faith I had experienced in my boyhood and youth, which proved to be very formative. It was this realisation, and the advice of my father to stop gazing at my navel and return to the nearest Anglican parish and serve it, that led me back to the Anglican Church.
Our theological and liturgical diversity is such a unique and beautiful thing, and it really sets us apart from other denominations. Not because we are better human beings or better Christians, but because this diversity is a blessing from God, reflecting God's glorious fullness.
Because of the way I understand and make sense of Scripture and the teachings of the Church, I am an evangelical. However, there is a danger in labelling ourselves and others anything at all. Even the very term, "Christian", has become somewhat loaded. This labelling can cause a dark cloud to descend on our hearts and minds – where we may see those with different faith expressions as somehow opposite or even oppositional to us. We set up a binary opposition that is essentially false.
All we need to do is look at the history of the Church and the world to know that this is true. If theological thought and reflection had not progressed, there would have been no Reformation in the first place, and no abolition of slavery, no acknowledgment that all peoples are equal in the sight of God, no ordination of women, no new thinking on what it means to steward God's creation, and much more.
As an Anglican priest, I am constantly learning from other Anglicans, mainly lay people, who may call themselves "progressive". Here is just one example. When voluntary assisted dying legislation was first mooted well over a decade ago, I was dogmatically opposed to it. A very large part of what a parish priest does is pastoral, and in that capacity l have had difficult conversations with families since my ordination to the diaconate in 2018, joining with them as they watched loved ones die. Sometimes it is not easy to look. Sometimes the terminally ill and their families have had truly wretched experiences of palliative care. So I have really tried to listen to what they are saying.
Now here is the thing – I still do not support to voluntary assisted dying. But something has happened in my heart. I understand more clearly the very personal and painful place that people who support it are coming from – a position of great compassion. What happened in my heart is that the Lord has blessed me by increasing my capacity to love. Not just those who are dying and those who support assisting them to die, but to love – full stop. If I had maintained my opposition to this issue dogmatically, with an "it's progressive, therefore it's not Godly" attitude, my heart and mind would be smaller.
The challenge for all of us is to seek to understand where those who hold different positions to us are really coming from. This is akin to seeking to remove the log from our own eyes instead of focusing on the tiny splinter in another's. If we actively seek to do this, we will be surprised and amazed at the place we come to – a place where we don't have to defend our positions antagonistically, a place of Christ-like love.
The glory of the Anglican Church is that we have managed for centuries to hold different theological positions in an exquisite transcendent tension. This is something that I think our laity treasures more, perhaps, than our clergy.
Jump to next article