When God calls you from your successful career to ordained ministry
"I asked a few of the ordinands, and some longer-term clergy, about their career transitions and everyone said they are glad to have followed the call. The decision to pursue ordination was initially challenging for some, but compelling once they began to truly listen to God's call on their lives," says The Rev'd Canon Sarah Plowman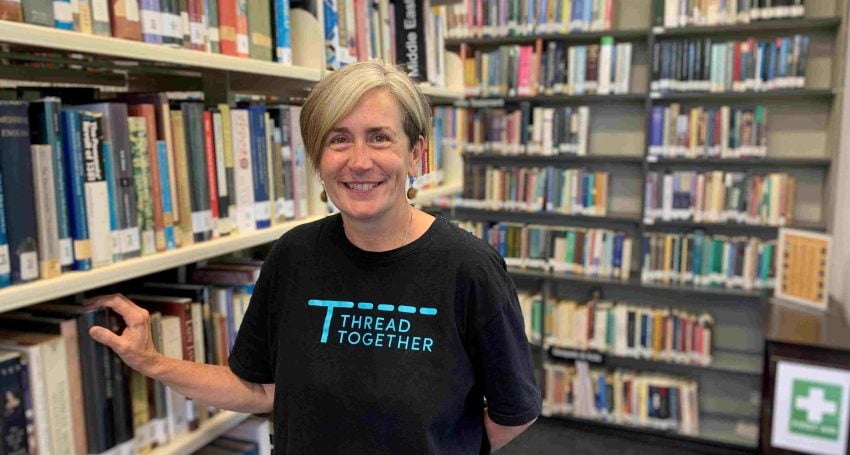 Watching people grow in ministry and faith is one of the most inspiring aspects of serving in my Director of Formation role. The joy and enthusiasm that the ordinands have for the future of the Church is contagious. What is doubly inspiring is that many of these people joyfully following their God-given call to ministry already had established careers. After studying or working to establish themselves in a line of work they enjoy, they decided take the step and begin the fruitful journey to be a priest or deacon.
I asked a few of the ordinands, and some longer-term clergy, about their career transitions and everyone said they are glad to have followed the call. The decision to pursue ordination was initially challenging for some, but compelling once they began to truly listen to God's call on their lives.
For Kate Littmann-Kelly, an ordinand in her first year of training, the change was significant; however, she made it willingly. With a long-term career as a librarian in her rear-vision mirror, Kate simultaneously experienced surprise, wonder and nervousness when initially pursuing her vocation, as she reflects:
"When you have worked in one field for a long time, there is a comfort and confidence in knowing what you are doing. Being faced with the prospect of being a 'newbie' (especially in my middle age) was a lot to consider. Even though it's very different from what I have done before, it is the sense of God's leading that makes it the right choice for me."
Kate's experience has borne out the "rightness" of her choice:
"From the very start of this discernment process, there is a network of faithful people praying for you, talking to you, asking you questions and testing your call – this has been a tremendous source of support for me. I have made some firm friends who are also travelling this formation journey, and their wisdom and companionship along the road have been invaluable."
The compelling sense of a "right choice" is commonly articulated by those responding to God's call to ordained ministry. The Rev'd Michael Stalley, rector of The Parish of Mt Gravatt, was a podiatrist for seven successful years before considering ordained ministry. Michael says that testing his call was important:
"I like to say that my life conspired to take me in a new direction! Everything pointed to the rightness of following God's call. I had established my own podiatry practice and so I had certain commitments and agreements that I was personally responsible for, so testing that new direction through a step-by-step discernment process was important. There were clearly steps that were more vulnerable and risky, requiring a level of trust in the calling and process. And, that trust has sustained me in my ministry life ever since!"
Michael loves his ministry as a priest, but wants to make clear that becoming a priest wasn't a solution to an unhappy career choice, as he reflects:
"I really enjoyed my work as a podiatrist. Moving into formation and ordained ministry was not leaving something I was unhappy with to try something different. It was the natural progression of my identity and exploration of call in the mission of the Church."
I encourage those exploring any vocation to pay attention to emerging signposts, even if they are taken into a new direction. Saying out loud "I think God is calling me to…" can feel like a step into a new and different world, especially when you are well respected and successful in your current world of work.
Seeking support and understanding from the people who share your life and your faith is another important part of this journey.
Matt Siggins, an ordinand in his second year of training, was fully committed to a successful career in sales when he first responded to God's call, as he explains:
"I had a mixed response from my friendship and professional circles. The support from my church and priests who had also made similar decisions in their lives was amazing, because they could truly empathise with the decision I was making. On the other hand, many of the people I knew from my career found it hard to understand why I was doing this."
Matt is now happily continuing the journey of formation, and has this sound advice for those considering the move from their current career into ministry:
"Be open minded about ordained ministry being your calling. Have confidence that you are worthy of God's calling, but don't lock in a pre-determined outcome straight away, as you might when applying for a job. The wondering really is the hard bit, so be truly willing to accept whatever outcome your discernment journey finds. Be open minded and open hearted to what you hear and feel, and the right path will open up."
It is a really wonderful gift to the church to have people who have experience in another career who become ordained (and lay) ministers and leaders. While the jump back into study and a new calling may create challenges and obstacles, these "second career" clergy enrich the Church's leadership because they contribute their experience, leadership and skills, as well as bring their commitment to Christ and enthusiasm for mission. It is the prayer of the Church that many more will hear this call, and bring their many gifts and talents to ordained ministry.
Shifting from an established career to ordained ministry may have its challenges at times, but it is life-giving for those who pursue it. That is why vocational activities like Seekers Days and Vocation Conversations can be really helpful. Candidates in our Diocese are supported throughout their enquiry and discernment journey to make the transition easier.
For those reading this who may know someone who is feeling a sense of call, or who may be feeling that call themselves, the advice and encouragement shared by those already on the journey in this reflection may provide the gentle nudge needed to explore a bit more.
Editor's note: The next Seeker's Event for those exploring a call to ministry will be on Saturday 20 May 2023 at St Francis Theological College, as part of the College's Open Day. Please email The Rev'd Canon Sarah Plowman to register your interest.
Jump to next article