Q&A with St John's Cathedral Director of the Centre for Coins, Culture and Religious History, Honorary Canon of Grafton Cathedral and Holy Land study tour guide, The Rev'd Canon Dr Greg Jenks
Meet Greg Jenks and find out about his faith journey, his experience living in Palestine, how his faith shapes his character and outlook, his earliest memory and his plans to lead a study tour to Palestine, Israel and Jordan later in the year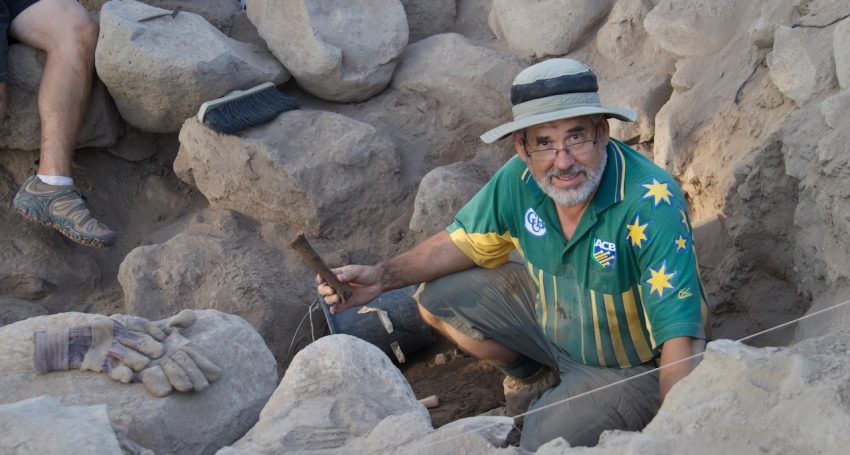 Where do you currently live and where do you worship?  
I live at Forest Lake on the south western edge of Brisbane. We have been living there since I was serving as the priest for the Forest Lake community within The Parish of Centenary Suburbs around 20 years ago. St John's Cathedral is my regular place of worship. 
How long have you been involved in the Anglican Church and in what roles?  
I became an Anglican in 1975 when I was a student at St Francis College. Since then I have served in a variety of parish and teaching roles, including Dean of St George's College in Jerusalem and Dean at Christ Church Cathedral in Grafton. 
What is the name of your current role, including any voluntary roles? 
I retired as Dean of Grafton in March 2022, and I am currently the Director of the Centre for Coins, Culture and Religious History at St John's Cathedral in Brisbane. I am also an Honorary Canon of Grafton Cathedral. 
What projects or activities are you currently working on role?  
I have just published the three volumes in the Afterlives of Jesus project, which involved working with more than 30 contributors from around the world. I am preparing to lead a study tour to Palestine, Israel and Jordan in December. I am also teaching biblical Hebrew and New Testament Greek at St Francis College in Brisbane. 
What has been one of the single key highlights of your time in the Anglican Church so far?   
The highlight was my time as Dean of St George's College in Jerusalem. Anglicans came from all around the global Church to take a short course at the College, so I was privileged to share their stories of faith and see how they were touched by their encounter with the land and the people. The most complicated case was helping an Anglican priest from Nepal get a visa to come to Jerusalem for a College course. We have stayed in touch ever since. 
What are your plans and goals for the next 12 months?  
My primary goal is to get the Coin Centre at our Cathedral well organised and to make its amazing collection of coins, icons, manuscripts and other items more accessible to the wider community.  
I am planning to take a group of people to the Holy Land in December, and may also organise another trip in the middle of next year, as I hope to be going over myself around that time to work on the archaeology dig at Bethsaida on the north shore of the Sea of Galilee. 
Why is it important for Christians to visit places like Palestine, Jordan and Israel? 
Although we often forget it, Christianity is not a European religion. It started in Palestine. There is still a small Christian community there and they draw great encouragement when people come to meet with them and share our faith.  
What is a single key highlight of your time in Palestine?  
I vividly remember my times in the ancient Church of St Anne in the Muslim Quarter of Jerusalem's Old City. That church has the most amazing acoustics and pilgrims from all over the world gather there to sing songs of faith in their own languages and traditions. It is like the Day of Pentecost set to music. 
Can you tell us a little about your Christian faith journey?  
I was raised within the Churches of Christ tradition, which gave me a solid foundation in the Scriptures. I began to study for the ministry directly after high school, and then was accepted into the Anglican Church partway through my studies. I have been blessed to combine parish work and theological education as interwoven threads throughout my 45 plus years as an Anglican minister. 
How does your Christian faith inspire you and shape your outlook, life choices and character?  
My faith helps me to make sense of my life, and of the world in which we live. Like Jesus, I look for the coming of the kingdom beyond any earthly power system, and I seek to nurture the fresh shoots of that new reality already taking shape within us and among us.  
What is your favourite Bible scripture and why?  
Because I am a Scripture scholar, I have always been captivated by Matthew 13.52 where Jesus describes the scholar who is ready for God's kingdom as someone who know how to mix old wisdom with fresh insights. That is what I seek to do in my life and my ministry. 
What person of faith inspires you the most and why? 
I continue to be encouraged and inspired by a woman named Jane whom I met on my first visit to St George's College in 1990. She is a person of deep, yet uncomplicated, faith, and I know that she prays for me every morning at around 5am. Her unconditional love for me over the years has been an immense source of spiritual strength. 
Why is Reconciliation between Aboriginal and Torres Strait Islander peoples and non-Indigenous Australians important?  
We simply cannot pretend that the past did not happen. The Indigenous people need justice after more than two centuries of dispossession and violence. Other Australians need the healing that will only be possible when we talk truthfully about the past and create a future grounded in compassion and mutual respect. 
Why are the Uluru Statement From the Heart reforms, including the Voice to Parliament, important to you?  
Our country was originally built on the lie that this was an empty land before Europeans arrived. Worse, my ancestors told themselves that the Indigenous peoples were not even humans, and there was no need to come to any agreement with them about sharing this ancient land. The Uluru Statement From the Heart is an overwhelmingly generous invitation for us to walk together into a future that we can share as equals. To make that journey we need to listen, and for us to listen we need to have some way for the Aboriginal and Torres Strait Islander communities to have an independent Voice to Parliament.  
What are the primary strengths of the Church and what is the best way to make the most of these for the benefit of our communities?  
At its best, the Church is a community where the wisdom of Jesus is practised. That requires us to build communities of grace where vulnerable people can be renewed and empowered, as well as connecting gracefully with the wider community with a message of compassion and hope. 
What is the bravest or kindest gesture you have ever received or witnessed?   
A friend of mine recently noticed a beautiful butterfly sharing her living room for more than 24 hours. As the creature began to lose its hold on life, she gently carried the butterfly out to the garden and placed it among some flowers. There was no point to this action. It did not change the outcome as the butterfly died soon afterwards. Yet it was a profound act of kindness, as one person accompanied another creature in its final moments. I saw compassion expressed in solidarity and loving action. 
What is the best piece of advice you have ever received and who gave you this advice?  
Early in my doctoral studies at the University of Queensland, my supervisor advised me never to rest content with information cited by someone else, but always to dig deeper and track down the original form of that information. That wisdom has stayed with me ever since. Never rest content with how someone else describes things. Go deeper. Look for the sources. Verify the earliest information that we have about a particular matter. That wisdom combines nicely with advice given to me by an earlier theology lecturer, who advised the class to "form your opinions carefully, but sit lightly with them".  
What do you do in your free time to recharge and relax?  
I like to be with people, and especially people from other cultures. 
If you could have a billboard with any text on it, what would it say and why?  
Be kind. 
Where do you do your best thinking? 
At my computer. 
What's your best childhood memory? 
Visiting my great uncle's dairy farm outside Lismore almost every Sunday after church. 
What is your earliest memory? 
Sitting on the back of my mother's bicycle as she rode across town to get to a church meeting in Lismore. 
What makes you nostalgic and why? 
Old photographs, as I remember old times and wonder what became of those people. 
Editor's note: The Rev'd Canon Dr Greg Jenks will be leading a study tour to Palestine, Israel and Jordan in December 2023. Visit the study tour website to register or for more information. Registrations close on 30 September 2023.  
Jump to next article