"ADF chaplains are often the front door to other support"
"Our Diocese's geographical area could be described as 'Defence and Veteran Central', but that's not what we see in our churches. Following interest in our ministry generated at our recent Synod, it's a privilege to be invited to share a little about what Anglican Army chaplains do," says The Ven. Rob Sutherland CSC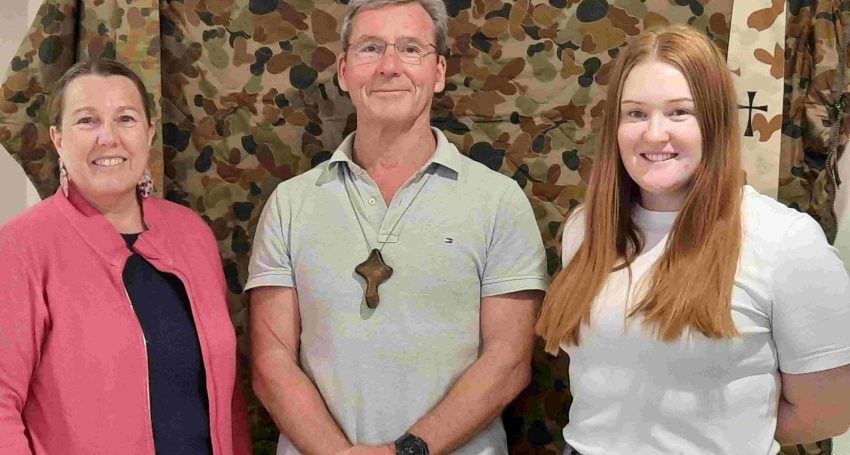 As a priest with 25 years' chaplaincy experience, I don't tell someone what they should believe and it wouldn't work if I did. I spend a lot of time helping soldiers unpack their belief structure and the impact of their beliefs on their lives:
"So, Padre, are you saying that [insert a favourite alcoholic beverage here] is my god?"
"I'm not saying that; your lifestyle and your own answers and your mates are telling you that."
South Queensland has Australia's highest number of Australian Defence Force (ADF) members, including sailors, soldiers and aviators, and therefore Defence families. Southern Queensland also has a very high percentage of veterans and families of veterans.
Our Diocese's geographical area could be described as "Defence and Veteran Central", but that's not what we see in our churches. Following interest in our ministry generated at our recent Synod, it's a privilege to be invited to share a little about what Anglican Army chaplains do.
First, we are really busy and the Army can't get enough of us — we have full- and part-time vacancies in Army chaplaincy right now and the Army is always seeking more. In a supposedly secular world Army chaplains are very busy. So, what do we do?
Conversations that start with "Hey, Padre…" only happen because of our proximity. Army chaplains are ordained ministers (Anglicans can be deacons or priests) who are also in the Army. We go through medical and security procedures and Specialist Officer training, similar to Army doctors, psychologists and legal officers.
We undertake all the training that we need in order to go almost everywhere that our soldiers go. If our soldiers are tired and hot and wet or cold and hungry then so are we, but this sharing of physical circumstances engenders a sense of belonging. Once we are there, somehow we get trusted with the big issues that are going on in soldiers' lives. When a soldier approaches me and says, "Hey, Padre, I've just heard from home that…", it's generally not great news and our proximity means we get trusted to help through the tough times.
We do most of our pastoral care and our initial counselling outside a normal counseling office environment. ADF chaplains are often the front door to other support, the trusted entry pathway, including to mental health and welfare support. We may have an initial conversation where people open up about what is happening for them. Soldiers often don't understand or trust other support agencies until we chaplains introduce, encourage and refer. Referral often involves an offer along the lines of, "Would you like me to come with you or give you a lift…?"
Trust seems to come from proximity (our soldiers know us) and also from time. Chaplains turn up to help families at 2am at the hospital — sometimes we arrange the crisis accommodation for families and provide the transport there. We visit soldiers in places like hospitals and prisons. This work isn't "religious" — it's work that no one else is usually available to do.
When — not if — Army chaplains get calls about suicidal behaviour, we drop everything else and respond immediately. Most chaplaincy suicide-prevention work stems from our proximity and our trust — we are very often the trusted first conversation that a soldier or family member has about suicide. All chaplains have multiple levels of suicide prevention training.
We try to work in teams with other medical, mental health and welfare professionals so we can help these others be more effective, but we also have our own distinct roles. We work with the spirit, soul and character.
Much of our suicide-prevention work is in helping people understand and talk about their reasons for wanting to die and helping them find reasons for living. Hope and meaningful connections keep people alive — this is a big part of what ADF chaplains uniquely offer.
We are often the "trusted" coach or companion as people work with other professionals or programs along the journey. Sometimes we are the only visitor a soldier or veteran has (or accepts) while they are in a psych hospital. Evidence given to the Royal Commission into Defence and Veteran Suicide clearly demonstrates the importance the Army and soldiers and their families place on chaplains in helping prevent suicide.
"Hey, Padre, I'm not religious but…" Only a small percentage of an Army chaplain's work is overtly religious — most is pastoral and much is welfare related. However, not all "religious" chaplaincy — or all other Christian ministry — is overt. When religious support is required, it's amazing how many "non-religious" soldiers or families seek out a chaplain.
Many Australian service personnel may not be "practising" faith in a formal sense or may not believe in God. However, they often have strong beliefs, and a profound sense of right and wrong. Many are either unaware that they have a belief structure or understand its effects upon their lives until they discuss it. This often happens in a character development group with a chaplain leading.
Having worked out that his life was being controlled by his passion for alcohol, one soldier decided that he no longer wanted to be controlled by it and would instead take control. He was empowered. Even if we don't know our beliefs, they still control us. If we do know our belief structure, then we have some control over our response, our actions. Understanding our character is empowering.
Helping a soldier who might be asked to lay down their lives, as part of their job, to understand that what they believe is worth killing or dying for is necessary — it's too late to think about these issues once you are already in the war. This is what chaplains do.
"Moral injury" (MI) or "spiritual wounds" are new terms to describe the impacts on our spirit, soul or character from adverse life events.  When things happen through our actions or inactions, or the actions or inactions of others, we form a view based on our belief structure. If something happens that seriously impacts what we believe is right it can cause us a moral injury. It can and does happen anywhere in life, and particularly for Defence and emergency services personnel.  The main "categories" of injury relate to guilt (and shame), betrayal (and abandonment even forsaken-ness) or a shattered worldview.
Research and other evidence before the Royal Commission show that moral injuries and spiritual wounds are much more likely to lead to suicide than is post-traumatic stress disorder (PTSD). PTSD and MI are highly co-morbid conditions and it's possible to suffer both simultaneously following the same incident. All ADF chaplains are trained to help people with these wounds.
People often feel guilty when they have done little or nothing wrong yet still worry that others would see otherwise. I've had soldiers tell me that they feel guilty for surviving when their mates were killed. "How can I face their kids?" is commonly asked. This is where chaplains work. Sometimes we can help people find their reasons for living again.
To those who say that the Army shouldn't be allowed to employ chaplains, I explain it's rarely overtly religious work, while asking, "If you take away the chaplains who is going to do all the suicide-prevention, moral injury, character development, welfare and even religious work that soldiers want?" Who else is be willing to get cold or hot, wet, tired and dirty while doing so? Who else is there at 2am?
Editor's notes: The Ven. Rob Sutherland CSC joined the Army in 1974 and served for 20 years as an Infantry Officer. He has served for 25 years as a part-time or full-time Army chaplain. Rob currently leads the Veterans' Chaplaincy Pilot Project for the Department of Veterans' Affairs, is an Archdeacon to the Primate and leads the Warrior Welcome Home Program.
Immediate support is available for those who may be distressed by phoning Lifeline 13 11 14; Mensline 1300 789 978; Kids Helpline 1800 551 800; and, beyondblue 1300 224 636 or for Veterans and Families from Open Arms 1800 011 046.
Jump to next article