Exploring mission in a post-colonial Australian church
As part of our series on Reconciliation Action Plan achievements, recent Wontulp-Bi-Buya College pilgrims tell us about their immersion trip to Cairns, including the highlights of the pilgrimage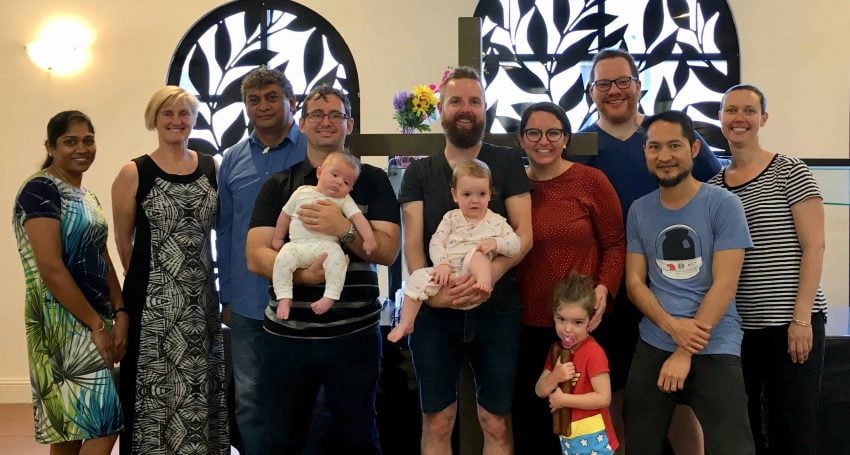 Story Timeline
Reconciliation Action Plan achievements
Wontulp-Bi-Buya College is an Indigenous college in Cairns whose mission is to support the development of Aboriginal and Torres Strait Islander church and community leaders through study programs leading to awards in theology, suicide prevention, addictions management and community development. Students travel to Cairns from communities around Australia for two-week intensive blocks throughout the year to study, worship, pray and share their lives together.
The recent week-long Anglican Board of Mission pilgrimage to Wontulp-Bi-Buya College involved two formation students (Loretta Tyler-Moss and Glynn Holland-Leam) a Community of The Way residential member, a parish priest and his family from Bundaberg (The Rev'd Andrew Schmidt and his wife, Louise, and baby John), and Peter Branjerdporn from the Justice Unit, Anglican Church Southern Queensland. Community of The Way Chaplain The Rev'd Jasmine Dow and her husband The Rev'd Samuel Dow, who attended with their two daughters, led the pilgrimage.
The first part of our trip was a day visit to Yarrabah Aboriginal Community, 45 minutes from Cairns. We spent time with St Alban's Anglican Church parishioners, and learned about the wider community and their history. For the rest of the week we sat alongside students at Wontulp-Bi-Buya's intensive block, worshipping with them daily, and listening to their stories over lunch and cups of tea. We did all this while living in community with others on our pilgrimage, eating, praying, sharing and reflecting together. We also had a chance to visit beautiful Mossman Gorge in the World Heritage listed Daintree Forest.
There were simply too many amazing experiences to mention, but the following are some of the highlights of the pilgrimage for us.
The Rev'd Andrew Schmidt, Good Shepherd Anglican Church, Bundaberg West
The importance of connection to land in Aboriginal culture was something I could appreciate intellectually, even if it is not how I operate naturally. One of the most moving stories was shared by a woman in Yarrabah who spoke about the impact of the government policies that forcibly moved her and prior to her birth, her parents. She shared briefly about the pain of meeting other Aboriginal people who were able to talk about the place they had come from, and when she was asked where she came from, she had no answer. Her answer had been taken away from her, taken away before she was born, even taken away from her parents. The most amazingly gracious part of this entire event was that in the pain she had, she was able to also give thanks for the gifts she had received.
Loretta Tyler-Moss, Formation Student, St Francis College
The pilgrimage was a revelation to me. From living in community, even for a short period, to meeting, being welcomed and learning from the students of Wontulp-Bi-Buya, I have had my eyes opened. Learning more of the stories of our First Nations peoples and witnessing their desire to know God more and to grow in their knowledge and understanding were invigorating; especially in the context of their deep and abiding faith. The sheer joy in which each of us embraced morning worship was a delightful way to start each day, and the love and kindness with which the students shared their lives, their understanding and their classes were especially generous.
Peter Branjerdporn, Justice Enabler, Justice Unit, Anglican Church Southern Queensland
Singing with so many Aboriginal and Torres Strait Islander brothers and sisters from all over Australia was a blessing for me. I expected to meet people from remote and regional towns (like Murray Island, Utopia, Mornington Island and Townsville) and so I was surprised to meet those from the big cities who travelled to Cairns for such a uniquely supportive Indigenous learning environment. I really loved their passion for God, and their desire to be better equipped to minister to their community in their own ways. They simply embodied Christ's love in the way they welcomed our group.
Many Australian Christians are starting to realise the importance of working towards a more holistic Australian perspective on theology and ministry, with the help of our Aboriginal and Torres Strait Islander brothers and sisters. As Christians we must let the truth set us free. And there is no substitute for immersing ourselves in a trip like this to explore what mission means for a 21st Century post-colonial church. The pilgrimage is a really great way to develop cultural awareness and better understand the challenges faced by Aboriginal and Torres Strait Islander Christians and their churches and communities.
One of the goals of the Diocese's Reconciliation Action Plan is to partner with Aboriginal and Torres Strait Islander peoples and organisations for a specific initiative and to foster understanding and appreciation of Aboriginal and Torres Strait Islander cultures and histories. This pilgrimage helps to uphold that goal as part of St Francis College's ongoing relationship building with Wontulp-Bi-Buya College.
We have gained a deeper understanding of the generational hurt that many Aboriginal and Torres Strait Islander peoples feel. We are most grateful for the opportunity to be part of the Wontulp-Bi-Buya Pilgrimage and are hopeful that relationships fostered this year will continue to grow and flourish. If you would like to learn more about or support Wontulp-Bi-Buya College's ministry please visit their website.
Jump to next article