First Nations 'icons' – a portal to Aboriginal and Torres Strait Islander Spiritualities
"The purpose of our recent meditation gathering was to create a space for reflection and learning using, as our 'portal', three magnificent paintings collectively depicted in the Bible Society's 'Christian Book of the Year 2017', Our Mob, God's Story, which features over 115 paintings by 65 Aboriginal and Torres Strait Islander artists from around Australia," says St Matthew's, Holland Park parishioner, Randal Dennings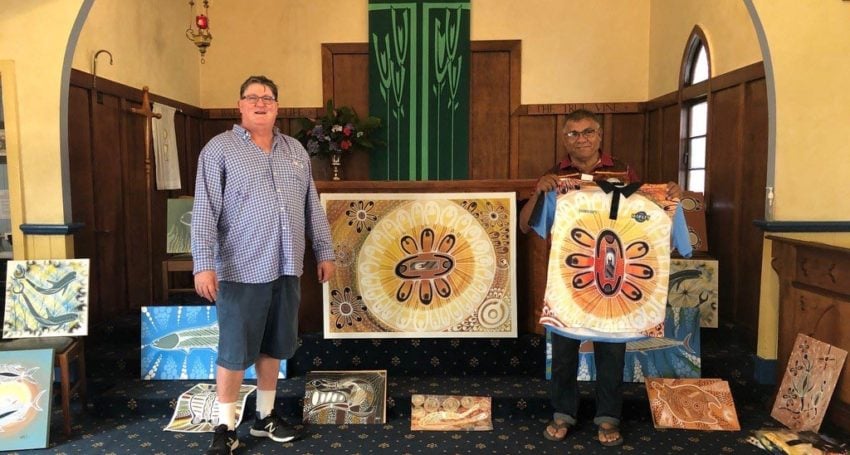 Story Timeline
Reconciliation Action Plan achievements
Late last year, Kingscliff, in northern NSW, witnessed an amazing confluence of 'like minds' diving deep into the broad river of Aboriginal and Torres Strait Islander Spiritualities during a meditation morning. The purpose of our recent meditation gathering was to create a space for reflection and learning using, as our 'portal', three magnificent paintings collectively depicted in the Bible Society's 'Christian Book of the Year 2017', Our Mob, God's Story, which features over 115 paintings by 65 Aboriginal and Torres Strait Islander artists from around Australia.
The 40 or so folk who attended the gathering were also joined by the like-minded Fr Greg March (priest at St James' Anglican Church, Kingscliff), Pastor Max Conlon (leading Kabi Kabi Christian and artist based in Murgon), Glenn Goodwin (based in Toowoomba, and one of the key organisers behind Our Mob, God's Story), Sarah Pine (based on the Gold Coast, and a First Nations language Bible translator and Bible Society representative), and myself and my wife, Susan, (Coordinators of the SEQ Friends of Nungalinya).
In a Q+A panel session, facilitated by Fr Greg, Glenn told the story of how the book came to be – from his vision for a series of paintings by First Nations Christian artists, who each provided their own authentic interpretation of the Bible, to the book's ultimate fulfilment after being seven years in the making. All sale profits go towards translation of scripture into First Nations languages and Aboriginal and Torres Strait Islander ministry. Glenn shared how he was inspired by one of his accountancy practice clients to donate his remuneration from the administration of her significant estate to 'sell his vision' to Dr Greg Clarke, the CEO of the Bible Society. Dr Clarke ran with the idea, bringing together an impressive panel of art judges to select the most suitable works for inclusion in the book drawn from First Nations artists around Australia.
Sarah shared about her experience of working with remote Aboriginal communities to produce scripture portions that spoke to their hearts in their own languages. She also demonstrated how the book's proceeds had already resulted in a significant increase in translation output. Sarah asked us, "How would you feel about the importance of translation after reading your Bible for the first time in English – rather than having to read it in Latin or some other language?"
The highlight of the morning, however, was Glenn and Pastor Max sharing the deeper meanings behind three of the paintings featured in the book. Glenn explained how these paintings could be used as 'icons' for meditation and as 'portals' into Aboriginal and Torres Strait Islander Spiritualities. Fr Greg then led us in 20 minutes of meditation upon each of the three icons, permitting us some dadirri (or 'deep listening time') to dive deep into the Divine silence.
As an example of this process, Pastor Max explained about the symbolism in his art, particularly his work 'Birth of Jesus', pictured below.
Starting from the bottom right hand corner, the Trinity is depicted as three circles, representing the Father, Son and Holy Spirit, with a beam of light illuminating Mary in the Annunciation (centre middle on the right-hand side). The central part of the painting depicts the worship of the Christ-child (wrapped in a traditional baby carry pouch encompassed at first instance by the protective arms of Mary and Joseph). Also present at worship are the three shepherds and three wise kings. They are shown in equal size, despite their difference in social status. In God's eyes they were all equally worthy of their invitation to worship at the manger. Surrounding these are the angelic hosts, illumined by a pure heavenly light. Further encompassing all these (against a background of heavenly stars representing eternity) are groups coming together in circles to likewise worship the Son (represented by His circle of light). Thus, the 'Birth of Jesus' continues drawing others into relationship and worship. However, do you notice the group in the top right-hand side that remains as yet untouched by the nativity and thus not illumined? Note that this group is not amidst the heavenly stars of eternity nor in communion with each other. Yet they perceive the nativity scene and are cognisant of it.
Whilst Max's explanation was far more detailed than this summary, he did highlight the importance of circles as a symbol of completion and, in other contexts, of a watering hole within First Nations art – a place of rest, refreshment, community and healing.
Those present were transfixed by the input from the presenters and enriched by this time of dadirri.
A vital part of our Diocese's Reconciliation Action Plan is for parishes to develop stronger connections to and understanding of First Nations people. Those who attended the reflection morning at Kingscliff were certainly privileged to partake in this.
Our Mob, God's Story is available from Koorong or your favourite Christian Bookstore. If you would like more information, please contact Randal Dennings on 0408 878 711 or randaldennings@gmail.com.
Jump to next article